Everybody Has a Price, Even Sony Pictures
(Bloomberg Opinion) -- A big Asian player has been left out of a flurry of media and entertainment mergers. Japan's Sony Pictures, a key unit of the revitalized Sony Corp., is unlikely to be sold under Kenichiro Yoshida. But the new CEO will owe shareholders an explanation if dealmaking heats up.
As Comcast Corp. looks to beat Walt Disney Co.'s $71.3 billion offer for 21st Century Fox Inc.'s entertainment assets, while AT&T Inc. absorbs Time Warner Inc., the battle to control content is raging. Where does Sony stand?
Sony Pictures, the TV and film unit that was formed mainly from the acquisition of Columbia Pictures in the late 1980s, is an important cash generator for the group. It's also been a vital part of Sony's turnaround (begun under chairman and former CEO Kazuo Hirai and continued by Yoshida), which pinned the growth of the Walkman inventor on PlayStation games, image sensors and entertainment.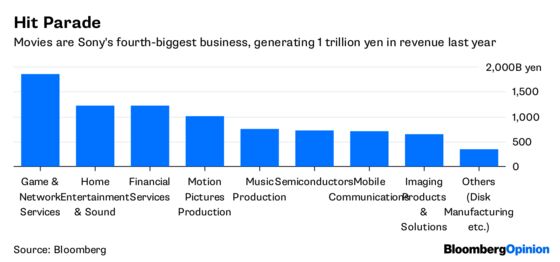 The movie and TV business is a significant important cushion for Sony's other assets: It brought in cash when the company was struggling with intense competition in its consumer-electronics business between fiscal 2008 and 2014, and will be a crucial backbone as the aging PlayStation 4 game console peaks, according to Morningstar Investment Service analyst Kazunori Ito. 
Sony Pictures had operating income of $376 million in the fiscal year ended in March, after a $682 million loss the previous 12 months. But the unit has the lowest operating margins in the industry, at around 6 percent, compared with double-digit levels at Disney and Fox. In a three-year plan announced in May, Sony said operating margins are likely to be 5.5 percent to 6.5 percent in the year ending March 2021.
Blame a lack of franchises. While Sony lucked out this year with the 2018 Jumanji remake, the company has no hit collections beyond Spiderman, James Bond and Hotel Transylvania, none of which has the heft of Disney's bevy of princesses or its Pixar, Marvel and Star Wars properties. Attempts at mining the back catalog by remaking Blade Runner and Flatliners failed to light up the box office.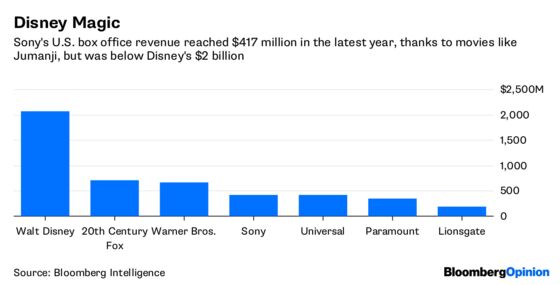 The problem is that Sony hasn't really leveraged its uniqueness as the owner of four planks of the entertainment business – film, TV, music and gaming – says Pelham Smithers, an analyst who publishes on SmartKarma. And each field operates in a silo: The music arm, which bought out EMI Music Publishing this year, even has its own gaming business that's unconnected to PlayStation.
To be fair, Sony has achieved rapid growth in entertainment, and has stayed focused on content. But the movie and TV businesses aren't just in need of sequels – they also lack scale, and that matters. On average, franchises generated almost four times the revenue of an original film last year, according to Bloomberg Intelligence.
The current Disney bid for Fox values Rupert Murdoch's entertainment firm at 2.87 times sales, according to Bloomberg data. If a Hollywood player knocks on Yoshida's door with an offer for Sony Pictures at 3.9 times revenue – the median of comparable deals – the game would change. The unit, with $9.1 billion sales in the latest year, would be worth an eye-popping $35 billion.
At that point, shareholders should lose patience with a growing but boring company.