Brexit's Economic Damage Is Getting Real
(Bloomberg Opinion) -- As Britain's negotiations to leave the European Union enter their crunch moment, let's be clear on one thing: The EU doesn't need to punish Britain for leaving; the referendum did that just fine.
Latest figures show the warnings of economic self-harm Brexiters like Boris Johnson derided as Project Fear are fast becoming real, while the promises of a Brexit dividend are still too remote even to assess.
Most studies seek to calculate the economic impact of the various degrees of Brexit. The U.K. Treasury puts the damage at as much as 6 percent of GDP. Bloomberg Economics analyst Dan Hanson estimates that the level of U.K. GDP could drop between 3.2 percent and 6.7 percent by 2030, depending on the option chosen.
Such estimates are controversial. We don't know the shape of the Brexit deal, including what arrangements will be put in place to keep trade flowing. And Brexiters complain such exercises tend to use assumptions that favor negative results.
Yet it is possible to make some unbiased judgments about the costs of the vote itself to date. Doing so is useful as those unhappy with the prospects of a compromise Brexit deal advocate more extreme alternatives, such as leaving without one.  
In November 2017, four academics affiliated with the Center for Economic and Policy Research — led by German associate professor Benjamin Born — modeled how the U.K. economy would have grown had the referendum gone the other way. Their approach was to create a synthetic U.K. economy using the attributes of 30 OECD countries, including the U.S. and Canada, whose GDP between 1995 and 2016 most matched that of Britain.
This month, they increased their estimate of the cost of Brexit to 2 percent of GDP, or about 35 billion pounds ($46 billion), from 1.3 percent. The researchers' new output cost is 350 million pounds a week, the exact amount the Leave campaign claimed Brexit would save for use in the National Health Service.
Other attempts to measure the costs of the referendum all produce losses. An FT average of several models back in June arrived at a Brexit cost of around 1.2 percent of GDP by the end of the first quarter of 2018.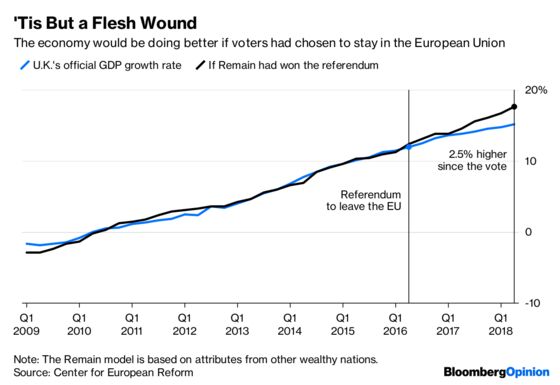 But models based on historical growth will tend to understate the costs of Brexit, especially since 2017 and the first half of 2018 saw such robust global growth. Most advanced economies other than the U.K. grew more quickly than they had before 2016. Using arbitrary control groups such as other G-7 economies has limited predictive value, too. Japan's aging population makes it an odd reference point for the U.K. economy, for example.
The Center for European Reform's
John Springford
has taken the Born-led model a step further. The CER approach uses not just GDP, but also other attributes of 22 advanced economies — including the inflation rate, openness to trade, investment ratio and how well-educated the population is — to create a doppelganger U.K. that most closely matches the country's economy before the referendum. Based on that methodology, the CER puts the cost of Brexit at 2.5 percent of GDP.
Lower growth means lost income for the government, meaning it has to borrow more to meet its spending goals. Whitehall's own analysis showed that 1 percent of lost GDP resulted in 11 billion pounds of extra borrowing. So Springford's calculation of a gap of 2.5 percent would equate to 26 billion pounds of additional borrowing on a yearly basis, or 500 million pounds a week. Even with the model's margin of error, it's a striking result.
"If Britain had voted to Remain, our analysis suggests that the U.K. government deficit would largely have been eliminated by Brexit day" on March 29, Springford told me. "If Theresa May fails to land a deal by then, the costs to both the economy and the public finances will be even greater."
If the U.K. remains in the customs union and achieves a trade deal with minimal barriers, tariffs or otherwise, the economy could recover lost ground in time. And for committed Brexiters, whose minds haven't been changed in the intervening two years, the economic toll doesn't matter. They voted for "control," for sovereignty over laws and borders above all.
But those costs mean choices right now, as Chancellor of the Exchequer Philip Hammond works on a budget that must deliver on Theresa May's promises to end austerity and help the worse off and somehow stick to fiscal prudence. They also limit the degree to which Labour leader Jeremy Corbyn can deliver on his sweeping pledges to nationalize industries and enlarge the welfare state. And they provide the closest thing we have to an arbiter of who was right during the campaign.
This column does not necessarily reflect the opinion of the editorial board or Bloomberg LP and its owners.
Therese Raphael writes editorials on European politics and economics for Bloomberg Opinion. She was editorial page editor of the Wall Street Journal Europe.