Turkey's New Plan Is Another Missed Opportunity
(Bloomberg Opinion) -- Turkish President Recep Tayyip Erdogan and his son-in-law, Finance Minister Berat Albayrak, have repeatedly promised that their new strategies would make all the difference to resolving the nation's economic and financial problems. The New Economic Plan, which Albayrak revealed on Thursday, was supposed to build on the central bank's 625 basis point rate increase last week and set the country on a path to stability.
The plan was long on aspiration but short on details. The lira, which has been under enormous pressure all year, was distinctly unimpressed.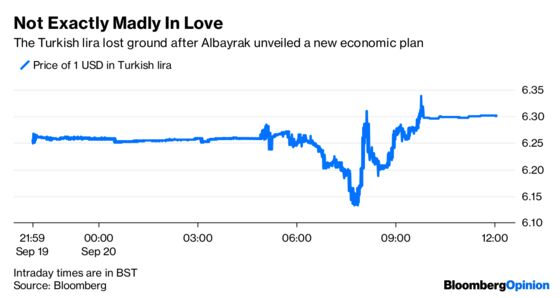 New growth forecasts are more reasonable than earlier ones, but still ambitious. It's really hard to see how officials will achieve 2.3 percent expansion next year, but at least that's down from an earlier estimate of 5.5 percent.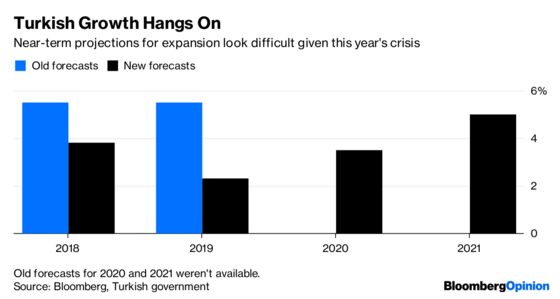 Similarly, while the 2020 inflation forecast is almost double the early projection, a 9.8 percent rate seems unrealistic when producer price gains are around 30 percent.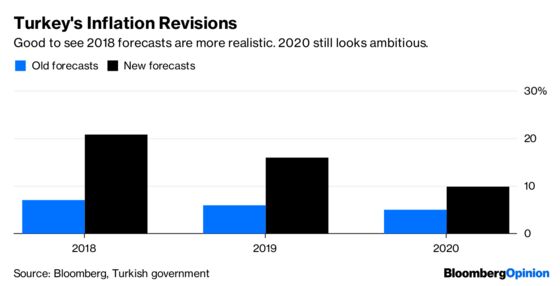 The projection for the primary budget surplus to rise in the coming years signals that Erdogan is not planning a massive spending spree to try and stoke activity. Such a move would seriously exacerbate the inflationary spiral that's already plaguing the economy.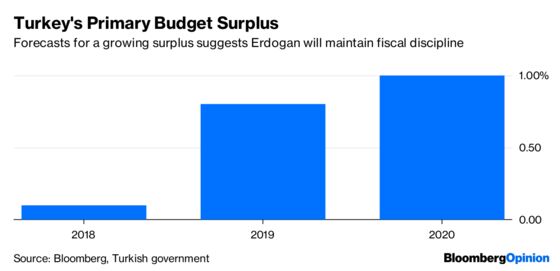 The big disappointment was the absence of detail on a strategy to tackle non-performing loans. Though Albayrak said officials would conduct studies on the financial health of banks and will take action if needed, the time for studies has passed and action is needed now.
An enormous rate hike and a brand-new economic strategy haven't revived the lira. The government seems like it's distinctly out of ideas. Turkey's runaway inflation and currency rout look set to continue. 
This column does not necessarily reflect the opinion of the editorial board or Bloomberg LP and its owners.
Marcus Ashworth is a Bloomberg Opinion columnist covering European markets. He spent three decades in the banking industry, most recently as chief markets strategist at Haitong Securities in London.