Erdogan's New Dynasty Makes Turkey Uninvestable
(Bloomberg Opinion) -- Turkish President Recep Tayyip Erdogan unfortunately is a man of his word. He promised to take greater control of monetary policy during the election campaign, and he has wasted no time in doing so. He has snipped the last threads in Turkey's safety net — and he has made his nation all but uninvestable.  
Deputy Prime Minister Mehmet Simsek and Finance Minister Naci Agbal have both departed. They were the kinds of officials global investors like to see — committed to sound financial management and standard economic principles. They did a lot to soothe investors' nervousness as Erdogan tightened his grip on the country. There seems to be no one left to fulfill that role. 
The president said Monday that his son-in-law, Berat Albayrak, will run a new combined ministry of treasury and finance. This crushes any hopes that sense and responsibility will reign in fiscal matters. Erdogan has also given himself the power to name the central bank governor, and thus the ability to entrench his unorthodox view that higher interest rates cause faster inflation.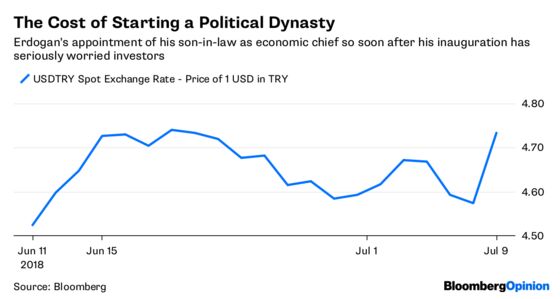 Tuesday's painful market reaction is probably only the start. The lira weakened versus the dollar, 10-year yields soared to over 17 percent, credit default swaps widened, and stocks fell, with a 3.7 percent drop in the banking industry leading the declines. It is hard to see the credit rating companies not taking a dim view of the new political realities and cutting Turkey's ratings deeper into junk.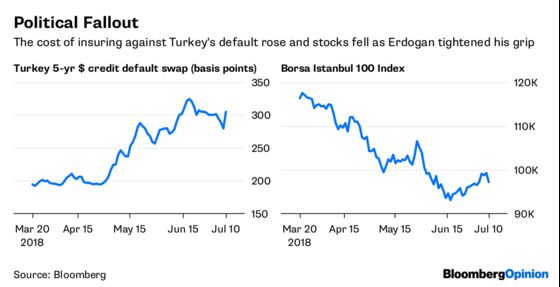 For investors, the best course is almost certainly to stay away. There is nothing to pin down the value of the currency. Nor is it a prime target to short. It would cost an incredibly steep 17.75 percent — at least —  to borrow lira in order to buy it back later at a cheaper price. This is a game for only the extremely brave.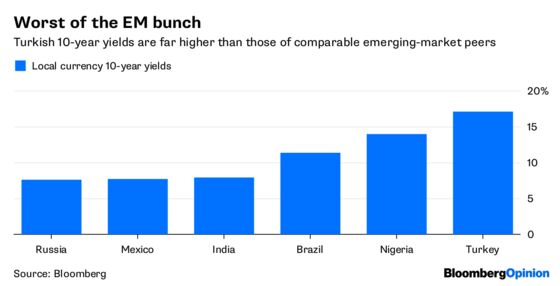 Is this a currency crisis? That depends on how you define it. There's very little liquidity and a new normal of 5 lira per dollar looks to be on its way. That kind of fundamental shift in a thin market certainly smells like a crisis, especially given that now it seems only an official intervention can calm investors' fears.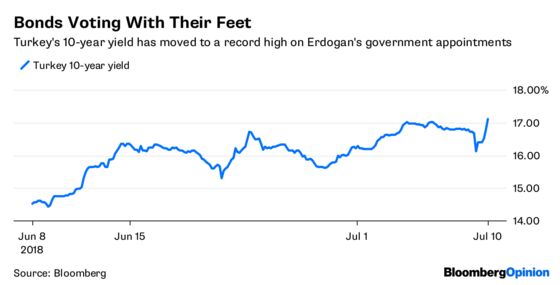 It's hard to see that this will be forthcoming. The normal events that investors could look toward for reassurance look hopeless. Any budget announcement will most likely involve Albayrak turning on the fiscal taps to boost spending in electorally-sensitive areas, such as the major cities, where the ruling AK Party has less support. The next central bank meeting, on July 24, is an opportunity to tame price gains by raising rates. It is difficult to see Erdogan approving any increase, and demanding a cut can't be ruled out. Inflation soared to 15.4 percent in June, and government policies, plus a weaker currency, look primed to push this higher.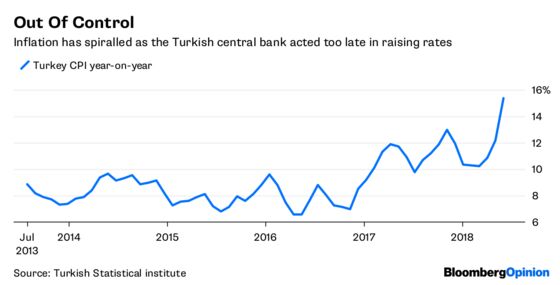 The president could yet decide to turn things around. He'd allowed 500 basis points of interest-rate increases since late April — this suggests he's not immune to the implications of a sliding lira when Turkey's massive current account deficit leaves it so reliant on dollar funding. But given his ridiculous views on monetary policy, and that he's shown his true colors, that looks unlikely. 
The weakest link is the banking system. Lenders have been gorging on cheap short-term financing in dollars and euros, and as I've written, this has been largely immune to rising rates. Most of the creditors are Western European banks, and any sign that they're seriously backing away will raise questions about the stability of Turkish financial institutions. Such a shift in sentiment would surely impact big Turkish corporate borrowers, many of which have large redemptions coming due over the next year or so — mostly in dollars. 
The fate of Turkey is entirely in Erdogan's hands. And that's what's worrying investors.