Equity Markets Are Living on Borrowed Time
(Bloomberg Opinion) -- With just three trading days left in June, the MSCI All-Country World Index of stocks is down 1.63 percent for the year. And barring a miracle, it will most likely post its worst first half of a year since 2010. The surprise is that things aren't worse. 
To understand why, consider that for much of the past six years global equities have largely tracked investor sentiment toward the worldwide economy as measured by the Sentix Behavioral Indexes. But there's been a big divergence of late, with investor sentiment dropping steeply since the end of February to the lowest since 2016. Even so, stocks have been largely little changed. To some strategists, it's only a matter of time before equities follow sentiment lower, and not just because of the budding tensions between the U.S. and its main trading partners. Equity investors should also be concerned about the Federal Reserve, which is poised next week to drain even more cash out of the markets. That's when the Fed will start shrinking its balance-sheet assets at a rate of $40 billion a month, up from $30 billion now. Global equities have also correlated highly with the collective balance-sheet assets of the Fed, European Central Bank, Bank of Japan and Bank of England, which grew steadily to 37.2 percent of their total GDP at the end of 2017 from less than 20 percent in 2011. But this year, assets are unchanged as a percentage of GDP, data compiled by Bloomberg show.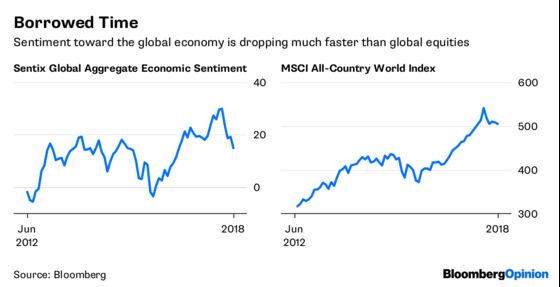 "I continue to believe all this really matters and is a key reason for some of the financial accidents we've seen so far this year," Peter Boockvar, the chief investment officer at Bleakley Financial Group, wrote in a research note Tuesday. Some of the "accidents" he cited were the blowups of trades betting on continued low volatility, Turkey, Argentina, Italy and broader emerging-market weakness.
INFLATION FEARS SUBSIDE
For all the talk about protectionist trade policies causing a surge in inflation, the bond market sure doesn't seem too worried. Breakeven rates on five-year Treasuries, or what traders expect the rate of inflation to be over the life of the securities, are at about 2.07 percent, down from the high this year of 2.17 percent in mid-May. That could signal that bond traders expect the economy to become too soft to spur a quick rise in wages, which would most likely need to happen to boost inflation despite the lowest unemployment rate since 2000. The latest monthly survey of consumers by the Conference Board released on Tuesday showed a big drop in consumer expectations for higher incomes over the next six months. That portion of the index dropped for a fourth consecutive month in June to the lowest since April 2017. "While the Fed would love to see accelerating inflation as a function of greater real wage gains, the data has thus far been uncooperative in this regard," the strategists at BMO Capital Markets wrote in a research note on Tuesday. In fact, inflation data globally have been coming in softer than forecast. Citigroup Inc.'s G4 Inflation Surprise Index shows such data is coming in below expectations at the rate not seen since the end of 2016, when the worry was about a persistent slowing of inflation, or what is known as disinflation.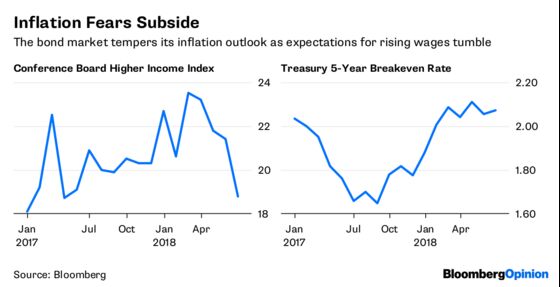 CHINA DRAWS UNFORTUNATE COMPARISON
For those looking to the financial markets to get a sense of who is winning or losing the growing global trade battle, it would be easy to designate China the loser. The benchmark Shanghai Shenzhen CSI 300 Index of Equities fell again Tuesday to bring its decline this month to a painful 7.13 percent. It's now down 20 percent over the past five months, officially putting it into a bear market. The yuan has dropped to its weakest level this year. The Bloomberg Barclays China Aggregate Index of bonds has dropped 1.98 percent this month, the most among 19 major global bond markets tracked by Bloomberg. What's so concerning is that official efforts to calm nerves, from cutting reserve ratios to publishing upbeat editorials in financial newspapers, have had little effect, according to Bloomberg News's Sofia Horta e Costa. But the brewing trade tensions aren't totally to blame. China's economy has been slowing for some time amid a deleveraging campaign, reducing the amount of liquidity available in the financial system to cushion shocks like the current one. The situation is similar to 2015, when the bursting of an equity bubble and surprise currency devaluation roiled global markets and caused international money managers to question the Communist Party's grip on the economy.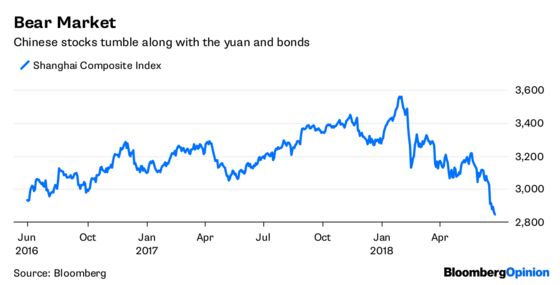 ITALY TESTS BOND TRADERS
It was a month ago that concern intensified that populist Italian politicians might look to have the nation quit the euro zone. Yields on 10-year Italian bonds soared as high as 3.44 percent in late May from 1.71 percent earlier in the month. Things quieted down and yields retreated back to about the 2.50 percent level this month. But it turns out that was just a short respite. Yields on Tuesday jumped as high as 2.94 percent amid investor concern that Italy's political crisis hasn't gone away but rather has just been kicked down the road a bit. Italy will test investor appetite for its debt on Thursday with an auction of five- and 10-year notes. The sales come amid concern that the domestic coalition government could unveil spending plans that may widen the budget deficit in what is already one of the euro area's most-indebted economies, according to Bloomberg News's John Ainger. "We are past the point where auctions are going to meaningfully drive any sustainable moves in BTPs," Richard Kelly, head of rates strategy at Toronto-Dominion Bank, told Bloomberg News. "Until risk aversion and policy uncertainty materially changes in Italy, we will remain roughly where we are."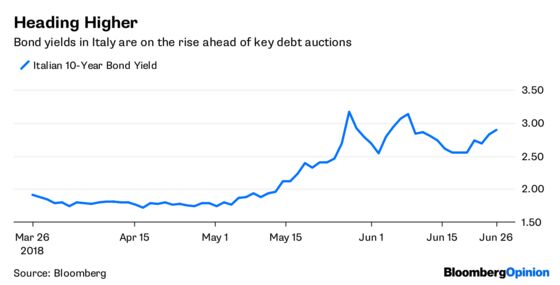 ZINC GETS THE COLD SHOULDER 
Base metals such as copper, nickel and zinc are at the foundation of the global economy because of their widespread use in construction. So when that market takes a turn for the worse, it's worth investigating. And base metals have been suffering lately, but none so more than zinc, which is used to galvanize steel as a protection against corrosion. The industrial metal f ell for a ninth consecutive session, its longest losing streak in more than three years, to trade at $2,815 a metric ton on Tuesday, the lowest in 10 months. It's the worst-performing base metal this year on the London Metal Exchange, according to Bloomberg News's Thomas Biesheuvel. Production in China and Peru is augmenting global supply while demand is eroded by escalating trade tensions. The International Lead and Zinc Study Group said Monday that supplies of refined zinc rose 2.9 percent in the first four months of the year compared with the same period in 2017, while demand declined 0.5 percent. Canceled warrants, which are orders to remove the metal from LME warehouses, have fallen to the lowest since 2012, a possible signal of weakening demand. Citigroup Inc. expects prices to average $2,500 a ton in the second half of the year.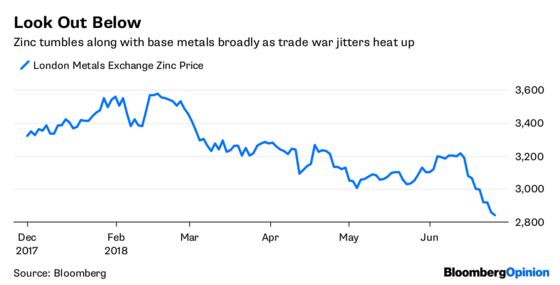 TEA LEAVES
Keep an eye on a speech Wednesday by Bank of Canada Governor Stephen Poloz in Victoria, British Columbia. It will, of course, have big implications for Canadian markets, given that the central bank meets in two weeks and odds of another interest-rate increase have diminished from about 80 percent to 50 percent amid growing trade tensions between the country and the U.S. But global investors should pay attention as well because energy-rich Canada is a pretty good barometer of worldwide economic demand. The Canadian government is preparing a combination of quotas and tariffs to prevent a potential flood of steel imports from global producers seeking to avoid U.S. tariffs, Bloomberg News reported Tuesday, citing people familiar with the plans. As such, any hints that Poloz might give about concerns that trade tensions risk denting economic growth should be taken seriously. 
View
Opinions
From Business And Policy Experts On BloombergQuint