Elon Musk Is Terrible at Being Public, Not Tesla
(Bloomberg Opinion) -- Elon Musk, after hate-tweeting journalists and short-sellers, shunning analysts and disparaging rescue workers, seems to have found a new No. 1 enemy: public markets.
Put aside for now the question of whether Musk has or could actually put together the more than $60 billion in financing he would need to make good on his tweet that he's looking to take Tesla Inc. private at $420 a share. Perhaps a more important question is whether going private would actually be good for the electric car company. It's hard to see how that could be.
First, by any measure, being public has been great for Tesla. In the past 10 years, public markets have increased the value of the company's shares by more than 1,100 percent, or 36.7 percent annualized. What's more, Tesla's shares trade at a valuation of nearly 128 times 2019 earnings. Ford Motor Co. trades at 7 times 2019 earnings. General Motors Co.'s forward price-to-earnings ratio is 6. Those are the companies that should complain about being public, not Telsa, whose shareholders seem happy to give it money that couldn't possibly be returned, at least with earnings, for a decade or more.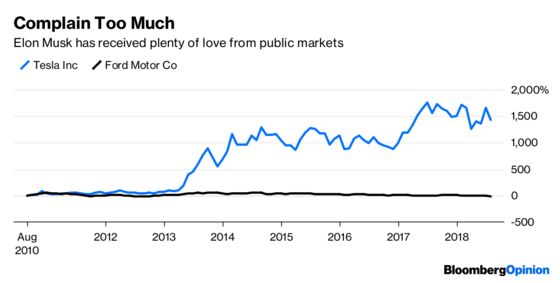 Musk has had to endure heated public criticism from short-sellers, and some of that would no doubt go away if the company went private. But he also gets more than his fair share of boosterism from public investors and true believers. Not all of them are car owners. Going private would quiet some of that support as well. What's more, its not clear short-sellers would disappear entirely. Tesla would still most likely have bonds that shorts, using credit default swaps, could bet against. And while the go-private transaction could wipe out the current CDS, as the only market for short-sellers it would most likely only become more intense.
Musk is right that private markets have become more hospitable to larger companies that are still in growth mode. But the public market is still the best place for companies that have much of their growth ahead of them, like Tesla. Musk has said that Dell Inc. is a good model for Tesla, given the computer company's success in remaking itself outside of public markets. But going private was a good option for Dell because it was the opposite of Tesla; its best growth days were most likely behind it and private investors could better reap the cash flow. That type of company has always been a prime candidate for a leveraged buyout and the private market. That's not the case with Tesla, which had a negative $3.4 billion in free cash flow last year alone.
Moreover, private companies have to rely more heavily on debt markets for funding. Given how poorly Tesla's bonds have performed so far, Tesla would most likely be a far worse private company than it is a public one.
What Tesla should be doing is becoming more public, selling as much stock as possible and stocking away as much cash as possible at its 128 P/E. That would be the best way to ensure the company's long-term survival, even if it would depress the stock price in the short term and prove Tesla's short-sellers correct, at least temporarily. That would be painful for Musk and perhaps the sole reason he won't do it.   
Tesla does have an issue with being public. It has a thin-skinned CEO who turns into a public relations disaster under the slightest of heat. And he has created disclosure issues for the company. At times, Tesla has not said enough (see its purchase Solar City or its offering a few years ago without disclosing a fatal car crash that might have involved its autopilot feature). More often, Musk has said too much, with his latest tweet potentially landing him in more trouble. Musk says he doesn't want to live with the short-term demands that come with being public. Then he should just stop putting out short-term goals, like pronouncing how many cars the company will produce each week or the precise quarter when the company will turn a profit. Jamie Dimon and Warren Buffett's recent call for companies to stop giving quarterly guidance gave Musk the cover to keep quiet and run his business. That, of course, is not his style. 
Musk's biggest problem may be that Telsa is public. But it is not Telsa's. The company's biggest problem, as a public company, is Musk. Unable to give him up, it may be forced to give up the best thing it has going for it — its more-than-forgiving and generous shareholders — instead.
This column does not necessarily reflect the opinion of the editorial board or Bloomberg LP and its owners.
Stephen Gandel is a Bloomberg Opinion columnist covering banking and equity markets. He was previously a deputy digital editor for Fortune and an economics blogger at Time. He has also covered finance and the housing market.