Elliott's Telecom Italia Win Leaves Bollore With a Nuclear Option
(Bloomberg Opinion) -- Elliott Capital Management just won the second round in the battle with Vivendi SA over Telecom Italia SpA.
The activist investor's board nominees voted to remove Amos Genish, a Vivendi appointee, as chief executive officer of the Italian carrier on Tuesday, the culmination of a clash over how it would separate some of its networks. But that doesn't mean that the war is over. Vincent Bollore, the billionaire who controls Vivendi, has a final option to regain the upper hand.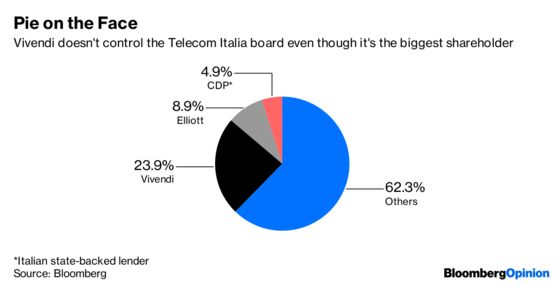 Inevitably the identity of Genish's successor is now essential. Chairman Fulvio Conti is taking over on an interim basis, and board members Alfredo Altavilla, Rocco Sabelli and Luigi Gubitosi are mooted candidates.
Whoever takes the job has a conundrum. Do they want to be seen as a corporate raider, a stooge for Elliott who comes in and sells off vast chunks of the business before retiring on a hefty pension? Or do they want to be remembered in Italy as the savior of the former national carrier? Perhaps there's a happy middle road, where it's still possible to sell stakes in the fixed network, for instance, without deconsolidating it. The shares fluctuated on Tuesday, suggesting investors are having just as much difficulty navigating these options.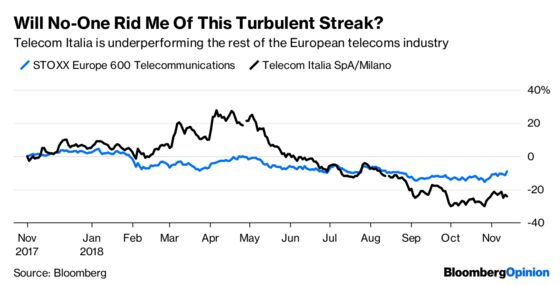 Vivendi is meanwhile in a tricky spot. I have repeatedly implored both it and Elliott, which are the two biggest shareholders, to reach a truce and let Genish get on with the job of running the company. This clearly didn't happen.
The Italian state isn't helping matters. It's the third-biggest shareholder in Telecom Italia through the state-backed lender Cassa Depositi e Prestiti SpA, which voted for the Elliott slate back in May.
On Sunday, Deputy Premier Luigi Di Maio said in an Italian television interview that he wanted a "single Italian player" to make internet and broadband available to everyone. That would seem to play right into the hands of Elliott, which has been urging a sale of the fixed network business. 
So while two big investors fight over the company's strategy, the Italian state is stirring the pot by making Telecom Italia a political plaything. It's already made life difficult by structuring the 5G spectrum auction in such a way that it milked network operators for a collective 6.2 billion euros ($7 billion), more than double the original expectations. That places major pressure on the companies' costs.
If Vivendi really is facing a united front from Elliott and the Italian state, it has two options if it wants to be proactive: sell its stake — which seems unlikely — or call another shareholder vote on the composition of the board. When I advocated a vote for the Elliott slate earlier this year, I did so on the basis that the activist's intentions were far more transparent. Unfortunately, Elliott hasn't made good on its promise to back Genish's turnaround plan.
If Vivendi wants to carry the day in a new vote, it's going to need to do more than just weigh against its rival's plan. Bollore will need to be much more transparent about his long-term intentions for Telecom Italia. That's his best hope of snatching a victory from the jaws of defeat.
This column does not necessarily reflect the opinion of the editorial board or Bloomberg LP and its owners.
Alex Webb is a Bloomberg Opinion columnist covering Europe's technology, media and communications industries. He previously covered Apple and other technology companies for Bloomberg News in San Francisco.