Activist's Coup Leaves Billionaire Bollore Reeling
(Bloomberg Opinion) -- Whatever your view on Elliott Management Corp.'s plans for Telecom Italia SpA, the way in which the activist investor managed to oust the national carrier's chief executive officer has been masterful.
It has also left France's Vivendi SA with the biggest stake in the company, yet very little say in its management. It will be tough for billionaire Vincent Bollore's French media conglomerate to regain the upper hand — but not impossible.
Elliott's ejection of CEO Amos Genish was very slow, then, all of a sudden, exceedingly fast. Eight months after becoming the Italian carrier's second-biggest investor, Elliott's board nominees pushed Genish out in an early-morning coup last Tuesday while he was on a trip to the Far East. On Sunday, the well-connected Italian manger Luigi Gubitosi was appointed his successor.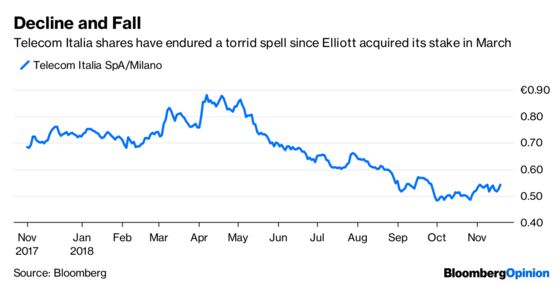 Vivendi is still able to call an extraordinary general meeting on the composition of the board, which is currently made up of 10 Elliott nominees and five picked by Vivendi (including Genish himself). If Vivendi won a new shareholder vote, that ratio would be flipped.
Telecom Italia's corporate governance rules allow an EGM to be called with 40 days' notice. The question is whether Vivendi can do enough to convince shareholders to back its slate of nominees in that time-frame. So far, it has abjectly failed and been repeatedly outplayed. When Elliott won control of the board back in May, Vivendi managed to convince just 12 percent of Telecom Italia's other shareholders to support its board picks.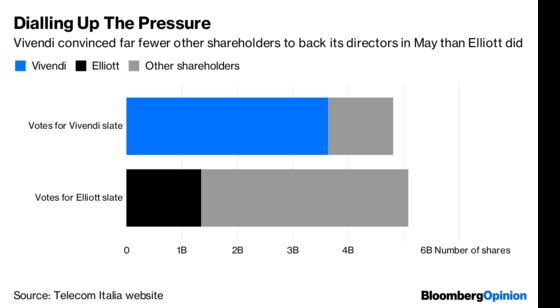 The Italian government increasingly looks like the kingmaker here. Through the state-backed lender Cassa Depositi e Prestiti SpA, it has a 4.9 percent stake in the carrier. In May, it voted for the Elliott slate. That appeared to be because it wanted to combine Telecom Italia's fixed-network business with that of rival Open Fiber SpA, in which CDP has a 50 percent stake. That would prevent the two companies from duplicating each other's network, theoretically reduce costs and foster a faster roll-out of fiber to customers.
Elliott seems to want Telecom Italia to sell a majority stake in its fixed network as part of the Open Fiber deal and then return the proceeds to shareholders. Vivendi could still offer to merge Telecom Italia's network with Open Fiber — but instead of returning the money to Telecom Italia shareholders, allow the carrier to keep a bigger stake in the combined business. That would still create a national champion to build out a fiber network, as the government prefers, and allow Telecom Italia to hook up the fiber network with its 5G antennas more effectively. And politically, CDP wouldn't be seen to be on the side of an American activist investor.
It's still a big ask. The Elliott directors have deep ties to the Italian establishment. Telecom Italia's shareholders have a deep distrust of Vivendi's motives. And the prospect of another two months of uncertainty atop the carrier isn't attractive. But there still might just be a way for Vivendi to extricate itself from this mess.
This column does not necessarily reflect the opinion of the editorial board or Bloomberg LP and its owners.
Alex Webb is a Bloomberg Opinion columnist covering Europe's technology, media and communications industries. He previously covered Apple and other technology companies for Bloomberg News in San Francisco.