A $6.3 Billion Paint Job Can't Hide This Takeover Target
(Bloomberg Opinion) -- Akzo Nobel NV has come a long way since seeing off an attempted takeover by rival U.S. paint-maker PPG Industries Inc. last year. Just not far enough to be immune to another shot.
On Tuesday, the Dutch group pledged to return 5.5 billion euros ($6.3 billion) to shareholders following the 10 billion-euro sale of its specialty chemicals unit. Carving out that business from its paints and coatings operation was the centerpiece of Akzo's defense against PPG. In anticipation, it even paid a 1 billion-euro special dividend in December.
Even so, investors would still have been better off had Akzo engaged with PPG and reached a deal.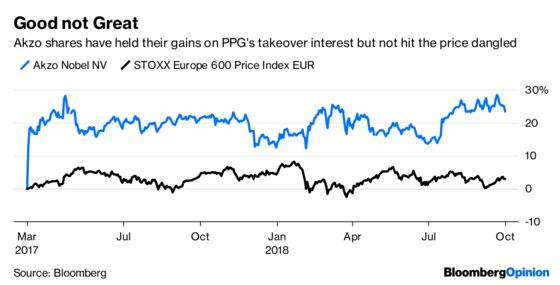 The Dutch company's present market value, plus the special dividend, is 21 billion euros. PPG's proposal was made up of 16 billion euros in cash plus a roughly 25 percent share of the combined business, for a then total of 24 billion euros. Crunch together the duo's current market values, adjust for the cash movements and assume some boost from synergies, and that's pretty much what Akzo's stake in the enlarged PPG plus the cash component would be worth today. It's possible Akzo shareholders could have been sitting on a bit more if the would-be purchaser had sweetened its offer.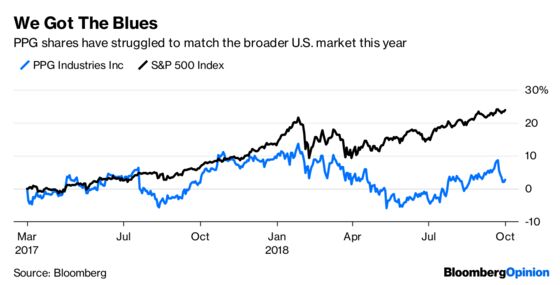 Could there be another bid? The simpler Akzo will be a much more digestible entity for any buyer.
Meanwhile, the self-help program on which Akzo embarked in response to the bid has lifted its valuation. Historically, Akzo shares traded at a discount to their peers due to the firm's historic poor profitability. Today, the stock values the continuing businesses at about 10 times 2019 Ebitda, according to UBS research, roughly in line with PPG and Axalta Coating Systems Ltd.
That means a bidder probably wouldn't have to offer the 50 percent premium previously dangled by PPG. A standard premium of between 30 percent and 40 percent would probably achieve a take-out valuation similar to other chemicals deals in recent history.
Any buyer, would, of course, have to learn from PPG's biggest mistake — mishandling the stakeholder side of the argument. CEO Michael McGarry's approach to his Akzo counterpart was clumsy at best. He failed to lead the necessary conversation around how the desired deal would affect the target's employees. Directors of Dutch companies are legally bound to weigh those considerations equally with shareholder returns.
The focus now is on whether Akzo can deliver on the second part of its defense — its ambitious margin and returns targets for 2020. If the forthcoming third-quarter numbers reinforce market doubts here, Akzo will look vulnerable.
The company has a new chairman and executive team, and they're unlikely to roll over lightly. Meanwhile, a bidder will have to run the gauntlet of Dutch politics. But a better-planned approach at a decent premium would give Akzo and the politicians a big test.
This column does not necessarily reflect the opinion of the editorial board or Bloomberg LP and its owners.
Chris Hughes is a Bloomberg Opinion columnist covering deals. He previously worked for Reuters Breakingviews, as well as the Financial Times and the Independent newspaper.