Donald Trump and Bernie Sanders Are Pharma's Worst Nightmare
(Bloomberg Opinion) -- A new drug-pricing proposal released Tuesday by Senator Bernie Sanders and Representative Ro Khanna is the kind of thing you'd expect from progressive Democrats. They want to give the government the power to void patent protection for medications that are much more expensive in the U.S. than in other nations.
The more surprising thing is that the proposal shares DNA with President Donald Trump's most recent and most serious proposal, which calls for lowering the prices of a certain subset of medicines paid for by Medicare to international levels over time. 
Both measures have a tough path to actually becoming policy. But they may represent the beginning of a bipartisan conversation on drug prices that could be very uncomfortable for pharma.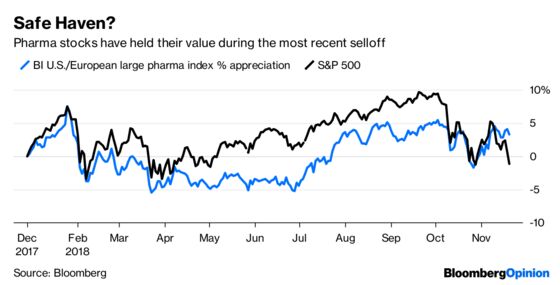 Sanders and Khanna's proposal is more radical, and would be more effective at lowering prices. Instead of focusing on just Medicare and medicines administered in doctors offices, as the Trump administration's plan does, it could potentially apply to any branded drug. Also, the Trump plan only applies to half the country, to start.
Rather than compelling a price drop on a particular medication, the Sanders/Khanna plan would enable the launch of cheaper generic products if a drug is "excessively priced" relative to the average cost in a basket of other nations. That would erode both price and sales volume for that treatment, and end a valuable monopoly that might otherwise run for years. The law would also give the government wide latitude to label a drug as "excessively priced" for a variety of other reasons.
The plan's aggression probably makes it a non-starter in its current form, given Republicans' control of the Senate. Even the milder Trump plan, which still would effectively import price controls from other countries, will be a tough sell.  For one, it's not a natural policy fit for conservative lawmakers. But also, the pharma lobby is extremely powerful — a similar but far milder Obama administration proposal fell apart in 2016.
That doesn't mean pharma should rest easy. The Sanders/Khanna plan is a clear overture to the administration on a populist issue that is one of the few possible grounds for bipartisan action. While Republicans have traditionally been hostile to price controls, and have rejected previous Democratic proposals like permitting Medicare to directly negotiate drug prices, the Trump administration has cracked the door on importing price controls. Democrats appear willing to embrace that mechanism.
It's easy to see why this approach appeals politically. Direct government negotiation, while ironically more of a market-based solution, does involve tough trade-offs. Negotiation doesn't work without the ability to say no, and reducing patient access to drugs would be a politically difficult step. These plans avoid the difficult process of the U.S. figuring out a way to control prices on its own, and can be sold as an effort to get a fair deal for Americans.
There's a robust debate to be had on whether this is the right way to go about things, and whatever drug pricing we get may not look much like either proposal. And it's uncertain whether Congressional Republicans will want to even enter into dialogue.  But if these plans represent a starting point for negotiation, with both sides in agreement that U.S. drug prices should somehow be tied to much lower prices abroad, then that's a step forward in the policy discourse. Good news for many — but worrisome for pharma firms and their investors. 
This column does not necessarily reflect the opinion of the editorial board or Bloomberg LP and its owners.
Max Nisen is a Bloomberg Opinion columnist covering biotech, pharma and health care. He previously wrote about management and corporate strategy for Quartz and Business Insider.