Don't Waste Time Crying for China's Developers
(Bloomberg Opinion) -- Funding avenues for Chinese developers are being choked off, but don't worry too much about the fate of these firms. Beijing's regulatory tune will change soon enough and the taps will reopen.
Selling yuan bonds became a lot harder last year as the government acted to cool the housing market. Many real estate companies turned to short-tenor notes, which don't require National Development and Reform Commission approval.
Authorities may now be considering slowing approvals for offshore bonds, people familiar with the matter said last week. The NDRC, which denied that was the case, is however restricting developers' use of proceeds from overseas bonds to refinancing maturing debt rather than investing in additional property projects.
That could weaken companies' ability to raise new funds to support business growth, slowing contracted sales, according to Moody's Investors Service.
The prospect of even tighter restrictions has taken a toll on property stocks, with an index of shares in 22 Chinese developers tumbling 7.4 percent last week, the worst weekly performance since February, and a further 4.3 percent Tuesday morning. Country Garden Holdings Co.'s $750 million of 7.25 percent bonds due 2021 are trading near the lowest in three years.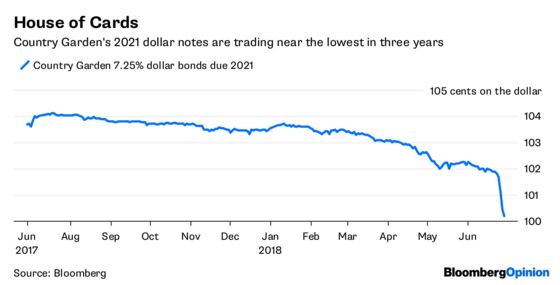 That's understandable. These firms are extremely highly leveraged, with net debt-to-equity in some cases in excess of 250 percent.
Raising funds via share sales isn't easy either. China Evergrande Group is still waiting for approval for a mainland listing, while Dalian Wanda Group Co. has just months before its property arm must debut in China or compensate investors that helped the unit delist in Hong Kong.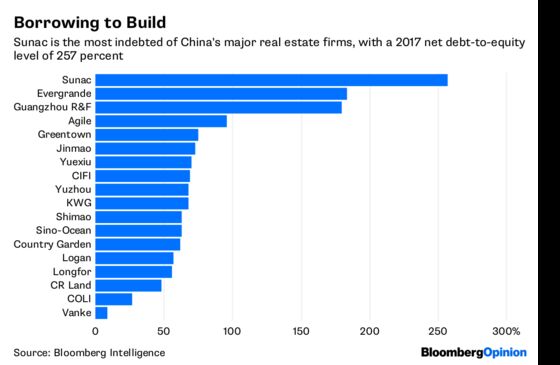 The most indebted, such as Sunac China Holdings Ltd., will feel some pain. But I'm willing to bet there's no major default. Too much of China's economy is tied up in real estate: It accounts for about 20 percent of the nation's gross domestic product.
Followers of this sector will remember Kaisa Group Holdings Ltd., which in 2015 became the first Chinese developer to default on dollar bonds after a regulatory probe in its home city of Shenzhen. It's successfully accessed the offshore market since, and its Hong Kong-traded stock has more than doubled since a trading halt was lifted in March last year.
More recently, Shanghai-based Greenland Holdings Corp., which last August disclosed that some of its units had overdue loans, got $813 million in orders for a $250 million sale of floating-rate notes.
So don't be concerned about Beijing going too far. Chances are, onshore issuance rules will be eased again before long. Real estate price gains are slowing and the yuan's strength means the offshore route is getting expensive anyway.
There's also always Hong Kong as an alternate funding path. Kaisa last month proposed a spin-off and separate listing of its Kaisa Property subsidiary, for instance. Syndicated loans are another option, too.
If anything, this real estate rout could be a potential buying opportunity.