The Pound Finally Has a Friend in Mark Carney
(Bloomberg Opinion) -- Don't accuse Mark Carney of being a currency manipulator (anymore). 
True, the Bank of England governor has something to answer for. He announced an interest-rate cut in August 2016, just as the Brexit vote sent sterling reeling. That worsened the devaluation, and proved he was no friend of the currency. It was complicated. 
Now, they're back on speaking terms. The BOE will almost certainly raise its key rate 25 basis points to 0.75 percent at Thursday's policy decision. That should lend the currency the support it's been sorely missing, and not just because of the recent Brexit-induced political turmoil. Carney's backtracking on guidance for a May hike after first-quarter economic data came in weaker than expected gave traders the idea that the bank's November increase might turn into a story of one-and-done instead of a (very) gradual tightening phase. 
But for the pound, one friend is not enough, and it doesn't look likely to find another anytime soon. Its range of the past two months, of between 1.30 and 1.34 to the dollar, looks set to last for some while yet.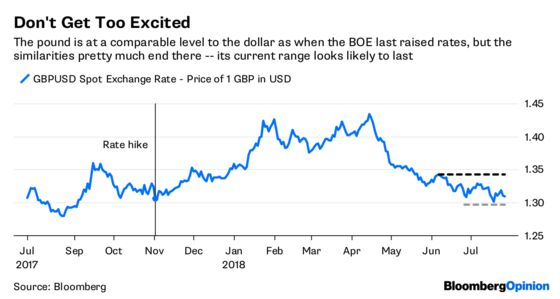 If the bank was getting cold feet about finally, at long last, raising rates above 0.5 percent — as it did in May — Deputy Governor Ben Broadbent's speech on July 23 was its last chance to send a signal. And it sent none. 
Market expectations for a rate hike this week are now at 90 percent. At this point, if officials voted for no change, the Monetary Policy Committee's credibility with investors would be pretty well shattered. This can't be completely ruled out, as about 20 percent of economists in a Bloomberg News survey forecast rates to stay at the current level. 
But as soon as one rate hike comes, traders look to smoke out when the next one is due. Luckily the bank is about to give them some help. The BOE will unveil a shiny new measure which will encapsulate all the elements of its forward rate guidance: the neutral rate of interest, or in central banking parlance, r-star (r*).
R* shows where the MPC believes rates need to settle, over its three-year forecast period, so the economy is balanced — running neither too hot or too cool. This Goldilocks level defines what the bank's "limited but gradual" policy guidance actually means.
The BOE has already primed expectations for 1.5 percent, as this is the level officials have said rates must reach before they can start unwinding bond purchases — otherwise, they'd be acting too soon and the economy wouldn't be able to cope.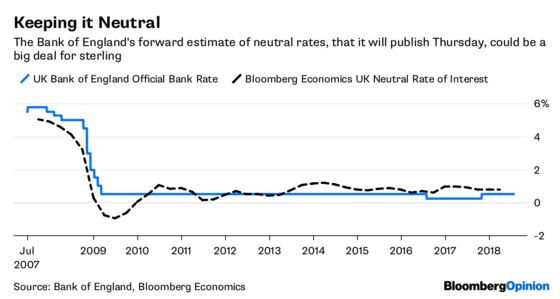 Analysts are giving a range of forecasts for r*. Dan Hanson of Bloomberg Economics expects the initial estimate of the neutral rate to be around 1.5 to 1.75 percent. If the bank's estimate lands in this ballpark, this would imply policy makers expect to raise rates three to four more times before the summer of 2021. That's right around current market rate expectations, so it would be unlikely to shake sterling.
Others see the bank's initial estimate coming in above Hanson's range. If it lands at 2 percent, or even higher, that would signal the bank expects rates to rise faster than the current guidance of one to two rate hikes per year. That would be sure to light a fire under sterling.
But the fire wouldn't be a strong one. For a start, the BOE hasn't won the argument on the longer-term path for rates. The Sterling Overnight Index Average (Sonia) curve shows investors don't see a second rate hike coming within three years.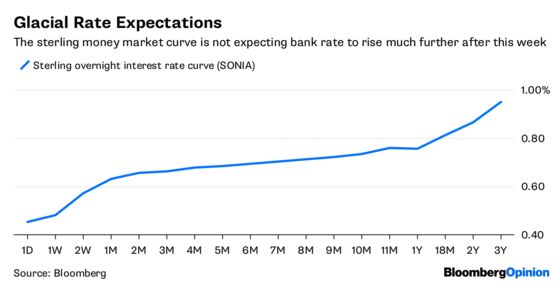 Anyway, it's tough to see how the bank can raise rates again before Brexit day at the end of March. The political uncertainty is acute, not to mention the recent economic data has been disappointing.
Another hitch is the dollar. Though the recent chaos in Prime Minister Theresa May's cabinet certainly dented the pound, I've argued that the currency's recent weakness was substantially a story of dollar strength. Leaving aside any other source of confusion from Washington, there's some decent reason to expect the greenback's march higher to continue. The U.S. Federal Reserve has locked down investor expectations for a gradual pace of rate increases, including one or two additional moves this year, a stance that was cemented on Friday with a report that gross domestic product growth in the second quarter exceeded 4 percent. 
With a second U.K. interest-rate increase in the bag on Thursday, the BOE will be back on a rate-hiking cycle, and sterling will at least have a floor. It's Brexit and the dollar that will keep the pound from running away. A party of one is not much fun.
This column does not necessarily reflect the opinion of the editorial board or Bloomberg LP and its owners.
Marcus Ashworth is a Bloomberg Opinion columnist covering European markets. He spent three decades in the banking industry, most recently as chief markets strategist at Haitong Securities in London.