Disney+ Can Compete, But Can It Make Money?
(Bloomberg Opinion) -- Shares of Walt Disney Co. closed at an all-time high Thursday, minutes before the company reported a 99% plunge in quarterly net income. That's not something investors see often. It wasn't that they were caught off-guard — a year into this global pandemic the business effects are hardly a surprise. But Disney's stock price has continued to defy the crisis because shareholders of the theme-park, box-office and cable-network juggernaut now care predominantly about a single line item: how many people are watching Disney+. 
At the end of 2019, Disney+ was a brand-new service with about 26 million subscribers. As of Jan. 2, its base has swelled to 95 million, quickly gaining ground on Netflix Inc.'s 204 million. Disney arrived late to the streaming party, but it's certainly made an entrance.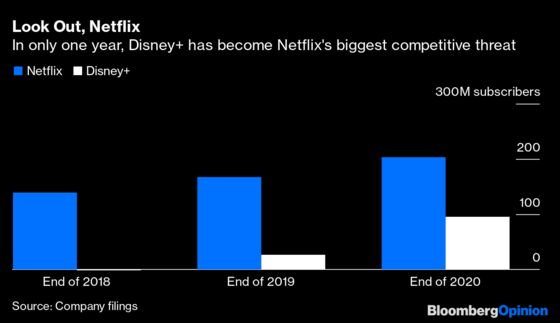 This is the first time Disney is reporting results under its new structure, which encompasses just two main divisions. Media and entertainment distribution are on one side, while parks, experiences and products are on the other. The reorganization puts the emphasis on Disney's direct-to-consumer streaming efforts, even if they may still be the least profitable arm of the Disney empire once the pandemic subsides. Direct-to-consumer revenue surged 73% in the latest period, with losses narrowing to $466 million from more than $1 billion a year earlier.
The media industry, its shareholders and viewers have collectively decided that television is now synonymous with streaming, and being an active participant is no longer a choice. Just look at the best and worst stock-market performers in the media space. ViacomCBS Inc. and Discovery Inc. have each posted gains of 50% since the start of the year. ViacomCBS is relaunching the CBS All Access app next month as Paramount+, hoping to turn an also-ran service into a formidable competitor named after a once-iconic movie studio. (Indeed, the company teased the forthcoming app in Super Bowl ads depicting the distinctive Paramount mountain logo.) Discovery also recently began selling $5-a-month subscriptions to Discovery+, a virtual feast of reality-TV programming, securing dominance of a genre that's hard to find on other streaming services.
This contrasts with Fox Corp., which was at the bottom of the barrel in 2020 with a 21% drop and has only recovered somewhat since. It doesn't have a subscription on-demand video service on par with Netflix, and that may have to do with why investors were tuning out, as well as weaker ratings following the U.S. presidential election. (Fox does own Tubi, a free, advertising-supported service.)
Disney+ has earned its way into any discussion of Netflix, which will be hard for other services to achieve. For Disney, the question becomes how it makes use of that strategic advantage. Netflix recently raised prices, and the U.S. monthly fee for Disney+ is increasing by $1 next month. Further price hikes are conceivable. What stands out in its earnings report is the relatively low average monthly revenue per paid subscriber: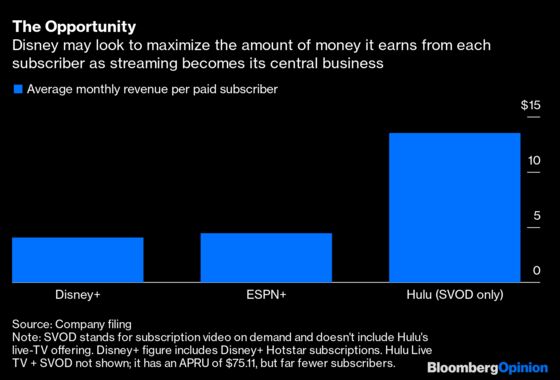 One big reason for this is the Disney+ Hotstar service in India, which generates a much lower ARPU and is included in the Disney+ calculation. But if Disney is going to lean so heavily on streaming, it would make sense to test its pricing power a bit or incorporate ads — whichever would be least offensive to the consumer. Just look at how much Hulu's ad-supported plan takes in despite its low subscription price. 
The next frontier in streaming is figuring out how to make money. Disney CEO Bob Chapek sees social distancing and masks being a staple of its theme parks in 2022, while weak Super Bowl viewership put a damper on the outlook for sports programming and cable-TV at large. It's also unclear what becomes of movie theaters, though it's hard to feel optimistic. Disney+ has carried Disney's stock price throughout this pandemic, so it's time to figure out how an $8-a-month app becomes the financial backbone of one the world's most influential companies. 
This column does not necessarily reflect the opinion of the editorial board or Bloomberg LP and its owners.
Tara Lachapelle is a Bloomberg Opinion columnist covering the business of entertainment and telecommunications, as well as broader deals. She previously wrote an M&A column for Bloomberg News.