Didi Backlash Sounds a Warning for China's Unicorns
(Bloomberg Opinion) -- Is China falling out of love with its unicorns?
The country is home to four of the world's 10 most valuable startups, according to CB Insights. Its companies raised about $31 billion from venture capital in the second quarter, beating the U.S. for the first time, Goldman Sachs Group Inc. estimates.
But the biggest of all, Didi Chuxing, is facing public anger, with thousands of users pledging to delete China's most popular ride-hailing app after a second woman in three months was allegedly murdered while using its Hitch car-pooling service.
The backlash against Didi shows how the combination of sky-high valuations and pressure from investors to produce returns can force companies into missteps, undermining public trust at a time when a slowing economy is already fueling middle-class anxiety.
Didi, valued at $56 billion, apologized for the incident, suspended the Hitch service and removed two executives. The company drew criticism from state media for its safety practices, with the People's Daily calling on regulators to step up oversight of new technology services.
It remains to be seen how serious the fallout will be for the ride-hailing company, which is backed by technology giants including Alibaba Group Holding Ltd., Tencent Holdings Ltd. and SoftBank Group Corp. However, the incident shows the potential for businesses that are investor magnets to suddenly spark public disaffection.
For a parallel, look at the real estate rental market — another area where the middle class is feeling pinched.
Venture capital funds have been flooding into China's rental space this year, betting that favorable policy winds will lead to handsome payouts. At the five-yearly Communist Party Congress last October, President Xi Jinping said "houses are built to be lived in, not for speculation." Many interpreted that as a top-down directive to develop a rental market.
By January, online real estate brokerage Ziroom raised a whopping 4 billion yuan ($622 million at the exchange rate then) in its first round of funding.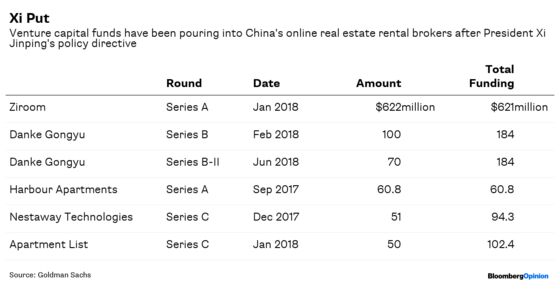 When hot money comes in, companies have to show a path to profitability. In this case, that means raising rents. Rental prices in Beijing, where Ziroom is based, 
jumped by a quarter
in the past year, according to a Financial Times report that cited property search engine Zhuge. Increases in some areas have been bigger: A 600-square-foot apartment built in 1993 east of the city's central business district currently leases for 4,960 yuan a month, up 37 percent from a year ago. 
To put that growth in perspective, Beijing will raise the city's minimum wage by only 6 percent, to 2,120 yuan per month effective this September. Lower-income groups, already shut out from home ownership by unaffordable prices, must now struggle harder to pay the rent, too.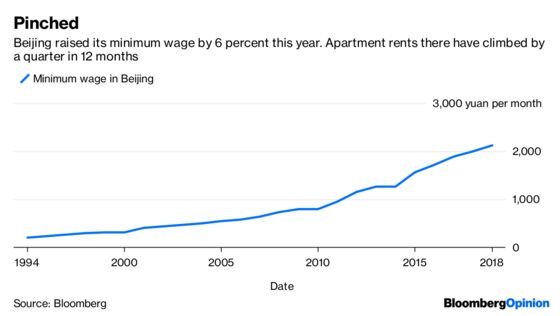 Technology can bring many benefits. Car sharing makes sense in China because big cities are congested, and owning a vehicle is costly. Online real estate brokers can make the process of finding accommodation quicker, easier and more transparent.
But, as I have written, China's venture capital world has an unhealthy mentality of burning cash and carrying out land grabs. The prevailing model is: A startup scales up as fast as possible, and once it reaches critical mass, it will have the market power to charge users what it wants.
Having gone through a mega-merger, bought out Uber Technologies Inc.'s China business, and raised more than $20 billion in the space of six years, Didi is inevitably under pressure to show profitability and provide an exit (a.k.a. IPO) for its long-time backers. This may mean cutting corners sometimes — on safety, for example — and hiking prices. 
Make no mistake: There's a risk to any company that puts growth and returns ahead of preserving public goodwill. The investors behind China's biggest startups would do well to remember that.
This column does not necessarily reflect the opinion of the editorial board or Bloomberg LP and its owners.
Shuli Ren is a Bloomberg Opinion columnist covering Asian markets. She previously wrote on markets for Barron's, following a career as an investment banker, and is a CFA charterholder.