Europe's Banks Miss Out on a Globalized World
(Bloomberg Opinion) -- Bashing European banks together in a game of spin-the-deal-wheel makes for great headlines — UniDeutsche? BarChart? — but it will do little to dent the record market share in investment banking their U.S. rivals enjoy.
Of the many diseases blighting Europe's financial industry, the most relevant one for clients is the gaps in its global presence. As long as the top five positions in both the U.S. and Asian rankings elude European banks, it will be hard for the region's firms to spook Wall Street peers.
Europe itself does not lack for home-grown M&A advice or loans, despite the popular image of a continental retreat. Paris is swarming with bankers, and not just those moving into new digs before Brexit. France's M&A league tables show U.S. banks are being crowded out by national champions and pure-play advisers like Rothschild. And the list of the top 10 bookrunners on loans in Europe, the Middle East and Africa in the first half is reminiscent of the Ryder Cup: JPMorgan Chase & Co. is the only U.S. name at No. 8, trailing French, Italian and German rivals.
But no big European bank has a top five market share position in both Asia, which is brimming with acquisitive firms and newly-minted millionaires, and the U.S., which has the biggest financial market in the world. Half-year data from research firm Coalition shows the world's top four investment banks by market share — JPMorgan, Goldman Sachs Group Inc., Citigroup Inc., and Morgan Stanley — occupy top five positions in the Americas and Asia-Pacific, which in turn help to attract European corporates and investors looking for global connections. The fifth-ranked globally, Bank of America-Merrill Lynch, has a top 10 position in all three markets. UBS Group AG and Deutsche Bank AG do, too, but both lack BofA's U.S. scale.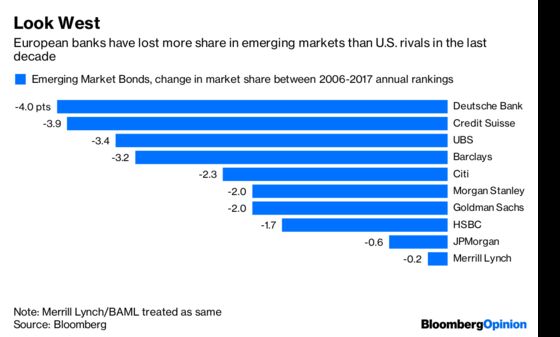 The aftermath of the crisis led many Western lenders to retreat from their Asian outposts — and the European players bear the deepest scars. In 2006, Deutsche Bank, Credit Suisse, Barclays and UBS held top 10 spots in emerging-market bonds and Asia bonds excluding Japan. By 2017, only Deutsche Bank was left. The Asia-Pacific equities business hasn't been much better: The biggest U.S. banks have collectively their increased market share since 2006, while Europe's lost ground. Banks are understandably protecting profitability and domestic market share — but at a cost to their franchise.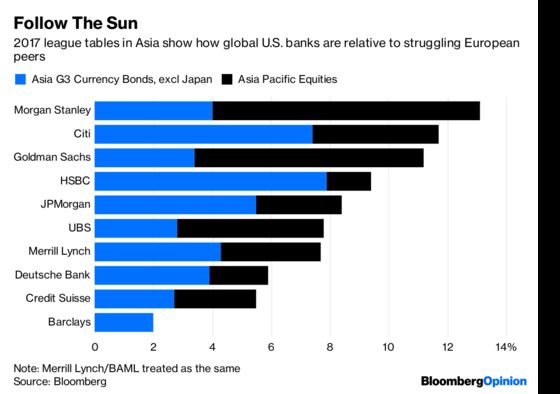 Barclays's recent strategic shift is an example. The arrival of Jes Staley as CEO in 2015 heralded the promise of a diversified "transatlantic" financial services business, which seemed to chime with Chairman John McFarlane's call for an "investment-banking champion for Europe." But sticking with London and New York meant exiting markets to the east — so jobs were eliminated in Asia as well as businesses like cash equities. The bank has since devoted more resources to the region: Barclays is hiring again in Asia, and has reportedly mulled a merger with Asia-focused Standard Chartered Plc. But the regulatory barriers to such a deal would be high.
The gloom doesn't have to last forever. UBS, whose early move to restructure its business in 2012 has put it in a better position relative to its rivals, has applied to acquire a majority stake in its Chinese venture and is prioritizing Asia growth. And Wall Street banks have run into their own pitfalls abroad, such as the 1MDB scandal or corrupt hiring practices in China.
But European banks' growth ambitions will be kept on a leash by shareholders. It makes sense for European banks to gain scale and operating efficiency through mergers at home. That could help stanch the market share they're bleeding and even win them new business. But the belief that investors are ready to bankroll a European merger so big it would put fear into the hearts of Wall Street rivals looks wishful indeed.
This column does not necessarily reflect the opinion of the editorial board or Bloomberg LP and its owners.
Lionel Laurent is a Bloomberg Opinion columnist covering finance and markets. He previously worked at Reuters and Forbes.