Deutsche Bank Is Losing Control
(Bloomberg Opinion) -- To say that Deutsche Bank AG is a basket case is obvious. The once-mighty German investment bank has racked up three straight years of losses, bled market share and destroyed 19 billion euros ($21.6 billion) of shareholder value in five years. Its inability to adapt to a post-crisis world has been astonishing.
But the latest events at the bank – Thursday's raid by German authorities in a money-laundering probe and reports of an imminent destabilizing management reshuffle by CEO Christian Sewing – suggest that we have sunk to new low in terms of institutional and operational stability.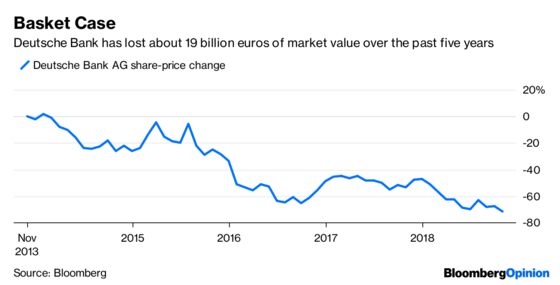 Whoever is nominally in charge – and surely the chain of accountability reaches well beyond Sewing and into the boardroom where Chairman Paul Achleitner sits – appears to have lost control.
A bank lives or dies by its risk management, and there's little evidence that Deutsche has a sufficiently tight leash on it. The latest raid is a red flag, but only one of many. Deutsche has been linked to a probe into Denmark's Danske Bank A/S, through which $230 billion in suspect funds were funneled. Separately, the German lender was fined almost $700 million last year for helping wealthy Russians move money out of the country. It is scrambling to improve its compliance controls.
Deutsche Bank's traders appear prone to eye-popping missteps, too. Last week, Bloomberg reported that the bank had lost $60 million this year on a bet that was supposed to both avert losses and make money. It's reminiscent of a similar loss linked to bets on U.S. inflation Bloomberg reported on back in 2017, when John Cryan was still CEO. And the less said about the lender's incredible, accidental, $35 billion flub in April – hastily reversed – the better.
Instead of trying to impose order and stability, the board and executives somehow keep doing the opposite. Cryan's efforts in trying to keep the Deutsche ship afloat were rewarded with a messy and hasty expulsion by the board. Now it seems the same thing is happening to senior executives: Chief Regulatory Officer Sylvie Matherat and U.S. chief Tom Patrick are said to be on the way out. Investment-bank head Garth Ritchie's job is also at risk amid concerns about his performance, according to the Financial Times.
All of this is obviously damaging for Deutsche's shares, which have plumbed new record lows, as well as its bonds. It's not hard to understand why: ever-changing management and faulty risk controls don't help to win more business.
If Chairman Achleitner and the supervisory board want to stop the rot, let alone return to growth, there needs to be a semblance of institutional control. A serious halt to risk-management blow-ups, however costly, would be worth it, as would a calmer approach to pushing out executives trying to implement an already difficult strategy. The more heads change at the management level, the more investors will wonder if they should change at board level.
This column does not necessarily reflect the opinion of the editorial board or Bloomberg LP and its owners.
Lionel Laurent is a Bloomberg Opinion columnist covering finance and markets. He previously worked at Reuters and Forbes.