Solomon Kicks Up the Tempo on Goldman's Remix
(Bloomberg Opinion) -- David Solomon doesn't want consumer lending to distract from his effort to spin Goldman Sachs Group Inc. into a hit with investors once again.
On Monday, Bloomberg reported that Solomon is looking to rein in the rapid growth of Marcus — the bank's relatively new consumer lending business. Marcus's loan book has grown 300 percent in the past year, reaching $4 billion at the end of the second quarter. The move appears to be the latest by Solomon, who took over as CEO earlier this month, to reorient the firm, which has struggled in the past year or so. Solomon has already replaced a number of top executives who were lieutenants to former CEO Lloyd Blankfein. Generally, most of Solomon's replacement picks have been executives with experience in Goldman's investment banking division. Most of the executives losing their posts had a background in trading.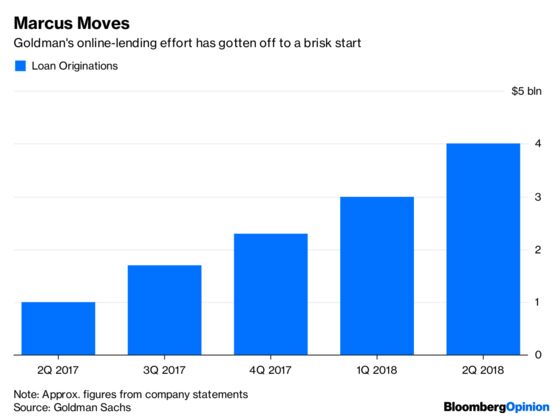 That's the transition many people had expected when Solomon took over. Still, what is surprising is the speed at which Solomon has been trying to remake the bank. While some turnover is expected with any new CEO, the number of executives who have been replaced so early in Solomon's tenure has surprised some rivals. Several were out even before Solomon officially took over, showing how itchy the new CEO was to get started.
The restrictions on Marcus's growth seem to be an even further retrenchment from the Blankfein era. The former CEO had made building out lending, and Marcus in particular, crucial to bolstering growth and profitability. But like trading, increasing consumer lending, particularly unsecured consumer lending, which is the bulk of Marcus at this point, meant adding significantly more risk.
What's more, it was never quite clear how Goldman was going to be able leverage lending, a traditional banking activity, into higher profits. One way could have been by making higher interest rate loans to riskier borrowers, but that exposes the bank to even more risk. Some of the move could be a bit of market timing, guessing that consumer credit may worsen soon. Solomon in the past has said he is committed to Marcus.
But it's hard to see why Goldman would be worried about consumer credit now. The economy is better than it has been in more than a decade, and the unemployment rate dropped to 3.7 percent on Friday. What's more, the charge-off rate of bad consumer loans for all banks last quarter was a mere 1.1 percent.
Goldman, though, may have done a worse job than others at managing its credit risk. Last quarter, the bank reported that the loss rate on the Marcus portfolio was 5 percent. That could be another potential reason Solomon wants to restrain Marcus.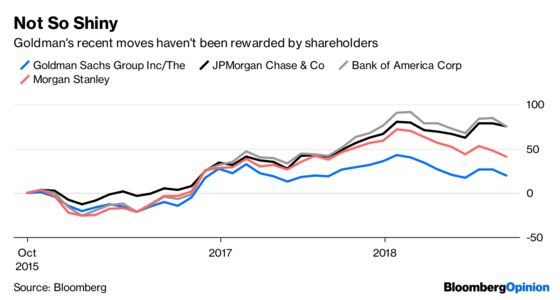 Solomon's plan may pay off if investors think he's likely to rely on the dependable, though potentially slower growing, profits of investment banking rather than reaching into more risky and volatile areas. Marcus's fast growth never seemed to elicit much excitement from investors. Shares of the bank are up 29 percent, including dividends, in the past three years. Rival JPMorgan Chase & Co.'s shares have risen nearly 100 percent in the same time.
The question is whether Solomon is going too fast. The relatively high turnover in Goldman's upper ranks could cause the bank to stumble as it adjusts to new leaders. On top of that, analysts had built in continued rapid growth from Marcus into their 2019 earnings estimates, in part because of Blankfein's support for the unit. Marcus is still relatively small, but some of those estimates may have to come down.
That may set up the bank for some skips in the next few quarters as Solomon proves he can put Goldman back in the groove.
This column does not necessarily reflect the opinion of the editorial board or Bloomberg LP and its owners.
Stephen Gandel is a Bloomberg Opinion columnist covering banking and equity markets. He was previously a deputy digital editor for Fortune and an economics blogger at Time. He has also covered finance and the housing market.