The Sound of Corrupt Cash Being Sucked Through Europe
(Bloomberg Opinion) -- Europe's national regulators are discovering the limits of their ability to police cross-border money laundering in a complex and globalized financial system that's full of holes. As incomplete and imperfect as the region's banking union may be, more supranational oversight and co-operation would help.
The severity and complexity of corruption probes hitting supposedly humdrum, diversified consumer-and-business banks should be a wake-up call. Dutch bank ING Groep NV said on Tuesday it would pay 775 million euros ($895 million) to settle a probe into corrupt practices and unusual payments, including sums sent by VimpelCom Ltd. to a firm owned by an Uzbek government official. ING admitted that clients had been able to launder money through their accounts for years.
Meanwhile, an investigation into allegations that Danske Bank A/S's Estonian operations were used to launder billions of dollars in illicit funds is nearing its end. As much as $30 billion may have flowed through the Copenhagen-based bank's Estonian branch in a single year, according to the Financial Times. This would have been only one of many warning signs that went unnoticed between 2007 and 2015. Holding management accountable over goings-on in a small foreign branch has proven tricky.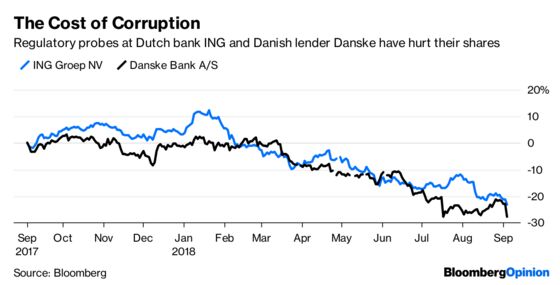 At the local level, it's clear that banks and their managers need to be held to a higher standard – and risk tougher punishments. ING has suspended some senior staff and "held back" some pay, while the bank's executive board will waive their bonuses for 2018. Still, going by last year's figures, the latter will only cover about 1 percent of the 100 million euros of gains ING has had to pay back on top of a legal settlement. Over in Denmark, regulators have so far only delivered wrist slaps – new, tougher laws being considered wouldn't be retroactive.
But local crackdowns are nothing without better information-sharing between countries and a tougher approach to spotting weak cross-border links. VimpelCom's history of illicit payments in Uzbekistan led to a near-record $795 million settlement in 2016. In U.S. court documents, the telecommunications company and others in the industry were accused of making of corrupt payments through banks in the U.K., Hong Kong, New York and Latvia – all via shell companies registered in Gibraltar. The Danske scandal involves money flowing from Russia into the European Union, and false data filed to Companies House in the U.K.
The sound of corrupt cash being sucked through Europe should be heard far and wide, and the holes in the system need to be plugged. The pan-European banking union is incomplete, with Denmark still debating whether to join, and the relatively young ECB regulator often lacks the power to encroach on individual member states' authority in enforcement matters. More supranational oversight, or improvements to the current regime, would help. The U.S. shouldn't be the only policeman in town.
This column does not necessarily reflect the opinion of the editorial board or Bloomberg LP and its owners.
Lionel Laurent is a Bloomberg Opinion columnist covering finance and markets. He previously worked at Reuters and Forbes.