Danone Can't Offset a Baby Bust With Yogurt
(Bloomberg Opinion) -- All the yogurt in the world can't make up for a baby bust.
Danone SA reported its weakest third-quarter sales growth in more than a decade as infant nutrition revenue in China fell 20 percent. It was a very different story a year ago, when sales of baby milk rose by more than 50 percent in the period. 
Part of that was due to the Chinese baby boom, which peaked in the second half of 2016. The pace of new births has cooled since. So, although sales of growing-up milk are still going strong, the support for products for babies up to six months has lost some steam.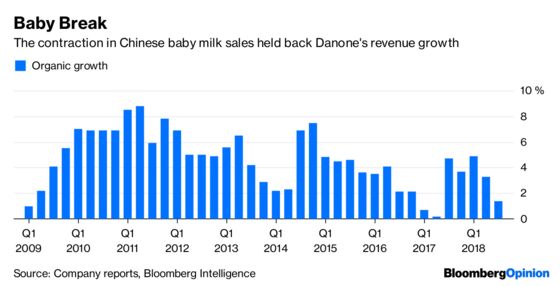 This dynamic will also affect Nestle SA and Reckitt Benckiser Group Plc, which entered the market through its 2017 acquisition of Mead Johnson. But there are some factors that make Danone more exposed.
Some 30 percent of Danone baby milk sales in the country come from intermediaries such as wholesalers who, for instance, buy in Europe and ship the products abroad. In 2017 they'd been destocking ahead of new rules coming into effect on Jan. 1, 2018 that would toughen inspections of baby milk imports to China. 
But around September that year the government delayed the introduction of the rules to Jan. 1, 2019. That prompted a spate of buying by intermediaries in the third quarter to take advantage of the window of opportunity for sales.
For Danone, that meant that this year's sales numbers were always going to face tough comparisons, so it was inevitable that growth would fade. 
Nestle and Reckitt never saw such a big lift in infant nutrition. For example, Reckitt's Asian infant formula business increased sales by just 4 percent in the third quarter of 2017. While it won't escape the impact from the deceleration in births, the damage shouldn't be as extreme.
Danone's report on Wednesday wan't all bad news. Sales of plant-based products, which were added to the portfolio two years ago thanks to the $10 billion acquisition of WhiteWave Foods, grew, while yogurt showed signs of improvement. And the long-awaited revival of Activa may finally be here –  innovations including the addition of probiotics boosted sales on both sides of the Atlantic.
But that wasn't enough to save the shares, which fell more than 4 percent on Wednesday. They trade on a forward price earnings ratio of about 16 times, and their discount to the company's main consumer-goods rivals looks like it's deserved.
Investors should be encouraged that the company has – so far – navigated the contraction in the Chinese infant formula market. But the disruption will continue for a few more quarters. To further regain credibility with shareholders, and narrow the gap to rivals, Danone needs to show that it can continue to grow sales in the world outside of the nursery.
This column does not necessarily reflect the opinion of the editorial board or Bloomberg LP and its owners.
Andrea Felsted is a Bloomberg Opinion columnist covering the consumer and retail industries. She previously worked at the Financial Times.