Can an Activist Change One of Europe's Biggest Food Companies?
(Bloomberg Opinion) -- Danone SA has attracted the attentions of an activist investor for the second time in three years. On this occasion, the outsider stands a good chance of bringing about change. Perhaps it will force the French food company into the shakeup it needs.
Bluebell Capital Partners, run by finance veterans and the former head of Bulgari, is calling for the chairman and chief executive officer roles at Danone to be split, and for an independent chairman to be appointed. Ultimately, that could pave the way for CEO and Chairman Emmanuel Faber to be replaced. He has been at the helm since 2014. A compromise would be to appoint a powerful chairman to put pressure on Faber to deliver.
Either way, here is certainly scope for an overhaul at Danone.
The group has a strong position in health and wellness foods: It owns leading yogurt brands Activia and Actimel, and it has an enviable niche in plant-based products thanks to its $10 billion purchase of WhiteWave Foods in 2017. It also has a sizable infant nutrition business in China.
But these strengths have not translated into superior performance. The company failed to achieve the targets it set in 2017 for like-for-like sales growth to reach between 4% and 5%, and for an operating margin of 16%, by 2020.
Indeed, last year was tough for Danone. In October, it announced a new strategic plan, with goals that were not as ambitious as the previous three-year blueprint. A month later, it announced 2,000 job cuts and a different organizational structure, in an effort to save 1 billion euros ($1.2 billion). The move was sensible but risked significant disruption.
Better governance would help the company rebuild trust and confidence with shareholders. According to a recent survey by Bernstein, only 10% of investors were happy with the current management team.
Meanwhile, Nestle SA's CEO Mark Schneider has done many of the things that Danone is aiming to do. That might explain why its valuation premium to Danone is close to its biggest level in five years.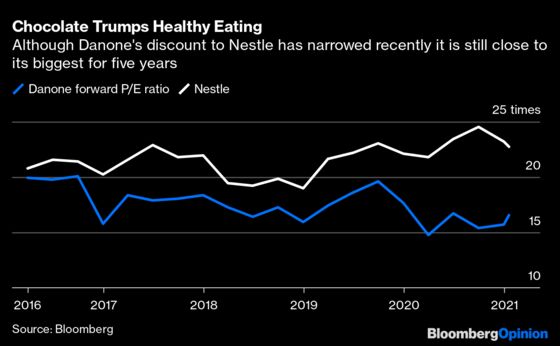 A new CEO at Danone would bring a fresh pair of eyes and the prospect of running things better — but it wouldn't remove the thorny issues ahead.
The company needs to innovate and invest. This means spending more on turning around its sluggish dairy business, making the most of its plant-based products and defending its Chinese infant nutrition business against local competition. These efforts could be expensive in the short term. 
A new leader would also need to go further than Faber in reviewing the company's portfolio of underperforming brands or those that are not core to its operations. Analysts at Jefferies have already identified potential disposals accounting for 4 billion euros ($4.9 billion) of sales, including parts of the bottled-water business, which has been hit hard by consumers staying home during the pandemic, and milk businesses in markets such as Russia and Morocco. Danone's medical nutrition arm, which makes products that address specific medical conditions, could also be a valuable prize to a potential buyer.
There probably isn't scope for Danone take on more borrowings or be put up for sale — just look at the French government's resistance to the potential takeover of Carrefour SA. These sorts of demands are typical of an activist investor, but wisely don't seem to be on Bluebell's agenda right now. After all, there is plenty more that can be achieved at Danone without causing a messy spill. 
This column does not necessarily reflect the opinion of the editorial board or Bloomberg LP and its owners.
Andrea Felsted is a Bloomberg Opinion columnist covering the consumer and retail industries. She previously worked at the Financial Times.