Daimler Keeps Family Jewels Close in Dance With China
(Bloomberg Opinion) -- Daimler AG may have found a way to assuage its biggest investor's desire to form a Chinese-European alliance without giving away its family jewels.
That investment created a predicament for Daimler, which has been developing self-driving vehicle technology with automotive supplier Robert Bosch GmbH. Away from the bluster of Silicon Valley, the two Stuttgart-based companies have quietly developed some of the best autonomous tech around.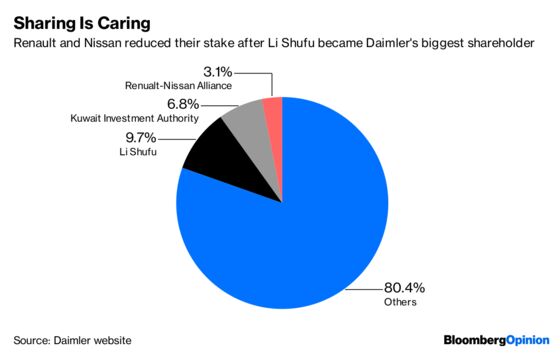 Daimler really doesn't want to share key know-how with its largest investor, the Frankfurter Allgemeine Zeitung's Sunday edition reported in March. Bad news for Li, who called for "extensive alliances" in a column in the same newspaper the following month.
The ride-hailing tie-up is a smart move. The 50-50 joint venture may use cars from Daimler's electric-vehicle brand, Denza, itself a joint venture with China's BYD Co. That might help keep it at arm's length from core parts of the German company's business, making it harder for Geely — which also owns luxury car rival Volvo — to get access.
The joint venture will give the two firms a better sense of how effectively they can work together. If this winds up being in the interest of both companies, there's scope for further alliances which might share more technology.
Daimler said last year it was seeking Chinese partners to shoulder some of the risks with its Car2Go carsharing business. The pairing with Geely should be helpful here, particularly if the push into ride-hailing becomes aggressive. Uber Technologies Inc. has already withdrawn from the market, unable to stomach the price war with local rival Didi Chuxing Inc., whose backers include Softbank Group Corp., Tencent Holdings Ltd., and Alibaba Group Holdings Ltd.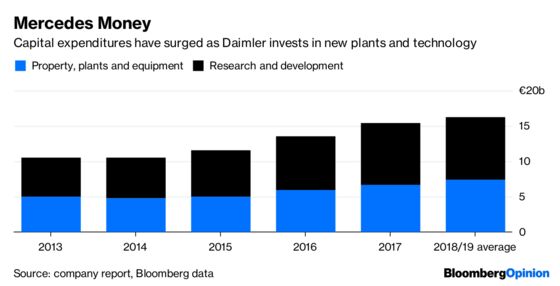 While Daimler still has significant cash reserves, it's rapidly expanding spending on R&D and new plants. A flurry of acquisitions such as cab-hailing app MyTaxi mean it has a head start among European automakers when it comes to transport on demand. This is all while maintaining a chunky dividend to shareholders.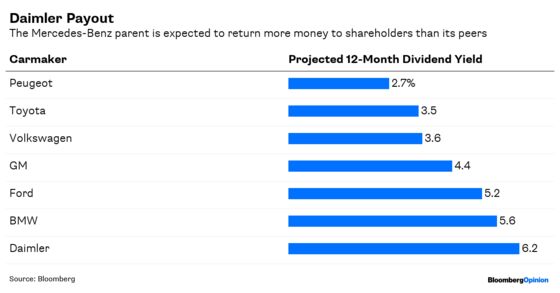 China is a different ballgame, and investors won't want to be dragged into a costly war for ride-hailing market share. At the peak of their conflict, Didi and Uber would regularly spend hundreds of millions of dollars each month on discounts to attract customers. The risk of overspending here would jeopardize Daimler's ability to maintain capital intensity while still rewarding investors.
Geely's Li has said that, even if he fails to forge broader alliances with Daimler, the company's healthy returns to investors (projected dividend yield is 6.2 percent) still make it attractive. He may not want to imperil that, particularly as Geely itself has limited cash reserves of just 16 billion yuan ($2.4 billion) — though the company may have scope to raise more funds if it needs to. Its partner has some 14 billion euros ($16 billion).
It's still early days for the Daimler-Geely relationship, but the Germans are approaching it with appropriate caution.
This column does not necessarily reflect the opinion of the editorial board or Bloomberg LP and its owners.
Alex Webb is a Bloomberg Opinion columnist covering Europe's technology, media and communications industries. He previously covered Apple and other technology companies for Bloomberg News in San Francisco.