Makeup Brands Need a Better Foundation in China
(Bloomberg Opinion) -- Asia's makeup brands are starting to look ugly.
Shares of Japanese and South Korean cosmetics makers have been melting this month, as Beijing cracks down on daigou, Chinese travelers who buy everything from infant formula to skincare products for resale at home, often to friends and relatives. These shoppers tend to be university students looking to make a little extra cash or tourists scooping up duty-free items.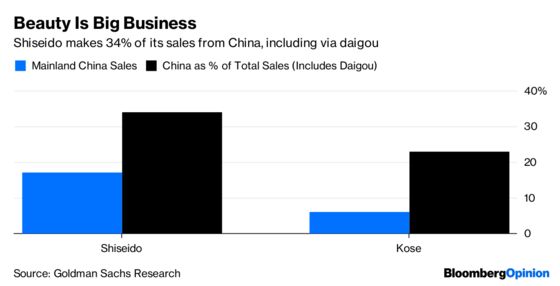 Added together, this isn't merely pocket change. As my colleague David Fickling wrote recently, Chinese tourists spent about $762 a head on shopping while overseas in 2017, representing about $100 billion of foreign goods brought in under the counter. Beauty products are the top purchase by these travelers, according to Jefferies Group LLC.
Any extra scrutiny could hurt brands that have profited from the flood of Chinese tourists in years past: Companies in the S&P Global Luxury Index have lost $200 billion in value since the end of September. This also comes as tourist arrivals fall in Japan — for the first time in six years — and a weak Chinese currency chips away at buying power.
For years the daigou trade has been pretty convenient for global cosmetics firms like Japan's Shiseido Co. and Kose Corp. and South Korea's Amorepacific Corp. They've managed to tap into the China market without having to rely exclusively on mainland sales. Those days are coming to an end — and foreign brands need to start selling more within China to make up the difference.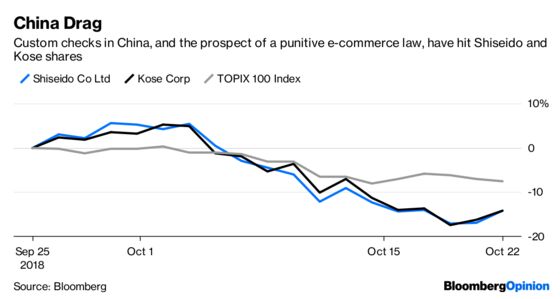 The rationale behind daigou is straightforward: Mainland department stores generally charge 20 percent more than Japanese duty-free outlets and 40 percent more than Korean ones, according to Goldman Sachs Group Inc. Individual resellers can get as much as a 10 percent markup on Japanese goods when peddling through online platforms like Alibaba Group Holding Ltd.'s Taobao and Tencent Holding Ltd.'s WeChat. In a country beset by skepticism of fakes, products bought overseas also carry a perceived seal of authenticity.
As daigou channels got more widespread and sophisticated, Chinese authorities started to monitor what had been a largely unregulated gray market. In the first week of October, social-media reports of stricter custom checks in Chinese airports for travelers returning home from Golden Week went viral.
That clampdown also followed the announcement of a new e-commerce law, which goes into effect Jan. 1, requiring daigou and other other online platform operators — no matter how small — to register with authorities and pay postal taxes. For high-end skincare products, which can go for as much as 10,000 yuan ($1,400), the levy will be about 30 percent, according to Goldman Sachs.
Higher taxes will be especially bad news for Japan's cosmetics firms, whose products are more expensive — and lusted after — than Korean ones (though both have benefited from celebrity campaigns for everything from moisturizers to "color cosmetics").
The new hurdles require the likes of Shiseido and Kose to establish better strategies within China — developing more retail outlets and online platforms and selling through official channels. On this measure, Shiseido could be in a better position than its Japanese rival. The company already has a bigger footprint in China, with its main brand sold at 200 department stores. Kose's Sekkisei line is sold at 150 stores and Cosme Decorte at only 10, according to Goldman.
Overseas brands have already started to cut prices in China to mirror those in the U.S. and Europe. To win volume, they'll need to do more of it. Luckily, Beijing is also reducing taxes on some luxury products, including cosmetics, for shoppers at home.
Another piece of good news is that foreign companies don't have much local competition for the time being: Among the top 10 premium brands in the mainland market, only one is Chinese.
Still, lower-profile Korean brands will need to amp up their marketing campaigns to compete with more-coveted Japanese competitors. Shiseido's aggressive efforts to reach younger consumers, with go-to sites like "Lisa's Beauty Blog" and "Beauty Buy Buy Buy," have paid off. Plumping up demand could be a risky proposition as the trade war and an economic slowdown zap consumer sentiment. The "lipstick effect" — the idea that consumers will keep buying affordable indulgences during a downturn — may not apply to 10,000-yuan lotions.
In the meantime, global cosmetics companies should prepare for the end of Chinese travelers' price-arbitrage game. If they wait too long, it may not be pretty.
This column does not necessarily reflect the opinion of the editorial board or Bloomberg LP and its owners.
Nisha Gopalan is a Bloomberg Opinion columnist covering deals and banking. She previously worked for the Wall Street Journal and Dow Jones as an editor and a reporter.