Credit Suisse Fails to Shrink to Greatness
(Bloomberg Opinion) -- Credit Suisse Group AG CEO Tidjane Thiam likes to be clear about what he can and can't control as he tries to turn around the Swiss bank. While he has been able to contain risk, slash costs and raise capital, top-line revenue is out of his hands, he told Bloomberg Television on Thursday. The not-so-small catch for investors: Revenue is exactly where his firm has a problem.
Even after a choppy summer for global financial markets, and a mixed bag of results from rivals, Credit Suisse's third-quarter results failed to clear the lowered bar for expectations. Net revenue fell 1.7 percent to its lowest quarterly level since early 2016, and the once-mighty global markets unit posted a surprise loss.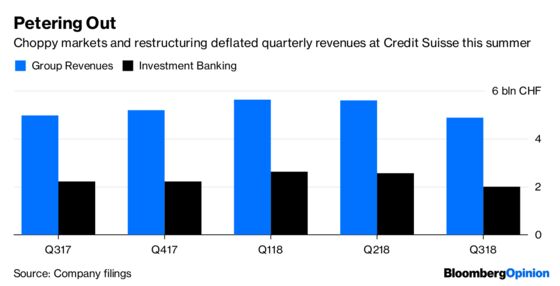 The disappointment was all the more palpable as analysts had already cut their estimates for Credit Suisse's 2018 earnings per share by 15 percent. The shares fell as much as 4.7 percent. Over the past month, they have even underperformed perennial laggard Deutsche Bank AG.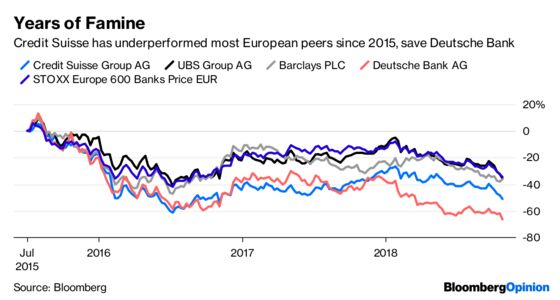 While Credit Suisse still looks on track to report its first annual profit since 2014 this year — which would be a happy development for Thiam — its goal of transforming itself into a less volatile wealth-manager-and-investment-bank (similar to UBS Group AG) looks further away than ever. Credit Suisse's return on tangible equity was a measly 4.5 percent in the quarter, well short of the 10 to 11 percent it's targeting in 2019 and UBS's own reported figure of 11.3 percent.
The balancing act between revenue and costs is an important one, even if Thiam would rather play down the performance of his traders in a bearish market environment. The further sales fall, the more costs need to be cut to preserve profit, which in turn risks exacerbating the top-line hit. To see quarterly investment-banking revenue fall below the 2 billion-franc level for the first time in years is a concern, given it was almost completely eaten up by operating expenses.
And even if the focus on wealth management makes sense in terms of strategy and profit growth, it isn't a shelter for all seasons. Profit margins there are gradually being eroded, and market volatility is dampening client transaction fees.
Beyond a miracle upturn in financial markets, greater efficiency and more investment in technology will probably have to be a feature of Credit Suisse's forthcoming investor day. The promise of shrinking to greatness might, however, fall on deaf ears if there's a sense managers are cutting beyond the fat and into the muscle of the business.
Thiam, who has already tried to keep investors sweet by dangling the prospect of buybacks, can't afford more missteps — even if they are not of his own making. If he can't control the damage from dwindling revenue, shareholders may wonder whether they should control their impulse to sell.
This column does not necessarily reflect the opinion of the editorial board or Bloomberg LP and its owners.
Lionel Laurent is a Bloomberg Opinion columnist covering finance and markets. He previously worked at Reuters and Forbes.