Oil Markets Are a Long Way From Back to Normal
(Bloomberg Opinion) -- We're all pinning our hopes on vaccines to free us to meet friends and family, travel and return to something like our normal lives. Oil market forecasters, too, are finally getting a little more optimistic about the recovery in demand that should accompany that return. But a closer look shows we're just not there yet.
In their latest monthly reports, the International Energy Agency, the U.S. Energy Information Administration and the Organization of Petroleum Exporting Countries all raised their oil demand estimates for 2021. It's the first time since they began publishing such forecasts that they've all been more optimistic than they were a month earlier.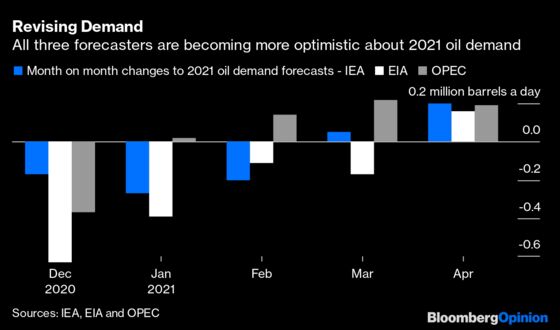 As you look a little deeper into the forecasts, one thing becomes abundantly clear. All three agencies are a lot more optimistic about the second half of the year than they are about the first half. That's not surprising, but it does raise some yellow flags for caution.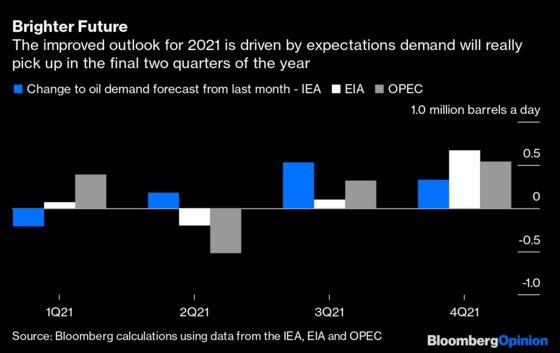 The forecasts are very dependent on the vaccines against Covid-19 being rolled out even more extensively than they are now, and on the inoculations proving effective against variants of the disease that have fueled second, or even third, waves of infections in some countries.
Alongside vaccines, the agencies say their newfound optimism stems from the more upbeat outlook from the International Monetary Fund, which has raised its global economic growth forecast for the second time in three months. While U.S. President Joe Biden's $1.9 trillion stimulus package is a contributing factor, the IMF's bullishness also hangs, to a large extent, on the widespread rollout of effective coronavirus vaccines.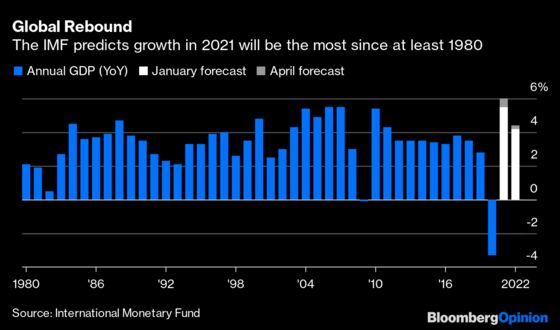 That means the oil soothsayers are doubling down on vaccines. And yet it's far too early to say whether they'll provide the deliverance we're all pining for, much less when. We must avoid getting carried away with our optimism.
Mass vaccination campaigns hit headwinds last week from growing concerns over potential links between  rare but dangerous blood clots and the AstraZeneca and Johnson & Johnson shots. The European Union may not renew orders with either company, meaning it wouldn't have 75% of its population fully vaccinated until December. The U.S. could also face setbacks from a pause in administering J&J's vaccines. Japan's vaccination drive only finally got going on Monday.
The unequal rollout across the world leaves large populations unprotected — a huge reservoir of potential hosts in which the coronavirus can continue to mutate, possibly in ways that are more contagious.
And this brings us back to oil demand.
The easing of restrictions in the U.S. and the U.K. has led to a dramatic recovery in the demand for road fuels — particularly the gasoline used to power private vehicles in the U.S. Gasoline deliveries, a proxy for demand, are within a whisker of their highest level since the pandemic began. Just 60,000 barrels a day, or 0.6%, below a post-pandemic peak reached at the height of last year's summer driving season, they are likely to surpass that level very soon.
In the U.K., government data show road use was at 91% of pre-pandemic levels on April 12, although private cars still lagged some way behind commercial vehicles.
But air travel is still languishing and may continue to do so. Although U.S. passenger numbers hit their highest level since the start of the pandemic over Easter weekend, they were still more than a third down on the same point in 2019, according to data from the Transport Safety Administration. And that's in a country where domestic flights account for a large part of the total. International flights are lagging much further behind, with cross-border travel still severely restricted across most of the world.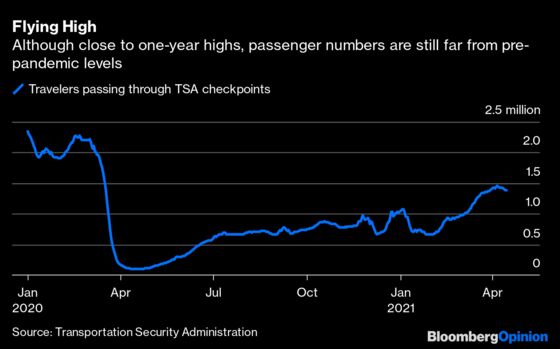 Even if those restrictions are eased over the coming months, opening borders in time for summer holidays in the the Northern Hemisphere won't necessarily result in the sort of surge in flights that may be needed to achieve the most recent oil demand forecasts.
If flying remains too onerous in terms of costly Covid tests, quarantine or self-isolation requirements, people may choose to holiday far closer to home for a second year instead. The U.K.'s Heathrow Airport, the country's busiest, is already reporting incoming passenger waiting times of up to six hours, and that's before foreign travel rules are relaxed.
The picture for travel, and with it for the continued recovery in oil demand, may well be rosier than it was a month ago. But we're still a long way from being back to normal.
This column does not necessarily reflect the opinion of the editorial board or Bloomberg LP and its owners.
Julian Lee is an oil strategist for Bloomberg. Previously he worked as a senior analyst at the Centre for Global Energy Studies.