Covid Housing Boom Is Even Bigger Than Imagined
Bloomberg
Opinion
(Bloomberg Opinion) -- We've reached the point at which superlatives don't do justice to what happened in the U.S. housing market over the past year.
The Federal Reserve Bank of New York on Wednesday released its quarterly report on household debt and credit for the final three months of 2020, with its strategists and statisticians deciding to dig deeper into mortgage originations, the types of homebuyers during the Covid-19 pandemic and to what extent Americans are taking out cash against their home equity. While much of what they found confirms many of the narratives about the housing market, it's the sheer magnitude of the move that's breathtaking and puts into context where the economy stands almost one year after the coronavirus crisis began in the U.S.
At the highest level, mortgage originations reached almost $1.2 trillion in the final three months of 2020, the highest quarterly volume in the history of the New York Fed's data, which begins in 2000. Americans refinanced more mortgage debt last year than any time since 2003, while mortgages taken out to purchase a home surged to the highest since 2006. First-time buyers took on more debt than at any time in history, while mortgages for repeat buyers and those looking for a second home or an investment property reached the highest in more than a decade.
Meanwhile, home prices soared across the U.S., with the S&P CoreLogic Case-Shiller index jumping 9.5% in November, the most since 2014 (December's figures will be released next week). This surge led to "a notable increase in cashout refinance volumes, which spiked in the fourth quarter of 2020 and show no sign of abating," the New York Fed researchers said in a blog post. Collectively, homeowners withdrew $182 billion in home equity in 2020, or an average of about $27,000 for each household. Even those who chose not to take out extra cash saved an average of $200 a month on their mortgage payments.
Hundreds of billions of dollars of newfound cash will leave a mark, even on an economy as big as that of the U.S. Some of it undoubtedly flowed into the financial markets, helping to lift stock prices to records in a matter of months. The extra money may have helped ease some of the burden of child care during the pandemic or the transition to a work-from-home lifestyle. With most travel on pause, these extra funds might have encouraged spending on goods rather than services — look no further than the giant rebound in retail sales in May and June, just as 30-year mortgage rates began setting new lows. Even homeowners who didn't cash out still felt the wealth effect: CoreLogic's Home Equity Report for the third quarter showed equity held by Americans with mortgages increased 10.8% compared with a year earlier, for a collective gain of $1 trillion.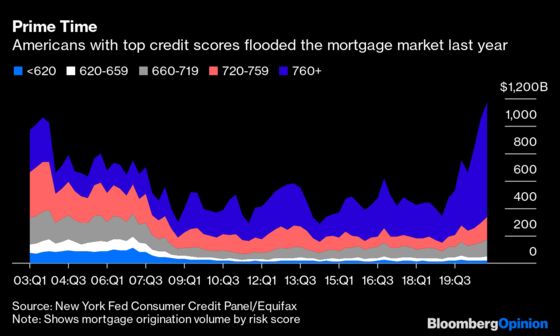 The specter of a K-shaped recovery looms large, however. While the New York Fed's data doesn't break down mortgages by income levels, the figures are based on anonymized Equifax data, which allows researchers to compile originations by credit score. Assuming that a higher score is a good proxy for overall wealth, the results are striking. More than 70% of originations in the fourth quarter went to borrowers in the top tier (credit scores higher than 760). By comparison, during a refinancing boom in 2003, just 31% of new mortgages went to people with top credit scores. Obviously, no one wants a repeat of the housing crisis with over-leveraged household balance sheets. But those benefiting from the boom in housing prices are Americans who are disproportionately the most creditworthy already.
To be sure, the median credit score for newly originated mortgages has been climbing higher for more than a decade since the financial crisis, likely because the lasting scars from that period have kept households from overextending themselves. Still, the pandemic took this trend to new heights. "With a look to the series history, new mortgages are more prime — for even first-time buyers," New York Fed researchers wrote. 
It seems as if 2021 could go in starkly different directions. On the one hand, 30-year mortgage rates remain near record lows, providing further opportunities for refinancing and the chance to buy new homes. Yet the sharp increase in housing prices could lock out many Americans from homeownership. It's also an open question what will happen when forbearances end for payments on student loans and mortgages backed by the federal government.
For now, what's clear is that 2020's housing boom was bigger than anyone could have imagined at this time last year, when Covid-19 still felt like a distant threat. It has fundamentally shifted the ground beneath the U.S. economy and set the foundation for a recovery that could be unlike anything in recent memory.
This column does not necessarily reflect the opinion of the editorial board or Bloomberg LP and its owners.
Brian Chappatta is a Bloomberg Opinion columnist covering debt markets. He previously covered bonds for Bloomberg News. He is also a CFA charterholder.