China's Factories Are Slowly Waking Up
(Bloomberg Opinion) -- Levels of nitrogen dioxide being released into the atmosphere have become a useful marker for the fall and rise of industrial, business and civic activities as countries across the globe impose and relax lockdowns due to the spread of Covid-19.
Although it may seem perverse to seek solace in the increase of any pollutant — especially one that causes respiratory damage in the midst of a pandemic known for causing severe acute respiratory distress — the gradual increase in NO2 levels across China indicates a glimmer of hope for economic recovery, once the medical crisis is over.
The analysis below is from OILX using images from the European Space Agency.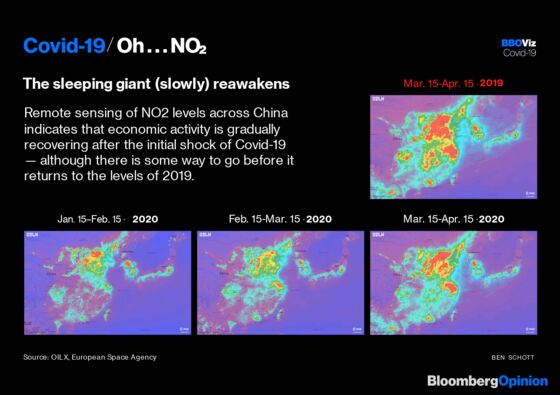 This column does not necessarily reflect the opinion of the editorial board or Bloomberg LP and its owners.
Ben Schott is a Bloomberg Opinion visual columnist. He created the Schott's Original Miscellany and Schott's Almanac series, and writes for newspapers and magazines around the world.