Copper Pitches the Markets a Curveball
(Bloomberg Opinion) -- For all the gloom in copper prices — down 10 percent year-to-date, the most of any base metal after zinc — there's a glimmer of hope waiting in the futures curve.
The cash-to-three-month spread — a measure of how keen consumers are to get their hands on material now, rather than later — has flipped into backwardation on a sustained basis for the first time in two years, with spot metal trading at an average premium of 30 cents a metric ton through last week.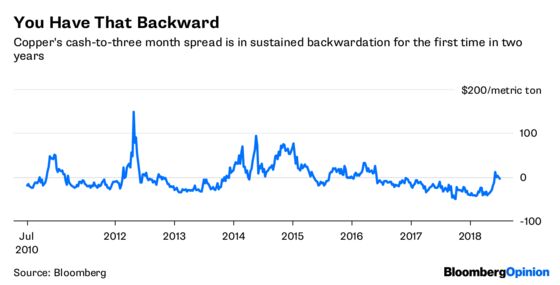 The discount for cash was as wide as $60.15 on Sept. 26, 2017. The natural shape of such forward curves is an upward slope, with prices increasing to pay for the cost of warehousing and finance over time. When they flip — especially in the face of rising interest rates — it can be taken as a positive signal for short-term prices.
Why, then, are they doing so badly? Copper was at $6,491 a ton on the London Metal Exchange in early trading Wednesday, having fallen more than 11 percent from its June 7 high.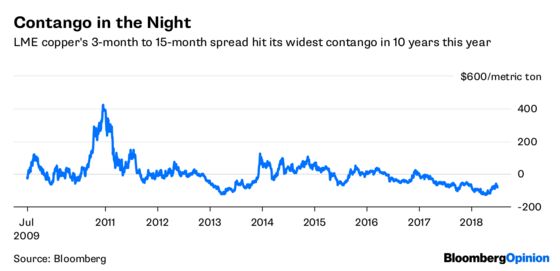 One clue comes from looking further out on the curve. Compare the three-month contracts to those for delivery at the end of 2019, the only widely held contract past the end of this year, and you see a discount that's been widening for more than four years. In April, 15-month metal hit its biggest premium over three-month deliveries in a decade. That underlines the picture of a market with more than adequate supplies on hand, as evidenced by the ample inventory of copper in warehouses linked to the LME and Shanghai Futures Exchange.
Put another way, copper curves are telling two separate stories. The short-term one is (as it has been for several years) one of supply shortages. At Corp. Nacional del Cobre de Chile or Codelco's Chuquicamata pit — arguably history's most important copper mine, and one on which the country's modern prosperity was built — unions are planning a 24-hour stoppage within the next two weeks and warning the strike could be extended if management don't come to the table, Bloomberg News reported Tuesday local time.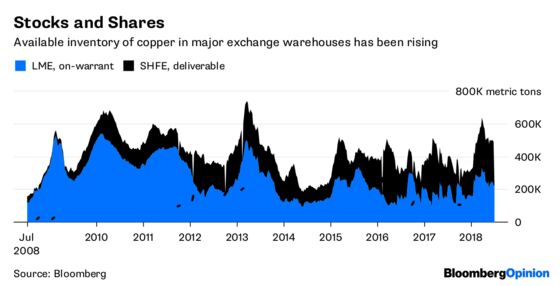 At Escondida, the BHP Billiton Ltd.-owned mine that's taken the laurels from Chuquicamata, management and unions are also locked in talks ahead of a contract expiry at the end of this month, although the negotiations seem to be going well. On top of that, the complex maneuvering between Freeport-McMoRan Inc., Rio Tinto Group and the Indonesian government to give a state-owned company a majority share in the massive Grasberg pit looks to be going to the wire, with Freeport Wednesday being issued an interim license to run the pit through the end of this month.
That's quite enough uncertainty to put a bit of pep into short-term prices, but the longer-term picture is the one that should worry investors. An index of Chinese demand was negative for the fourth straight month in April, Bloomberg Intelligence analyst Andrew Cosgrove wrote last week.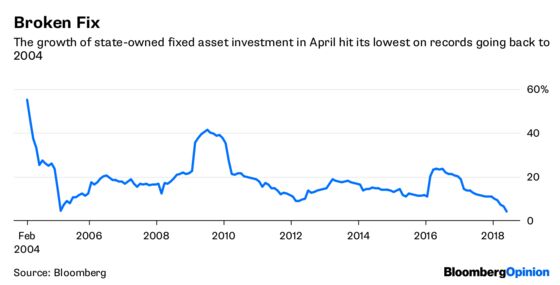 A burst of investment in the country's electricity grid in recent years is coming to an end and building activity is slowing, cutting into demand for wiring. Fixed-asset investment by state companies fell to its slowest pace of growth in 14 years in May.
Electronics are unlikely to save the day, either: With rumblings of a trade war still rolling across the Pacific, that's probably going to be one of the first categories hit by any expansion of tariffs beyond the ones the U.S. has already itemized.
That's reason to treat the more positive dynamics at the near end of the futures curve with extreme care. There are a few copper pennies to be picked up over the next several weeks — but the steamroller of falling demand is coming up fast.