Coke Arrives in Europe Before Bonds Go Flat
(Bloomberg Opinion) -- Business is booming in the European debt capital markets. Investment-grade corporate supply is up over 70 percent so far this year compared with the same period in 2018. But the incentive for investors to keep piling in is starting to wane.
Secondary market credit spreads, and the yield premium over existing debt that issuers typically offer on new deals, have both contracted substantially this year. Of the 265 bonds issued so far this year, 85 percent have tightened since launch. As markets generally are calmer, this is a natural reversal of the spread blowout that occurred during the torrid fourth quarter of 2018.
Each week this year has seen more than 30 billion euros ($34 billion) of new sales across all categories of high-grade debt. Among companies, American issuers have been a noticeable feature, with the likes of International Business Machines Corp., Altria Group Inc. and American Honda Finance Corp. completing nearly 12 billion euros of new offerings. 
This week should still be a busy one, with jumbo deals expected from The Coca Cola Co. and Medtronic Plc, both U.S companies. That will likely take total corporate supply so far this year to over 60 billion euros, which means that the amount priced in the first two months of 2019 will match that seen over the entire first quarter last year. Even sovereigns such as Greece and Cyprus – which had been effectively shut out of the market – have found demand. Cyprus managed to tighten the spread on its 1 billion-euro issue by 25 basis points from the initial marketing to final pricing, and attract more than 8 billion euros of orders, a reception that it can't take for granted.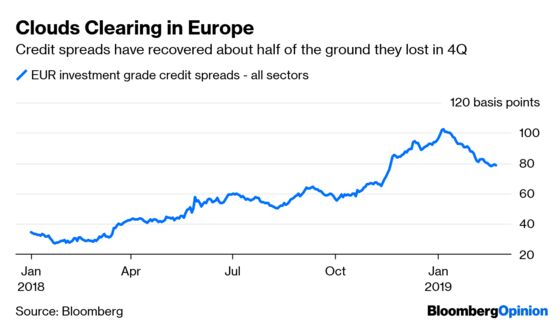 The feeding frenzy is due to calm down. A lot of the cash that had built up over the final three months of 2018, when the market for new bonds had slowed to a trickle, has been put to work. Fund managers ought to be a lot pickier now, as the advantage is swinging away from them and back to the issuer.
Where does the market go from here? Is there going to be a wave of these "reverse Yankees" turning up where the money is? This degree of activity could run for a little while more yet. But there are limits, and we could be seeing the start of them.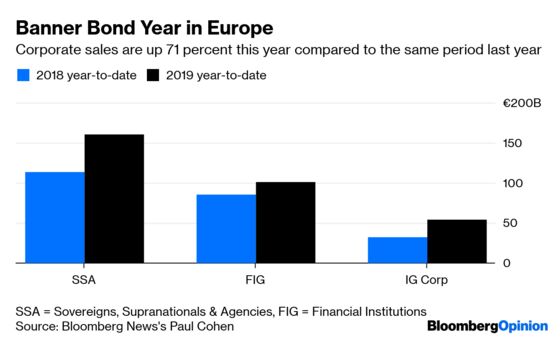 For a start, this isn't an ideal environment for the Americans to turn up in force. There is no arbitrage advantage to issue in the common currency rather than the greenback. In fact, it is more expensive if fully hedged. But if the company is content to keep the proceeds in euros, then it makes sense to take advantage of raised investor demand. Coke, for instance, has 3.5 billion euros debt falling due this year, so is simply refinancing.
More broadly, if the first wave of cash has been used up, and the balance of power is shifting back toward borrowers, it's only natural that some greater discretion will develop among would-be buyers. Funds have been gorging on new issues, and that can't last forever. Once the indigestion takes hold, it will only take one company to market a badly structured deal – one that's too big, has the wrong maturity, or starts with a spread that's too tight – for the investor base to pull back. One only has to look at the hefty premium on Volkswagen AG's jumbo deal in November, and how it dragged the whole market wider, to see how this could play out.
The recent run of credit spread tightening is evidence of the European markets returning to normal after the difficult end to 2018. But it ought to herald a more selective approach from investors that could quickly develop into a tightening of the purse strings.
This column does not necessarily reflect the opinion of the editorial board or Bloomberg LP and its owners.
Marcus Ashworth is a Bloomberg Opinion columnist covering European markets. He spent three decades in the banking industry, most recently as chief markets strategist at Haitong Securities in London.