Coal's Price Conundrum Betrays an Invisible Hand
(Bloomberg Opinion) -- What on earth is happening in the Pacific coal market?
Benchmark coal at Australia's Newcastle port has been on a tear in recent months. Prices of high-quality fuel with a heating value of 6,000 kilocalories per kilogram are up by one-fifth over the past six months and haven't fallen much from the six-year high of $118.05 a metric ton reached in July.
At the same time, the cheap-and-dirty cousin to this product has been struggling. Prices for 5,500-kcal coal at the same port — a lower-grade variety that became popular as fuel for Chinese utilities over the past decade, in contrast to the 6,000-kcal variety preferred by Japanese and Korean buyers — have been falling. This month, the cheaper coal reached its lowest level in more than a year at $65 a ton.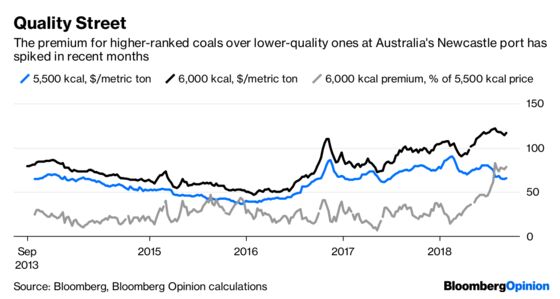 The difference can be illustrated more clearly by the spreads between the two. Historically, the better Australian coal has attracted an average premium of around 25 percent over the 5,500-kcal product, with the exact number about 10 percentage points on either side of that number. Since April, it's reached uncharted territory, climbing as high as 82 percent in August and lingering close to those levels ever since.
One explanation for this is simply that demand for the better product is shifting. Chinese heavy industry has seen a flight to quality across a range of metrics in recent years as tightening pollution controls encouraged plant owners to seek raw materials with a lower burden of polluting by-products. That's happened most visibly in the iron ore market, where shares of Vale SA, a high-grade producer, are up about 34 percent over the past year, while those of lower-grade Fortescue Metals Group Ltd. are down about 30 percent.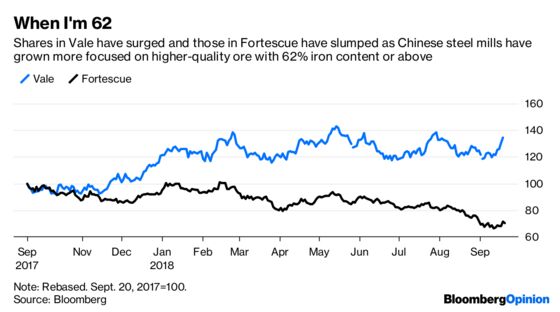 Chinese imports of Australian thermal coal were up about 32 percent in the first half of this year, and much of that has been purchases of the higher-grade products that local utilities previously shunned, according to Tim Grant, head of coal research at AME Group, a commodities consultancy.
At the same time, price signals in the market suggest otherwise. If Chinese generators were using more higher-ranked coals, you'd expect the same dynamic that's pulling up the price of imports from Australia to shift the premiums between domestic grades in a similar manner. Yet 5,500-kcal Chinese coal is still trading at about the same 20 percent premium to the 4,500-kcal product as it has for years, with the 5,000-kcal variety roughly halfway in between.
Another possibility is that supply is tight. Only Australia, South Africa and Colombia produce large volumes of the higher-quality coal. But Newcastle shipped about 2.2 million fewer tons in the first half of 2018 than in the same period a year earlier, overwhelming the 1.8 million-ton increase from Richards Bay in South Africa. Colombia's two major coal ports saw a 2.7 million-ton decline in shipments over the same period.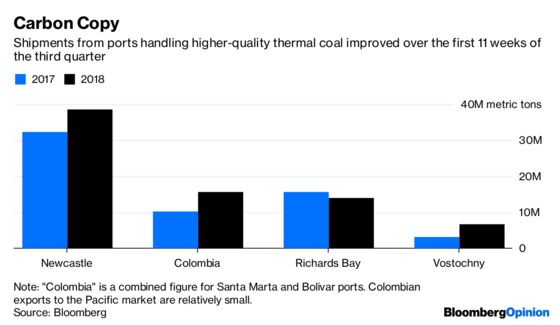 That doesn't quite make sense either, though, because the real price surge has come at a time when that dynamic was improving. Third-quarter shipments from Australia jumped about 20 percent (or 6.4 million tons) in the first 11 weeks of the period compared to a year earlier. Meanwhile, loadings have been increasing rapidly at Vostochny port in Russia's far east, with the 3.6 million-ton increase since the start of July outpacing the 1.6 million-ton decline from Richards Bay.
There's one place, though, where supply has been oddly tight: On the GlobalCOAL trading platform where the Newcastle coal price is set. Trades there have shrunk to about 40,000 tons a week, sometimes less, Credit Suisse Group AG analysts wrote in a note to clients last week — below one-third of what you'd typically get on a single Capesize coal ship: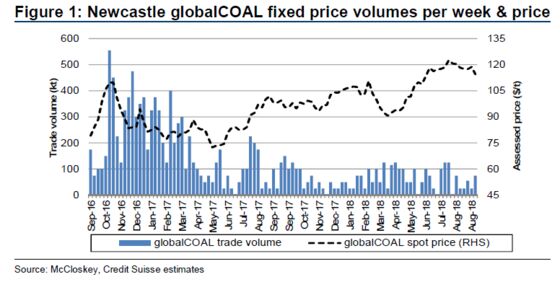 "It's hard to argue that 1 percent of the port volumes trickling out in 25,000-ton parcels to an unknown entity provides a representative price — it looks suspect," the analysts wrote. "It could be intentional — an expression of the pricing power that major miners are beginning to exercise."
The obvious culprit in that case would be Glencore Plc, which has grown still more dominant at Newcastle since its purchase of stakes in Rio Tinto Group mines feeding the port last year. Talks between Glencore and Tohoku Electric Power Co. to set a regional benchmark broke down earlier this year, increasing the uncertainty around prices. A spokesman for Glencore declined to comment.
Whatever is causing the disjuncture, it's a warning to the market. Either low-quality coal is too cheap, or high-quality coal is too expensive. When prices get this far out of whack, a correction is likely to be just around the corner.
This column does not necessarily reflect the opinion of the editorial board or Bloomberg LP and its owners.
David Fickling is a Bloomberg Opinion columnist covering commodities, as well as industrial and consumer companies. He has been a reporter for Bloomberg News, Dow Jones, the Wall Street Journal, the Financial Times and the Guardian.