CK Hutchison Left Standing in Italian Musical Chairs
(Bloomberg Opinion) -- CK Hutchison Holdings Ltd.'s decision in July to buy out the other half of its Italian telecom joint venture may have seemed like a good idea at the time to Chairman Victor Li. But he may be regretting it.
CK agreed to pay 2.5 billion euros ($2.8 billion) for Veon Ltd.'s 50 percent stake in Wind Tre SpA. Since then, Italy's spectacularly expensive 5G spectrum auction has left it with an inadequate slice of the pie. Its two biggest rivals seem to be on the verge of squeezing it even further by teaming up to build out the new networks, Bloomberg News reported Monday.
The auction process, which the government had structured similarly to a game of musical chairs, had already left CK in some difficulty. While there are three carriers of broadly similar size (Wind Tre, Telecom Italia SpA and Vodafone Group Plc's Italian unit) and a smaller one in Iliad SA, there were just two large packets of spectrum on offer, and two small. In the end, Wind Tre was left with one of the smaller packages, with Telecom Italia and Vodafone securing the two larger ones. In essence, it was left without a chair.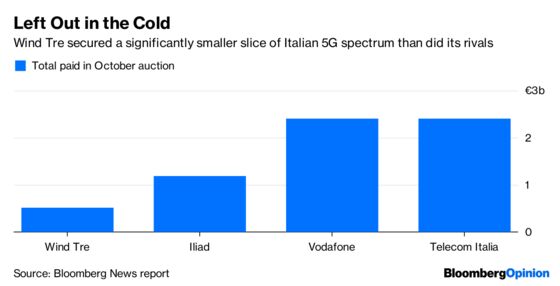 The news that Vodafone and Telecom Italia are in talks to build a 5G network in Italy together compounds CK's problems. Wind Tre was already losing subscribers in the face of mounting competition from Iliad's low-cost offering. If the discussions between its big competitors conclude in an agreement, they'll have an easier time coping with the costs from the auction and be able to offer their customers a better service sooner.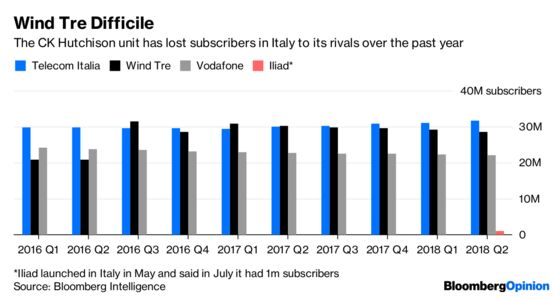 The jump in Telecom Italia stock Monday signals investor relief about the development. The company has faced a torrid year as its two biggest shareholders sparred over strategy. The government's spectrum auction squeezed 6.2 billion euros out of the four carriers, more than twice what it had expected, and an alliance with Vodafone would ease some of the worst concerns about rising costs. That will make it easier to make the case against activist investor Elliott Capital Management's demands that it divest some network assets to raise capital.
As for Wind Tre, CK really needs to bring one of its rivals to the negotiating table to secure a similar deal. Otherwise, the pain of its Italian venture could really start to sting because the music sounds like it's going to stop very soon. 
This column does not necessarily reflect the opinion of the editorial board or Bloomberg LP and its owners.
Alex Webb is a Bloomberg Opinion columnist covering Europe's technology, media and communications industries. He previously covered Apple and other technology companies for Bloomberg News in San Francisco.