Citi's New CEO Must Fix Old Problems Fast
(Bloomberg Opinion) -- Jane Fraser is about to join an elite group. From next month, she'll be one of a handful of women pulling strings in global finance. But the incoming Citigroup Inc. chief executive officer inherits a challenging fix-it job. The question is whether she's able to deal with the bank's legacy issues fast enough so she can then get on with its bigger strategic challenges.
Years of deficiencies in Citigroup's risk oversight and governance have attracted the attention of regulators (and a $400 million fine last year). Priority one must be strengthening controls and bolstering the confidence of supervisors. This behemoth is not as profitable as peers either. Unfortunately for Citigroup, contraction in some of its markets can only complicate its ambitions to close the gap.
Citigroup cautioned on Friday that expenses would tick up 2% to 3% this year while revenue could decline by mid- to high-single digits. The stark reminder that profitability is unlikely to improve soon helped pushed the shares down 7% on the day. Investment last year was directed primarily toward systems and controls, and this will continue into 2021. Fixing the plumbing should contribute to efficiency and help grow revenue but better infrastructure alone won't solve Citigroup's underperformance.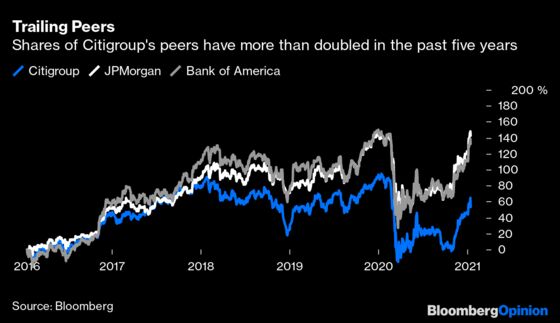 Pressure to update the strategy has already commenced. In Fraser's first session facing Wall Street analysts, she gave only a little away. There'll be a "clinical" and "dispassionate" review of all businesses. That may not be as easy for a company insider, though Fraser can bring to bear her previous experience as a McKinsey partner. Favored areas for investment include wealth management — a business that global banks are chasing amid a squeeze in margins in lending — and the so-called treasury and trade solutions unit, a tech-heavy business that helps large companies look after their money and make payments.
Fraser also wants to simplify the sprawling firm. That might presage some pullback in global consumer banking, where Citigroup's returns lag those of JPMorgan Chase & Co. and Bank of America Corp., and a greater focus on the U.S. market — potentially even buying another deposit-taking institution.
But the new CEO's room for strategic maneuver may be limited in the short term. Citigroup needs to submit a remedial plan to regulators first before it can invest freely. Under the Office of the Comptroller of the Currency's order, the firm needs regulatory approval for major acquisitions.
Contrast this with JPMorgan. The number one U.S. lender is also on a big investment drive, lifting spending by roughly one quarter to $12.4 billion this year. But while Citigroup is having to get systems up to scratch, JPMorgan is directing the additional investment to improving customer apps, artificial intelligence and growth opportunities in international commercial banking and asset management in China. As he laid out his outlook for 2021, Chief Executive Officer Jamie Dimon's worries were about keeping up with fintech and payments firms, whose valuations have soared during the pandemic.
Back at Citigroup, the two CEOs who preceded Fraser have struggled to bring returns and controls in line with peers. If she can finally move the firm on from legacy issues, her tenure will be historic in more ways than one.
This column does not necessarily reflect the opinion of the editorial board or Bloomberg LP and its owners.
Elisa Martinuzzi is a Bloomberg Opinion columnist covering finance. She is a former managing editor for European finance at Bloomberg News.