China's Market Rescuers Are Saving the Wrong Targets
(Bloomberg Opinion) -- From depression to euphoria. China's stock markets rallied for a second day after Beijing's top economic regulators sought to bolster confidence on Friday. 
Investors should restrain their enthusiasm. Simply telling us that valuations are near historical lows, or vowing support for the private sector isn't going to fix one of the world's worst-performing stock markets this year – especially at a time when economic growth is slowing and China Inc.'s profits are being squeezed.
China's national team, a group of institutional investors set up to stem the market collapse in mid-2015, may be at work again behind the scenes, to judge by exchange-traded fund flow data.
The 34 billion yuan ($4.9 billion) China 50 ETF and the 22 billion yuan Huatai-Pinebridge CSI 300 ETF recorded their strongest inflows in two years in the past week.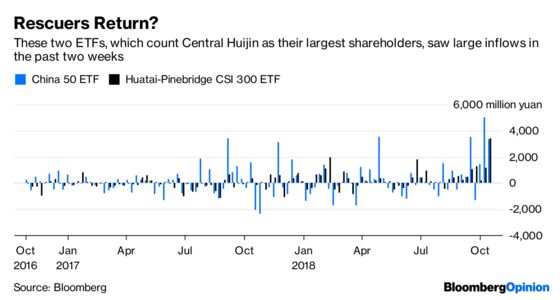 The two funds were among the favorite vehicles for Central Huijin Investment Ltd., the domestic sovereign wealth fund, during the failed 2015 rescue. Huijin was the largest shareholder of both, owning 50 percent and 38 percent respectively as of the end of June, the latest data available.
However, the national team needs to tweak its rescue strategy this time.
Back in 2015, the big issue was margin trading. As China's stock indices tumbled, brokers issued margin calls and forced investors to liquidate positions, causing a self-fulfilling further decline. What the national team did was buy into index heavyweights such as banks and energy companies. These were cost-effective ways to pull up the benchmark CSI 300 Index.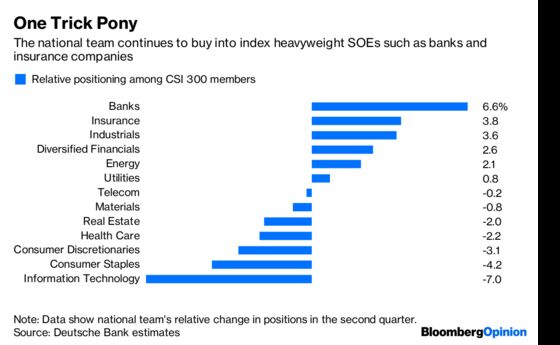 This rout is different. The threat this time is pledged shares. China's private enterprises routinely use their stocks as collateral to obtain credit from banks or brokerages. In the second half, a staggering 1 trillion yuan of share-pledged loans will be due, Moody's Investors Service estimates.
And this is where the rescuers are failing. Companies with an overhang of pledged shares aren't the big four state-owned commercial banks or the nation's oil giants, but private enterprises clustered on the Shenzhen Stock Exchange.
Take a look at the 5.7 billion yuan Huaan ChiNext 50 ETF, or the 13 billion yuan E Fund ChiNext Price Index ETF: Their fund flows were a lot weaker last week.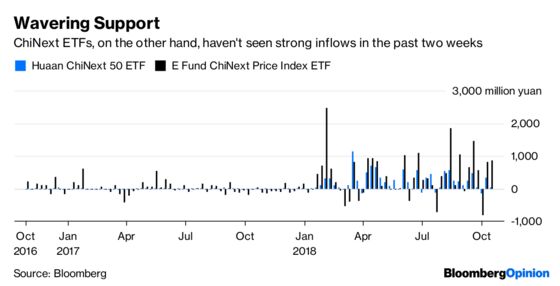 This is because the national team has been counting on insurance companies to buy those shares instead.

Will insurers oblige?  Companies with good credit management will be wary, after a major market decline. 
Timing is important, because we are entering a third-quarter earnings season that may turn out very ugly. Smaller private enterprises, in particular, have been bearing the brunt of China's economic slowdown. Chinext earnings probably grew 13.4 percent in the first nine months, versus 22.8 percent for the main-board companies, according to China International Capital Corp. estimates. About 80 percent of listed firms will report in the last five trading days of October, CICC says. 
Over the weekend, President Xi Jinping vowed "unwavering" support for the country's private sector. Perhaps it's time to show some action. The national team needs to start buying smaller companies. 
This column does not necessarily reflect the opinion of the editorial board or Bloomberg LP and its owners.
Shuli Ren is a Bloomberg Opinion columnist covering Asian markets. She previously wrote on markets for Barron's, following a career as an investment banker, and is a CFA charterholder.