China's Spy-Tech Star Needs Some Covert Help
(Bloomberg Opinion) -- Hangzhou Hikvision Digital Technology Co. is feeling the effects of a backlash against the surveillance business. Lucky the company has a powerful backer in Beijing.
China's biggest maker of spy-tech equipment posted its slowest quarterly growth in eight years, missing analysts' estimates with a 14.7 percent increase in revenue and a 13 percent gain in net profit from a year earlier in the three months through September.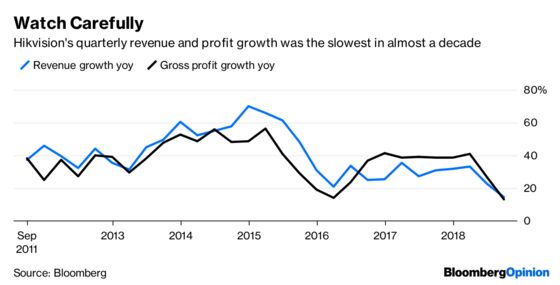 Those numbers would have looked worse without stepped-up support from the government. Subsidies and grants to the national champion rose more than 30 percent in the first nine months.
Strip out that aid and Hikvision's operating margin would have shrunk 3 percentage points to 18 percent in the 12 months to Sept. 30, instead of the reported 24 percent.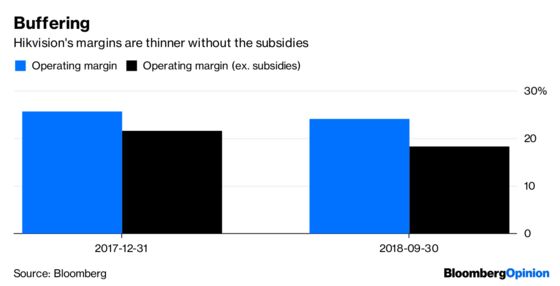 Hikvision needs Beijing's helping hand. Third-quarter expenses rose 24 percent from a year earlier, indicating the company is having to work harder to sell its products. The U.S. is considering sanctions against Chinese officials and companies, including Hikvision, over the country's detention of ethnic Uighurs and other minority Muslims in internment camps, the New York Times reported in September.
Other costs are rising too: Research and development expenses surged about 40 percent in the third quarter.
The company got some more help from taxes, with refunds climbing almost 30 percent at the consolidated level in the first nine months. As we've written, Hikvision is a key national software enterprise and gets a preferential corporate tax rate along with a host of other incentives.
In an earnings call Monday, the company reiterated its profit growth target of around 20 percent for this year. Beijing's support for the business of surveillance underpins its case. The government has created a network of more than 30 million video cameras that it plans to expand, and the securities regulator has said it will support the domestic surveillance and chip industries, analysts at HSBC Holdings Plc said in a note. 
Yet if its overseas growth markets aren't buying, that may not be enough to nullify the threat to revenue. Rising concern and uncertainty around data protection and privacy could be among the company's biggest challenges, Hikvision executives said on the call.
Sales growth has averaged close to 40 percent over the past five years. Those days look numbered. Investors hoping for a turnaround should be wary of placing too much faith in the government's patronage. Even Beijing's all-seeing eye can't protect Hikvision from every risk.
This column does not necessarily reflect the opinion of the editorial board or Bloomberg LP and its owners.
Anjani Trivedi is a Bloomberg Opinion columnist covering industrial companies in Asia. She previously worked for the Wall Street Journal.