Revenge Is a Dish That's Off the China Menu
(Bloomberg Opinion) -- China's high-end consumers aren't going on a "revenge spending" spree. They're just bringing their love affair with luxury brands home. 
A surge in China sales for stores operated by the likes of LVMH and Hermes International has spurred optimism that consumer demand will snap back as the lockdowns lift. The reports offered a glimmer of light amid data showing that China's retail sales plunged 15.8% in March from a year earlier.
Unfortunately, it looks as though Chinese consumers are simply buying their alligator handbags and diamond watches at home instead of in Hong Kong, Paris or Milan. While travel restrictions aimed at halting the pandemic are partly responsible, the trend was already in place before the virus appeared — driven by a change in tax rates.
Beijing has been encouraging the nation's shoppers, who accounted for around a third of global luxury sales last year, to spend more money at home. The gap between prices of upscale goods onshore and overseas shrank to 15% last year from about 30% three years ago after a series of cuts to China's luxury sales taxes. Protests last year in Hong Kong, a favorite pit-stop for buyers of high-end products, also helped to spur domestic sales. The migration still has a long way to run: Only 30% of China's luxury purchases took place at home last year.
All this suggests that this spurt in luxury sales is unlikely to be sustained at these levels. Chinese purchases won't rescue the sector globally, as my colleague Andrea Felsted has noted. More than 90% of sales take place in bricks-and-mortar stores. That's understandable: If you're going to spend thousands of dollars on a handcrafted item, you'll want to touch it, rather than just clicking a button on an e-commerce site. 
Besides, Chinese shoppers are still worried about their jobs and the prospect of salary cuts. Most people don't plan to increase spending on high-end goods, according to a Morgan Stanley survey that suggests the uptick reported by LVMH, Hermes and L'Oreal SA may quickly fade. Of 2,000 consumers surveyed, 29% said they will spend less on luxury goods next month versus this month, while 40% said they would spend more on groceries. The survey covered city-dwellers aged 18 to 49 in 19 provinces.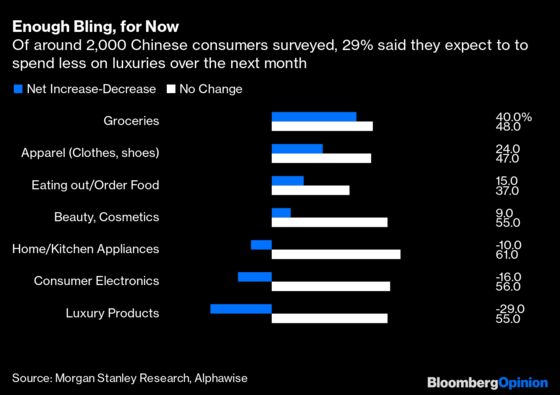 The luxury sales bounce will taper off into a gradual though sustainable rise, according to Lucia Li, a Beijing-based partner at Bain & Co. The consultancy divided Chinese consumer products into six categories ranked from those that will gain a permanent boost from the coronavirus, such as digital healthcare, to those that will face enduring headwinds such as traditional retailers. It placed luxury goods in the middle bracket, along with alcohol and household appliances.
China will need to look elsewhere for its economic revival.
This column does not necessarily reflect the opinion of Bloomberg LP and its owners.
Nisha Gopalan is a Bloomberg Opinion columnist covering deals and banking. She previously worked for the Wall Street Journal and Dow Jones as an editor and a reporter.