We Don't Need No Education (Stocks, in China)
(Bloomberg Opinion) -- School's out, at least for investors in China's overseas-listed education companies.
Shares of learning providers plunged in the U.S. and Hong Kong after China released rules that would bar for-profit kindergartens from getting equity-market funding. New York-listed RYB Education Ltd. plummeted a record 53 percent on Thursday, while China Yuhua Education Corp. lost as much as 25 percent and China Maple Leaf Educational Systems Ltd. slumped as much as 22 percent in Hong Kong on Friday.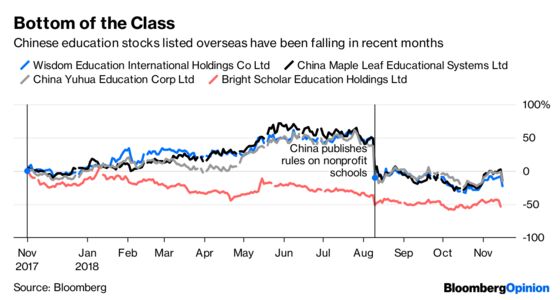 At first glance, some of the declines may look puzzling. RYB is a kindergarten operator. But New York-listed Bright Scholar Education Holdings Ltd., which plunged 17 percent, gets only a quarter of its revenue from preschools, according to CLSA Ltd. education analyst Mariana Kou. Yuhua, which offers educational services from kindergarten to university, derives a mere 7 percent from the segment. Maple Leaf's 19 preschools account for just 4.4 percent of total fees, according to Citigroup Inc.
To be sure, the draft rules will cause plenty of disruption, if confirmed. Companies such as Maple Leaf have been using kindergarten acquisitions to boost revenue and profit, so investors will have to recalibrate estimates if this avenue of growth is closed.
The more serious issue is the signal the rules send on the Chinese government's changing attitude to private capital in education. Just two years ago authorities were encouraging the involvement of non-state investors, prompting a wave of listings. Yuhua, RYB and Bright Scholar all went public last year and appeared initially to be investor gold. Shares of Yuhua tripled by their peak in July this year, but have since lost half their value. Bright Scholar has slumped 62 percent from its high.
All private schools in China are nominally nonprofit, though some have been permitted to remit "reasonable returns" to their providers of capital, according to a briefing by law firm Hogan Lovells dated December 2016. That's enabled publicly traded education providers to qualify for lucrative perks such as cheap land and tax breaks.
It's the prospect of these advantages being withdrawn that poses a potentially crippling threat to the business model of privately run school operators. On Aug. 12, the government frightened investors with a draft rule that bans "corporations" from controlling nonprofit schools – a classification that encompasses pretty much all the overseas-listed operators.
Plus, of course, there's also the possibility that the government could extend its kindergarten rules to other age groups. Shares of higher-education providers tumbled along with other companies on Friday. China Education Group Holdings Ltd. lost 6 percent and Minsheng Education Group Co. fell 5 percent.
Pragmatism suggests that a compromise will be reached. There's voracious demand among China's parents for educational services: They spend an average total of $42,892 on their children's education from primary through university – almost double the amount in Canada or the U.K., despite average incomes that are much lower. The state is unlikely to be able to meet this demand on its own.
For now, though, it's understandable for investors to steer clear. The price of regulatory confusion is a lesson that won't be easily forgotten.
This column does not necessarily reflect the opinion of the editorial board or Bloomberg LP and its owners.
Nisha Gopalan is a Bloomberg Opinion columnist covering deals and banking. She previously worked for the Wall Street Journal and Dow Jones as an editor and a reporter.