China's Battery Ace Can Run on Reduced Power
(Bloomberg Opinion) -- China's electric-car battery champion has had its wings clipped, or so it seems. Investors should breathe a sigh of relief.
Contemporary Amperex Technology Ltd., which has been gearing up for an initial public offering for the past year, is now expected to raise a net 5.46 billion yuan ($853 million), less than half its target as of March. The reduction is partly the result of regulators capping CATL's valuation, as they have for other companies selling shares in China's local-currency stock market.
The IPO had an initial $2 billion goal that valued the company at about $20 billion. The offering is meant to fund ambitious plans to double CATL's capacity by 2021, catapulting it ahead of Tesla Inc. to become the world's largest battery supplier. With the valuation pared to $9 billion, longer-term plans to expand outside China will probably be crimped. Tough luck.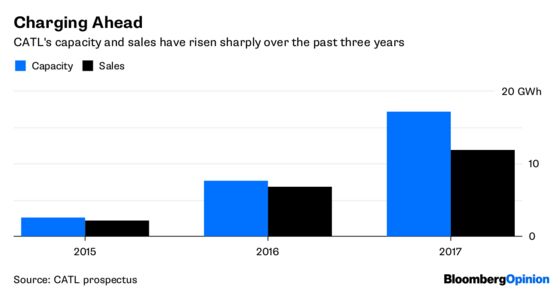 Raising less won't hurt. CATL has existing capital that it can put to work, according to the prospectus, and alternative sources of funds should it need to make up the shortfall in equity financing. Planned spending on the plant expansion will be scaled back to 3.35 billion yuan, with the rest earmarked for R&D and other areas over the next three years. 
CATL already outspends its Chinese battery peers in terms of R&D as a proportion of sales, at about 12 percent. That's on a par with what Tesla spends on batteries and cars.
Sure, if capital spending doesn't pan out as hoped there's a risk the company will fall behind and lose its market position. However, while the battery maker won't be able to raise common equity in the year and a half after the IPO, it could tap the onshore convertible-bond or even debt markets.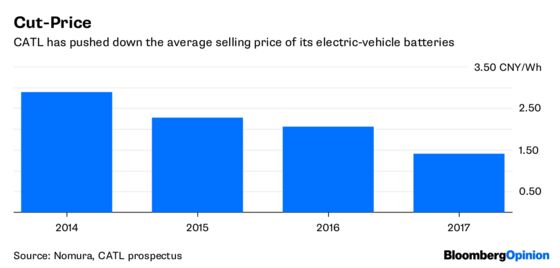 CATL has managed to bring the selling price of its batteries down by more 30 percent. That's come at the cost of reduced profitability, though its gross margin remains close to 40 percent. As the battery maker has scaled up, its capacity utilization has come down to about 75 percent, too.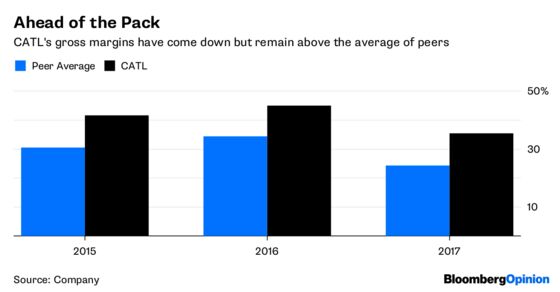 The restricted capital-raising should help balance the risk of compressing margins further. Demand for CATL's products continues to rise, especially for foreign automakers that are doubling down in China: Nissan Motor Co. and Honda Motor Co. plan to cooperate with the company on batteries. 
Across the industry, concerns of overcapacity have been looming. Global shipments of electric-vehicle batteries rose more than 60 percent in the first quarter, with China accounting for more than 40 percent of the increase. Meanwhile, Beijing last week removed South Korean battery makers from a blacklist that had effectively blocked their sales in the country since 2016. 
While that won't flood the market with Korean batteries immediately – given the lag in research and development, plant construction and expansion – it will increase supply by the time subsidies are expected to be reined in. Given CATL's operating history, it will probably have ramped up by then, entrenching its market position.
The regulatory cap brings CATL's price-earnings ratio to a more realistic 23 times last year's earnings, from an implied 40 times. South Korean peers trade at 12 to 14 times forward earnings, and Chinese battery rivals at multiples of 17 to 20.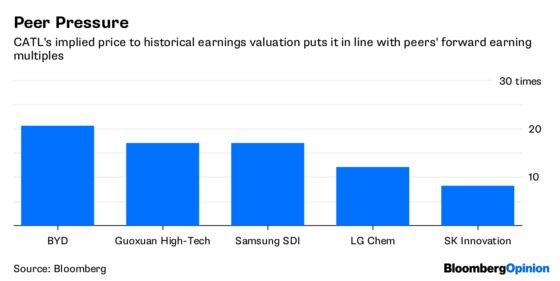 CATL commands a third of the Chinese battery market by sales and customers, which include the likes of BMW AG's Chinese joint venture and Volkswagen AG that are firmly focused on electric vehicles.Sometimes, slow and steady isn't so bad.