Cheap Transatlantic Flights Will Return One Day
(Bloomberg Opinion) -- The pandemic has ended a plucky attempt to break the stranglehold that carriers like British Airways and Delta Air Lines Inc. have on the transatlantic market.
Norwegian Air Shuttle ASA's decision to cease long-haul services to ensure its survival won't surprise anyone familiar with its years-long struggle to make money. But this may not be the end of attempts to carry passengers cheaply between Europe and the U.S. on modern fuel-efficient aircraft.
British Airways' parent, IAG SA, responded to Norwegian's rise by offering its own lower-cost long-haul unit, Level. It even briefly considered acquiring Norwegian, which shows what a threat the Nordic disruptor posed. Such competition benefited passengers, though alas not Norwegian's bottom line.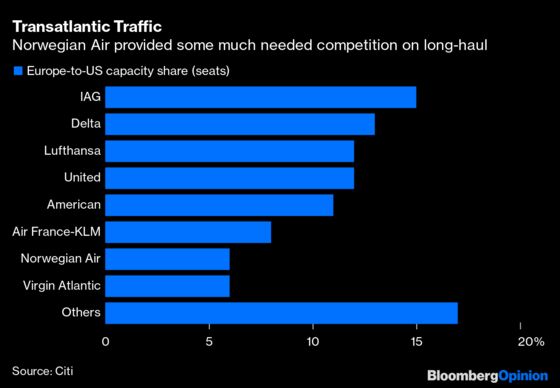 Most will conclude Norwegian's vision was doomed to fail: The economics of flying route lengths of more than seven hours are very different to short-haul, where Southwest Airlines Co., EasyJet Plc and Ryanair Holdings Plc long ago proved the low-cost approach can be very lucrative.
Still, I wouldn't bet on this being the final chapter in the sorry history of bargain-fare, long-haul flying. So long as there are risk-taking entrepreneurs with access to capital and aircraft, the dream of cheap intercontinental travel will never be completely extinguished. And though it sounds strange, the post-Covid period might be as good a time as any to start an airline. 
Ever since Freddie Laker tried to bring cheap transatlantic flights to the masses in the 1970s, airlines have tried to copy and refine this risky business model, with little success. Norwegian was the most ambitious of them all. But even before Covid-19 stopped most of us from flying, there were a string of low-cost long-haul failures, including Wow Air, Primera Air and Air Berlin. Meanwhile, AirAsia Group Bhd.'s long-haul no-frills unit, AirAsia X, is in the midst of a restructuring. (It flies from Kuala Lumpur to Honolulu, via Osaka.
These carriers were always destined to struggle. Some of the advantages of the low-cost, short-haul model don't work as well with intercontinental flying: Speedy turnarounds between flights aren't much of an advantage when the majority of travel time is spent in the air and passengers aren't as willing to be crammed in like sardines for such long periods.
"There is no such thing as long-haul, low-cost; just long-haul, low-price," quips Bernstein Research's Daniel Roeska.
Long-haul passengers prize the ability to connect to short-haul services via the main carriers' hubs. By filling the pricey business and first-class cabins, legacy carriers are better able to fund large planes and crews, as well as to manage volatile fuel costs.
While Hungarian no-frills carrier Wizz Air Holdings Plc has expanded its network to stretch from Iceland and the Canary Islands to Abu Dhabi and Kazakhstan, it says it's not pursing a low-cost, long-haul strategy.
Ryanair boss Michael O'Leary, who repeatedly predicted Norwegian's demise, is especially blunt about the challenges. "Stripping it down to 25 minute turnarounds or to the basic add-on philosophy is never going to work on long-haul," he said recently.
If these no-frills experts think there's no potential, what chance is there for anyone else?
Given its very limited resources, Norwegian's decision to focus on short-haul routes makes sense. Even with the slimmed strategy, it needs a recapitalization. Intercontinental flying is expected to take longest to recover after the pandemic. The airline's renewed appeal to the Norwegian government for a bailout may also have influenced the rethink: Oslo previously rejected further help on the grounds that the long-haul operations were based elsewhere and didn't benefit Norway.
This doesn't mean Norwegian's original ambitions were foolish. The carrier didn't break out profitability by route type, but executives insisted at least some intercontinental services were "more than profitable." There were other factors that contributed to its demise, not least an overzealous, debt-funded expansion and events beyond its control: The Boeing 787 and 737 Max planes it ordered were were grounded for long periods. Primera had similar problems with aircraft availability.
Might someone else succeed where Norwegian failed? Airbus's longer-range single-aisle plane, the A321 XLR, is due to enter service around 2023, and should open up more intercontinental route pairs. Its economics are potentially more attractive than operating a larger twin-aisled jet. Airbus says the aircraft will be able to handle city pairs like London to Miami and Rome to New York.
True, now might seem a terrible moment to add to existing services or even start a whole new airline, but there are factors that could work in a new entrant's favor once travel restrictions are lifted. Due to recent airline bankruptcies and retrenchments, there's a surfeit of airplanes and crews, and airports are crying out for business.
If corporate travel is permanently impaired, the full-service airlines may struggle to fill as many business seats on long haul as before. If they try to compensate by hiking economy fares, passengers will be desperate for a cheaper alternative. Norwegian's shareholders and creditors may be sore, but frequent flyers are grateful it gave bargain long-haul a crack.
This column does not necessarily reflect the opinion of the editorial board or Bloomberg LP and its owners.
Chris Bryant is a Bloomberg Opinion columnist covering industrial companies. He previously worked for the Financial Times.