Casino and Carrefour's French Farce
(Bloomberg Opinion) -- When is an approach not an approach? That seems to be the question raised by the bizarre exchange on Monday between Casino Guichard Perrachon SA and Carrefour SA, two of France's biggest grocery chains.
Casino — which has been struggling recently — kicked things off at the weekend by saying it had rejected an approach from Carrefour. The latter responded by saying it hadn't "solicited" Casino nor submitted a merger proposal.
Still, something must have been afoot for Casino to have put out a statement late on Sunday after a big rise in its share price last week. And for all Carrefour's denials, it wouldn't be doing its job properly if it hadn't at least taken a glance at a rival that's under severe financial pressure.
Whatever the exact circumstances, the episode does underline that Casino has some decent assets, despite the recent woes. Its operations have been overshadowed by problems at its parent Rallye SA, a financial holding company, which has some big debt maturities coming up over the next six months.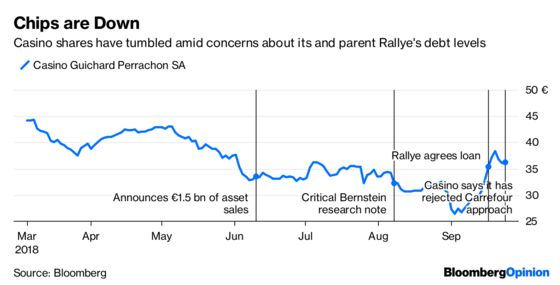 That has obscured Casino's high-quality holdings, including Monoprix, the supermarket chain that's beloved of Parisians, and convenience chain Franprix. Indeed, Casino is particularly strong around the French capital. It is making inroads too into internet retailing, agreeing to supply Amazon.com Inc., and partnering with Britain's Ocado Group Plc. 
With Carrefour striving to turn around its French arm, which is saddled with a big old-fashioned hypermarket business, new chief executive Alexandre Bompard will inevitably be exploring ways to defend Carrefour against the threat of Amazon and its competitive French grocery rivals. Analysts at UBS estimate the potential tie-up could generate synergies of 1.5 billion euros ($1.8 billion).
But regulatory and political hurdles to a deal would be considerable, particularly in France and Brazil. The two companies would have 72 percent of convenience retailing in France, according to Sanford Bernstein's Bruno Monteyne — and about 30 percent of the overall grocery market, according to Kantar Worldpanel. So any deal would need big disposals.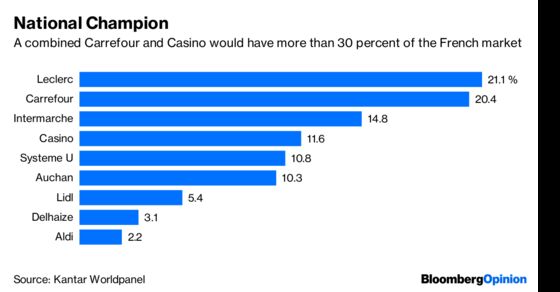 There are financial obstacles too. Casino's net debt was 5.5 billion euros in the first half of 2018, much bigger than its 4 billion euro market value. So even with the slump in Casino's shares, the deal would be expensive.
Yet the company's willingness to speak out so openly on what it regarded as a potential offer puts it firmly into play. That could pique the interest of a financial buyer, or even Amazon, so long as they are willing to deal with the political peculiarities of trying to buy French companies. 
If this domestic French misunderstanding doesn't lead to much, it does at least point to a potential way out for Casino from its troubles. Its current owner certainly isn't doing it any favors.
This column does not necessarily reflect the opinion of the editorial board or Bloomberg LP and its owners.
Andrea Felsted is a Bloomberg Opinion columnist covering the consumer and retail industries. She previously worked at the Financial Times.