Casino's Property Bet Won't Fix Its Debt Crisis
(Bloomberg Opinion) -- At least it's money coming in.
Casino Guichard-Perrachon SA on Monday said it would sell the real estate underlying 55 Monoprix stores to an unnamed buyer, raising 565 million euros ($656 million).
On the face of it, this looks like good news, and the shares rose. The proceeds put it halfway to reaching its goal of raising 1.5 billion euros from asset sales to pay down its considerable debt.
But Casino is pretty much just swapping one form of debt for another.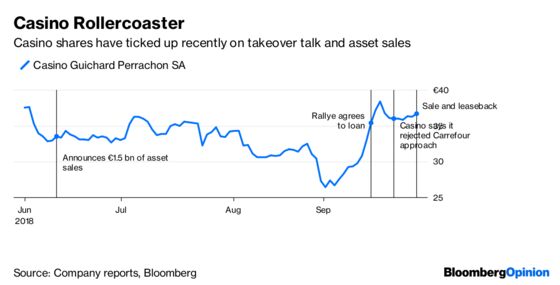 The transaction is a sale and leaseback deal, where a retailer sells property to a third party to raise cash, and then pays rent to occupy the land – the company said it would be paying 27 million euros a year.
This is a quick way for it to bolster its coffers. It says that even with the additional rent payments, the arrangement will still lead to lower leverage. And it can get out of the commitments in nine years if it wants to.
But there are risks. Chief among these is that Casino is now exposed to future rent increases.
Before this deal, about half of Monoprix's stores were leased, according to Bruno Monteyne, analyst at Bernstein. The transaction takes the share of stores owned outright to well below 50 percent.
The company says any cost increases will be offset by higher sales in stores. But that is not guaranteed. And, it's worth noting that U.K. grocers Tesco Plc and J Sainsbury Plc are working to reduce their exposure to rent changes.
Tesco has been buying back store leases to cut debt and give it more control over its finances. As of February 2018 it owned 52 percent of its U.K. stores, up from 41 percent in February 2015. J Sainsbury's planned acquisition of Walmart Inc.'s Asda will bolster its property holdings since Asda owns 75 percent of its supermarkets.
Casino can cope with the extra lease costs right now. It forecast that French retail profit would grow 10 percent in 2019, the same pace as 2018, even with the additional rent costs.
But if sales were to turn down, these extra commitments would not only be another call on its finances, they'd also hinder the company's ability to respond to tougher times by reducing the flexibility it would have to close stores. Nine years is a long time to bear the cost of locations that you'd rather be rid of.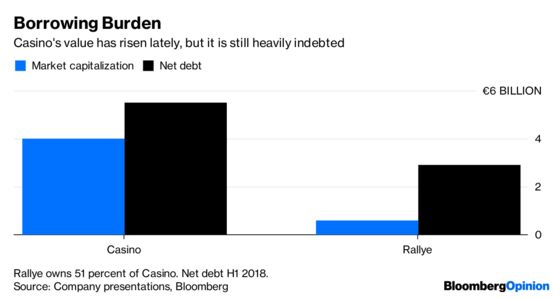 Investors have been right to be wary of its high level of debt and complex corporate structure – 51 percent of the company is owned by Rallye SA, an investor group whose main asset is Casino shares, and which relies on dividends from these to service its own debt.
I've argued that Casino has some quality assets, including Monoprix, convenience arm Franprix and online non-food retailer C-Discount. It said last week that it had rejected an approach from Carrefour SA, which denied it had made any such overtures. Despite these protestations, Chief Executive Officer Alexandre Bompard wouldn't be doing his job properly if he didn't look for opportunities in his rival's troubles.
If Casino doesn't fully address investors' concerns, then it may have no choice but to court its bigger French rival. In the meantime, a sale and leaseback transaction isn't the answer.
This column does not necessarily reflect the opinion of the editorial board or Bloomberg LP and its owners.
Andrea Felsted is a Bloomberg Opinion columnist covering the consumer and retail industries. She previously worked at the Financial Times.