BT Takes a Leaf Out of Hedge Fund Billionaire's Songbook
(Bloomberg Opinion) -- After years of prevarication, BT Group Plc seems finally willing to consciously uncouple from its fixed-network business. CEO Gavin Patterson may be learning from the experience of BT's Italian peer.
The former British national telecoms operator is evaluating informal proposals to sell at least a minority stake in Openreach, which operates most of the country's phone and broadband networks, according to a Bloomberg News scoop late on Thursday. That's exactly what I advocated earlier this month.
I've already gone into the financial reasons why such a deal would make sense: It would help fund investment in new fiber networks by bringing in an influx of cash. That would in turn allow BT to concentrate more investment on 5G, while getting British regulators off its back — politicians are unhappy about the crawling pace of Britain's fiber network rollout. And, besides, the arrangement seems anachronistic.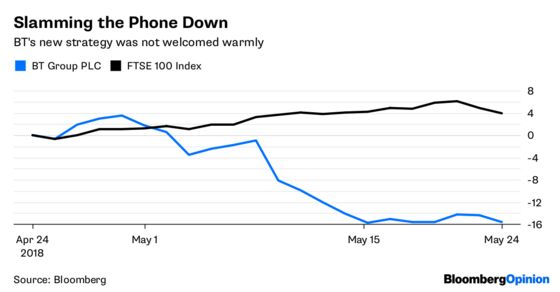 There's a good chance Patterson has one eye looking over his shoulder given the recent experience of Telecom Italia SpA. BT's Italian equivalent was targeted by Paul Singer's activist hedge fund Elliott Management Corp. It argued that the network business was being undervalued as part of the parent company and launched a successful two-month campaign to replace most of the board of directors.
There's a real risk that BT could become the focus of a similar attempt. Its shares are trading at their lowest level in more than five years, and while Openreach is its cash cow, that also makes it attractive as a spinoff. The unit could be valued at as much as 25 billion pounds ($33 billion), according to RBC Capital Markets. BT's market value is 20.5 billion pounds.
There are other parallels. Just two weeks ago, Patterson laid out a three-year turnaround program for BT. Telecom Italia's boss Amos Genish too had just presented a restructuring plan when it came into Elliott's sights. Patterson won't want an activist to disrupt that project, nor threaten his job. By getting ahead of the game, he will hope to nullify the menace.
There's no guarantee that BT will decide in the end to sell a stake in Openreach — nor that politicians will be happy about a private equity co-owner. But it should if it can. Regulators have already forced a legal separation of the network business, meaning Patterson doesn't have day-to-day control over its running anyway. After the poor investor response to his three-year plan, he needs to do something radical.