Britain's Hottest Stock? It's a Magic Carpet
(Bloomberg Opinion) -- The best-performing U.K. stock this decade isn't an artificial intelligence or biotech startup in Cambridge. It's a carpet manufacturer from Kidderminster. Come again?
Since the start of 2010, Victoria Plc has generated a 6,140 percent return for shareholders who reinvested their dividends.That's more than stock market sparklers like Games Workshop Group Plc (up 2,500 percent) and posh tonic maker Fevertree Drinks Plc, which has also jumped 2,500 percentsince its 2014 initial public offering.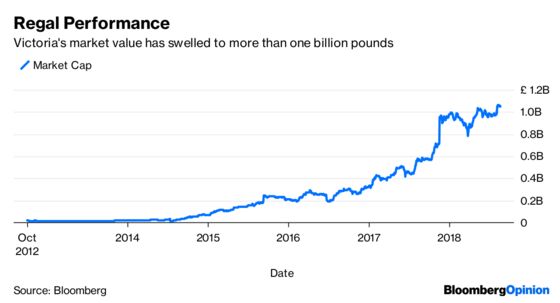 The Queen may be a customer — Victoria has royal warrant — but it's still a surprising performance given the flooring industry's unexciting growth prospects.
Investors hoping this magic carpet will fly as fast as it did in the past risk disappointment. The business has recently attracted the attention of at least two short-sellers.
Though it probably wouldn't like the term, Victoria is a roll-up, a company that tries to consolidate a fragmented industry through acquisitions. These strategies have produced mixed results for investors. Returns can be spectacular at first; sustaining them can be another matter.
Under Chairman Geoff Wilding, Victoria has baggeda dozen flooring businesses since 2012 at a cost of more than 630 million pounds ($808 million), according to Berenberg analyst Robert Chantry.
In Victoria's telling, its deals have created a virtuous cycle of steadily rising sales, profits and cash flow. As is common with highly acquisitive companies, it's hard to determine from the company's financial statements how it's really doing. "Adjusted" and "underlying" are two of its favorite words.
Organic growth is, in fact, tepid. Like-for-like sales expanded at a rate of just 1 percent last year. Returns on capital are unremarkable, and the balance sheet is stuffed full of goodwill and intangible assets. Net debt is projected to creep up this year to about 320 million pounds, almost three times estimated Ebitda, according to Berenberg. Little wonder the shares have risen only 2 percentsince the end of December.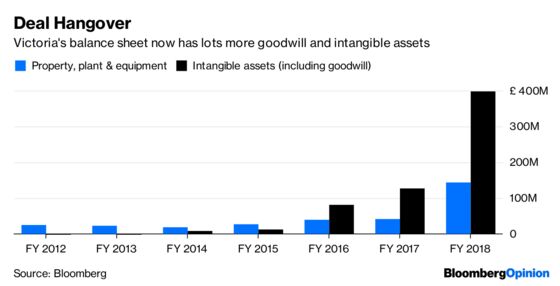 Victoria has followed a familiar script. At first it was able to acquire peers cheaply because the targets, typically private, family-run businesses, were too small to attract many competing bids. With earnings shooting up, the market awarded the consolidator a much better valuation than the businesses it was acquiring — Victoria trades on more than 17 times estimated earnings (and 94 timeslast year's income). The purchaser took advantage of its surging share price to raise equity to do more deals. Its share count has increase by about three quarters since 2014.
But Victoria looks doomed to get bigger. Executives won't get a bonus unless total shareholder returns hit at least 20 percent annually, something that might be difficult to achieve organically. Plus, if Victoria stopped doing deals, its premium valuation might deflate somewhat.
The bigger Victoria gets, the larger the takeovers it will have to consider to keep profit growing at the same clip. There tends to be more competition for these businesses and so they can be more expensive. Victoria agreed this month to buy Ceramica Saloni, a Spanish tile maker, and paid about 10 times trailing Ebitda, including debt.
Victoria says its deals are accretive to earnings. But that term isn't very meaningful nowadays, because goodwill is no longer amortized and interest rates are very low. Adjusted earnings — the company's preferred metric — encompass a big chunk of the benefits from buying other companies, but few of the costs. Free cash flow, which is harder to prettify, was a modest 11 million pounds last year.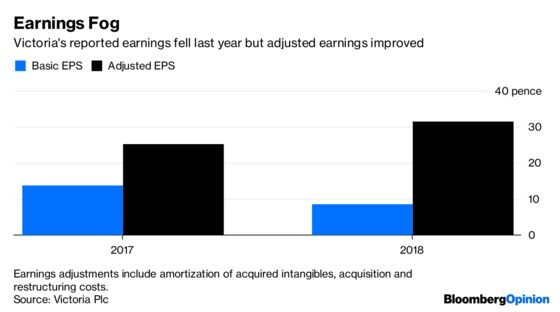 Although synergies from deals always take time to achieve, Victoria's return on invested capital isn't all that impressive. I calculate it's about 10.5 percent after tax, not much more than the company's weighted average cost of capital. For comparison, online fashion retailer ASOS Plc, Britain's most successful stock of modern times, makes an almost 30 percent return on invested capital, according to Bloomberg data.
Some investors will be reassured that the chairman still has a big proportion of his 285 million-pound fortune locked up in the business. However Wilding has steadily reduced his holdings in recent years.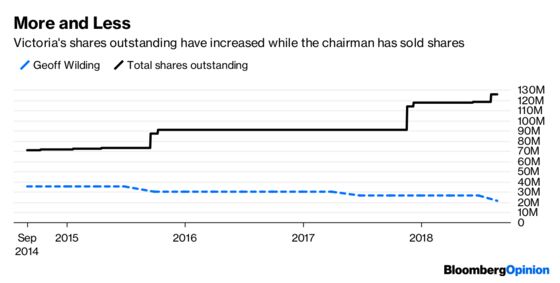 Other shareholders may be hoping Victoria will turn from hunter to prey: The company's enlarged European footprint could be attractive for a U.S. flooring business like Mohawk Industries Inc., for example. But Victoria's rich valuation — including debt, it trades on 11 times estimated Ebitda compared with nine times for Mohawk — might deter potential suitors.
Wilding says his strategy is entirely focused on creating wealth for shareholders. So far, he's done that in spades, but the ride could get bumpier from here.
This column does not necessarily reflect the opinion of the editorial board or Bloomberg LP and its owners.
Chris Bryant is a Bloomberg Opinion columnist covering industrial companies. He previously worked for the Financial Times.