Britain's Big Dividend Payers Cling On
(Bloomberg Opinion) -- The FTSE 100's most generous dividend payers are digging in, however stretched they are. No, we're not cutting the payout, they say, even as their stock prices scream the need for a reset. Could it be that fear of offending income investors is preventing managers from doing the right thing?
Doubts about Centrica Plc's dividend have pushed its forward yield to 9.2 percent. On Thursday, the utility revealed that earnings wouldn't cover this year's payout, which it plans to go ahead with all the same. The shares fell 9 percent. Board members might ask themselves if the reaction would have been any worse had they announced a cut.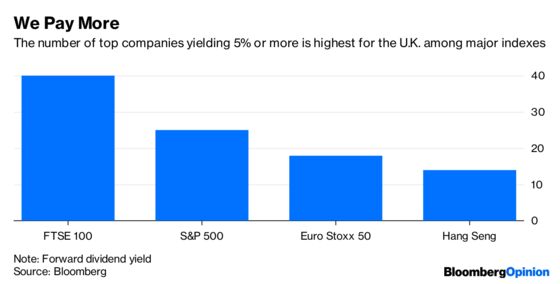 Vodafone Group Plc's new CEO, Nick Read, reasserted his confidence in the mobile operator's dividend last week. The stock, which yields 8.6 percent, bounced 8 percent, albeit from an eight-year low.
The takeaway? Investors are getting more doubtful about the sustainability of Centrica's cash returns, and less about Vodafone's.
Centrica says operating cash flow will fund capital expenditure, interest and dividends this year. The fact that the dividend isn't covered by earnings left investors looking in vain for reassurance that this equation will balance in future years. Intense retail competition is unlike to disappear soon. Centrica could trim capex to protect the payout, but at the cost of future growth.
Vodafone's first-half earnings were obliterated by big impairment charges on past takeovers. Like Centrica, it wants investors to focus on its cash flow, which the company says is adequate to cover this year's investment requirements, interest payments, and the dividend, leaving a bit left over. In future, the company hopes acquisitions and cost cuts will generate a larger surplus to cover the payout. The purchase of 18 billion euros ($21 billion) of assets from Liberty Global Plc, slated to complete next year, should help.
It's tight. Vodafone's ability to take on any further jumbo M&A looks constrained, but the company's strategy doesn't depend on another large deal. Read's thesis might just play out — although it's questionable whether Vodafone emerges as more than an ex-growth, bond-like stock.
Other U.K. blue-chips are straining every sinew to maintain their generous dividends. GlaxoSmithKline Plc has stuck with its own — even if it wasn't covered by free cash flow in the first nine months of the year. The resulting constraint on M&A may come with a greater opportunity cost than at Vodafone as the drugmaker tries to rebuild its drug pipeline.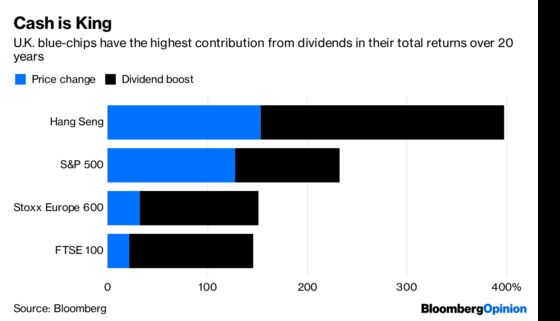 Over the past 20 years, dividends account for a greater proportion of the FTSE 100's returns than any other major market. While U.S. companies prefer to boost their stock price through buybacks, which can be turned on and off, their U.K. peers are held to the discipline of regular, annual payouts. So the FTSE 100 enjoys higher a forward yield.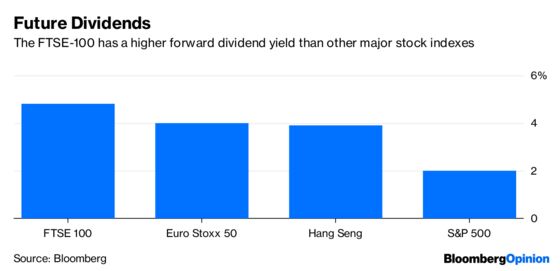 The risk is that CEOs of U.K. companies are favoring dividend-hungry shareholders at the expense of productive investment. But income funds aren't the villain of the piece.
U.K. companies have a poor record on delivering profitable growth, so there's understandable mistrust that they can invest wisely. Vodafone's latest impairments aren't out of character for the company. Centrica's foray into the U.S. energy market has proved a challenge. GlaxoSmithKline is grappling with poor productivity in its R&D.
It looks like there's a vicious circle of poor growth, high dividends and underinvestment. What could break it? The onus is on executives to set dividends at a level that suits the business, and not any one constituency on the register. And if bosses can't find areas of profitable growth, they should be open to passing the business to new owners with better ideas.
This column does not necessarily reflect the opinion of the editorial board or Bloomberg LP and its owners.
Chris Hughes is a Bloomberg Opinion columnist covering deals. He previously worked for Reuters Breakingviews, as well as the Financial Times and the Independent newspaper.