Brexit's Safe Haven Is a Dangerous Place
(Bloomberg Opinion) -- British investors have been fleeing their domestic stock market in droves all year, and everyone and their dog lined up to sell sterling on Thursday as the tally of resignations from Theresa May's Brexit-plagued administration mounted. Gilts have become the haven of choice for those unable or unwilling to scrap all their U.K. exposure. But that search for safety could backfire if the political chaos brings down Prime Minister Theresa May.
The real and present danger to her and her draft Brexit agreement increases the risk of Britain crashing out of the European Union without a deal. That wouldn't be good for anybody, including U.K. sovereign bondholders.
Because of all of the political uncertainty, British equities — particularly those lacking the buffer of big exports to cushion the blow — will no doubt continue to suffer.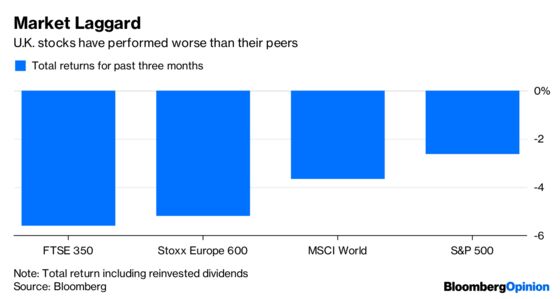 Indeed, domestic investors who've bailed out of British stocks this year have dodged a bullet.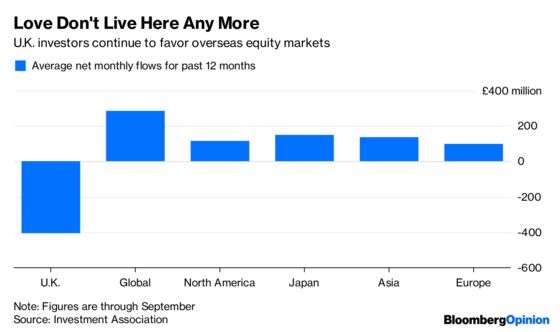 While Brexit isn't done yet, it's already having direct economic effects, including making British consumers increasingly nervous. Retail sales fell by 0.5 percent last month, figures published on Thursday show, contradicting economists' expectations for a gain of 0.2 percent. So it's no surprise that the pound is suffering too against the dollar. It was nursing its biggest one-day drop in more than two years at its nadir on Thursday, leaving it looking more like an emerging-market currency.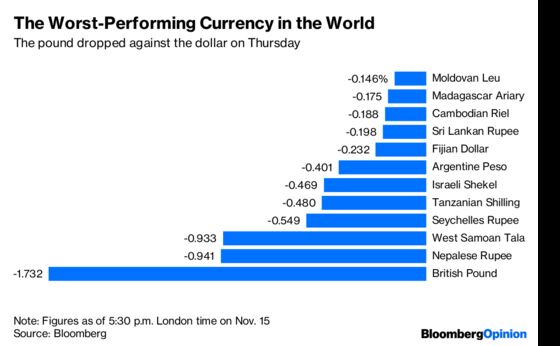 As a result of all this, U.K. government bonds have been on a tear. Gilts are the logical destination for investors needing a risk-off haven to flee to, and intermediate maturities which typically offer the most liquidity duly benefited, with yields dropping by as many as 15 basis points on Thursday.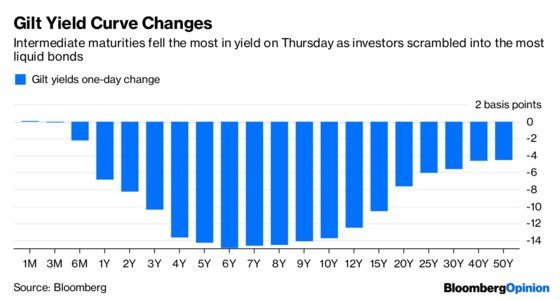 Yields on both shorter- and longer-dated securities fell by less, with the former's muted moves suggesting a simple flight-to-quality rather than any fervent expectation that the Bank of England won't hike interest rates again next year.
But gilts may prove to be an illusory nirvana. Under either a no-deal Brexit or the election of a Labour government led by the hard left Jeremy Corbyn — both of which look more likely than they did even a week ago — government spending would almost certainly increase.
Chancellor of the Exchequer Philip Hammond has steadfastly resisted selling more debt to pay for extra health spending pledges; in fact he cut this financial year's gross issuance to less than 100 billion pounds ($128 billion). But that won't be easy to sustain if the economy needs a major fiscal boost to offset a no-deal Brexit.
And while the fixed-term parliament act means the next election doesn't have to be called until 2022, May's grip on power is so tenuous that there's always the possibility of a snap vote. With opinion polls showing the opposition Labour Party pretty much neck-and-neck with the ruling Conservatives, a Corbyn government remains a real possibility. His spending plans are potentially in excess of 1 trillion pounds, so extra sales of government debt would be inevitable.
Gilts remain one of the most expensive inflation-adjusted major bond markets in the world. The 10-year yield of 1.38 percent compares with October's 2.4 percent gain in consumer prices. The perceived safety of gilts, then, comes at a very high price — particularly if government borrowing policy changes, either by chance or design.
This column does not necessarily reflect the opinion of the editorial board or Bloomberg LP and its owners.
Mark Gilbert is a Bloomberg Opinion columnist covering asset management. He previously was the London bureau chief for Bloomberg News. He is also the author of "Complicit: How Greed and Collusion Made the Credit Crisis Unstoppable."
Marcus Ashworth is a Bloomberg Opinion columnist covering European markets. He spent three decades in the banking industry, most recently as chief markets strategist at Haitong Securities in London.