Brexit Is Nearly Here, so Sausage Rolls Are Back
(Bloomberg Opinion) -- Not long after Britain voted to leave the European Union, I asked the question that really mattered: cake or sausage?
For a long time the Greggs Plc share price gave a clear answer: when the prospect of Brexit bites, reach for the bacon buttie.
But that all changed when the blast of arctic weather earlier this year played havoc with the pasty, and Greggs, a high street baker and cafe chain, issued a surprise profit warning in May. At the same time Patisserie Holdings Plc, which operates upmarket cake shops, was powering ahead, helped by new outlets and a deal to sell its products in J Sainsbury Plc supermarkets.
Now it seems Brits are once again reaching for the steak bakes, or rather, the focaccia-style pizzas.
Greggs said on Tuesday total sales rose 7.3 percent in the 13 weeks to Sept. 29. Like-for-like sales in company-managed stores rose 3.2 percent. That's a decent performance. Sweltering heat and hot sausage rolls don't make for a great combination – and comparisons were challenging, given that it also enjoyed strong trading in the year earlier period.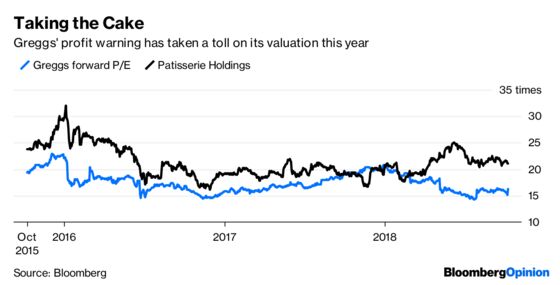 It is a credit to management that it expanded its product range to include breakfast, which busy workers want whatever the temperature outside, as well as salads and healthier sandwiches. It has also opened stores in office parks and transport stations, to make it less reliant on traffic to shopping centers.
And, in a positive sign for the future, it's now working on evening menu options and home delivery, as the two go hand-in-hand.
The hot weather did have some impact: cold drinks, which sold well, have lower margins than the goods Greggs bakes itself. That weighed on profitability in the early weeks of the quarter, although this improved in September, when the heat wave dissipated.
Consequently, the company left its expectations for the year unchanged, with the Bloomberg consensus of analysts' expectations for full-year pre-tax profit at 81.5 million pounds ($106.4 million).
The shares, which rose 7 percent on Tuesday, had fallen 20 percent between the profit warning in May and Monday's close.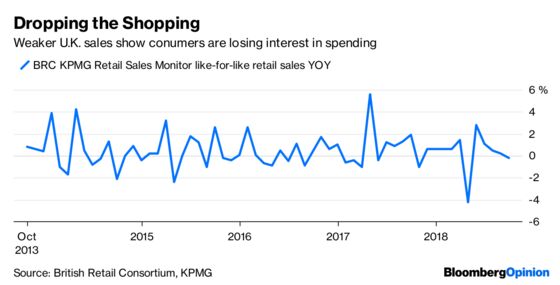 As I have argued, companies offering good value for money are best placed to cope with skittish shoppers. And that's what they are – the British Retail Consortium and KPMG said Tuesday that like-for-like retail sales shrank for the first time in five months in September.
Greggs is taking this message to heart as it prepares for Christmas. The first festive treats have been baked. In the meantime, there's a limited edition pumpkin spiced latte, which starts at 2.20 pounds and is cheaper than the offerings at the big coffee chains.
Whatever swings in sentiment worry consumers in the run up to the crucial festive season, Greggs' focus on value is likely to be its saving grace.
This column does not necessarily reflect the opinion of the editorial board or Bloomberg LP and its owners.
Andrea Felsted is a Bloomberg Opinion columnist covering the consumer and retail industries. She previously worked at the Financial Times.