Boris Johnson Is the One We Should Be Swearing At
(Bloomberg Opinion) -- Describing Britain's ruling Conservative Party as "pro-business" was once as axiomatic as saying Germany was good at soccer. It went without saying.
Applied to Theresa May's government, the epithet has felt a little dusty of late — especially after her attacks on rootless capitalists. But the response of her ministers to last week's complaints from Airbus SE about the prospect of a "no-deal" Brexit brings things down to a whole new level. And then there is Boris Johnson, her seemingly unmanageable foreign secretary, who reportedly uttered the phrase "F*** business" after being prodded on the Brexit needs of British employers.
May appears to suffer having Johnson in government for fear of him mounting a leadership campaign against her. But the last thing Britain needs right now is a schism between business and politics, no matter where its origin. The concerns of Airbus and other large business owners deserve at the very least to be treated with seriousness.
European companies are already cutting investment in the U.K. because of the uncertainty about Brexit. It's little wonder that GDP is growing more slowly than most major economies — and the departure hasn't even happened yet. Government attacks on the business community will just make a bad situation worse.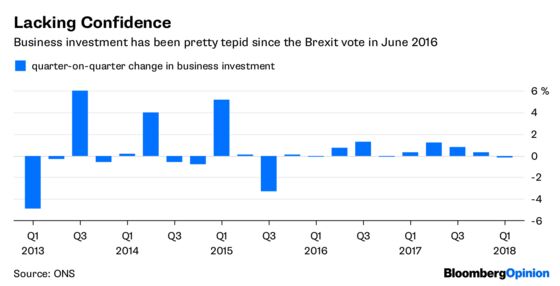 People close to Mr Johnson insist his comments at a Foreign Office event were "misheard" and may have been meant for business lobby groups like the CBI rather than individual companies. But the reckless disregard for the potential economic consequences of Brexit aren't out of character for Britain's chief diplomat.
Indeed, another senior Conservative politician, health secretary Jeremy Hunt, doubled down on the broadside on Sunday — albeit using less Anglo-Saxon language. Responding to the Airbus warning that it would be forced to reconsider its U.K. presence if Britain left the EU without a deal, Mr Hunt insisted it was "completely inappropriate" for companies to make "these kinds of threats."
"The more that we undermine Theresa May the more likely we are to end up with a fudge, which would be an absolute disaster for everyone."
Yet one man's "fudge" is another person's three-course meal at Le Gavroche. Hunt may not like the thought of an EU exit that includes things like remaining in a customs union and retaining full regulatory alignment — an outcome described as a "bog-roll Brexit" by Johnson. But such concessions seem eminently desirable for a manufacturing business, as they'd ensure cross-border supply chains weren't disrupted.
As such, it's pretty absurd to suggest that an international company, which is free to choose where it allocates investment, should ignore the interests of shareholders and not worry about possible business obstacles. Plenty of other countries would love the high-value wing work of Airbus or a Nissan Motor Co. car plant.
It's rich of Hunt too to bemoan a fudge, when his own party is so hopelessly divided about what Brexit they want, and hence business doesn't know what it's being asked to plan for. There are only nine months until Britain is due to leave.  
In fairness to May, it's pretty difficult (perhaps impossible) to deliver a Brexit that satisfies the voter's wish to cut immigration, without undermining the frictionless trade relations with the EU. Yet the insistence on keeping the no-deal option open appears driven as much by the ideological purity of hardline Brexiteers as it is by wanting a full and free negotiating hand with Brussels. There's little doubt it would wreak further damage on the British economy — almost certainly more so than on the EU's.
As the various outbursts from Airbus, Siemens AG and BMW AG showed last week, big U.K. employers are past being patient with May as she battles the Conservative party's ideologues. Britain took the decision decades ago to not worry about who owned its big industrial companies, meaning many are now headquartered in France, Germany and Japan. That was always going to be a risk when it came to them making big investment decisions. The hard Brexit crowd shouldn't ignore that reality.