BMW's 'Famously Reliable' Tag Goes Up In Smoke
(Bloomberg Opinion) -- Just as the Canadian Mountie always gets their man, so BMW AG always hits its profit guidance. Not anymore. 
On Tuesday, the German car giant was forced to abandon its holiest of holies: a pledge that the operating profit margin from making cars will exceed 8 percent. To its great credit, BMW has managed to reach that goal for each of the previous eight years. I think we can forgive it for not doing so during the 2009 recession.
In 2018, though, its expected auto-making operating margin has been cut to "at least 7 percent." For a carmaker that pretty much prides itself on being boring, at least financially, such a profit warning amounts to near heresy. The car giants are already unloved by investors, so this further knock to confidence is the last thing the sector needs.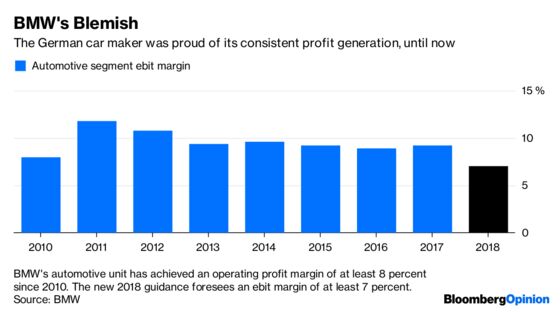 In fairness to BMW, a big chunk of the projected profit shortfall isn't really its fault. A new emissions testing regime, known as WLTP, came into force in Europe this month. BMW, the perennial teacher's pet, got its act together early to make sure its vehicles were certified in time. Last month, it said it had managed to do so without affecting delivery times. That's better than its big rival Volkswagen AG, which has struggled badly with the new testing procedure and is unable to deliver some popular models right now. 
Unfortunately, BMW's model behavior hasn't been rewarded. As the industry has rushed to sell its old non-emission-compliant vehicles at heavy discounts, that's put pressure on car pricing, hurting BMW. Meanwhile, those naughty laggards who haven't got to grips with the new emissions regime — meaning they don't have certification to sell some of their cars — are probably offering good deals on other models to stop customers shopping elsewhere. 
Similarly, BMW isn't to blame for the trade ructions that are roiling international car markets. Thanks to U.S. President Donald Trump's saber-rattling, the SUVs that BMW exports to China from its South Carolina plant face higher tariffs. Oddly, China's concurrent decision to slash tariffs on vehicles imported from Europe (and elsewhere) probably hasn't helped BMW that much because Chinese customers immediately demanded a price cut. 
To be clear, BMW isn't entirely blameless. A jump in costs to replace parts and vehicles under warranty also contributed to the profit warning. This won't be a surprise if you've followed BMW's recent travails in South Korea, where a spate of fires raised questions about the reliability of its vehicles and triggered a big recall. Now, even BMW's famously reliable earnings have gone up in smoke. 
This column does not necessarily reflect the opinion of the editorial board or Bloomberg LP and its owners.
Chris Bryant is a Bloomberg Opinion columnist covering industrial companies. He previously worked for the Financial Times.