Blackstone's Long-Term Saudi Vision Looks Blinkered
(Bloomberg Opinion) -- This year's "Davos In The Desert" in Saudi Arabia is looking more like a Deserted Davos, as grisly details of the murder of Saudi journalist Jamal Khashoggi emerge. Yet the message at the same time is one of "business as usual." Blackstone President Jonathan Gray, for example, last week emphasized the "long-term" benefits of its Saudi-backed infrastructure fund despite "near-term" challenges. It's a position that rings hollow as the deal's lucrative financial terms come to light.
When Blackstone Group LP unveiled its $40 billion U.S. infrastructure fund last year, with an anchor investment from the Saudis, it promised a new business line for the firm and an important victory for America. "This will create well-paying American jobs and will lay the foundation for stronger long-term economic growth," it said. This raised eyebrows at the time, given the infrastructure sector's tough competition and political sensitivities, but investors cheered the fund's growth prospects.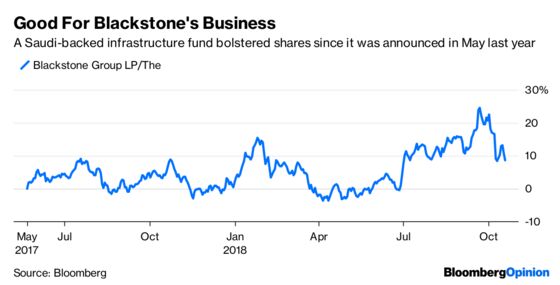 The idea that this fund's "long-term" value can remain intact in the face of the kingdom's increasingly egregious behavior isn't very convincing. Even before Khashoggi's murder, the shake-down of princes at the Ritz and the Saudi investment boycott of Canada over a tweet suggested an unpredictable and unreliable influence of politics on business. That image is now even more entrenched, even though Saudi authorities describe the death as an interrogation gone wrong. But there is also now a new level of political risk. The path is clear for U.S. politicians to decide that Saudi Arabia is no longer an economic partner worth keeping when it comes to infrastructure investment.
Blackstone ultimately has to be able to deploy the money it has raised. It knows that governments and politicians are twitchy about who invests in infrastructure assets. A report by Bloomberg News on Monday suggests the private-equity firm rewarded the Saudi sovereign fund with fee discounts and other concessions to seal the infrastructure investment, including certain potential opt-outs on deals that the U.S. might block on national security grounds.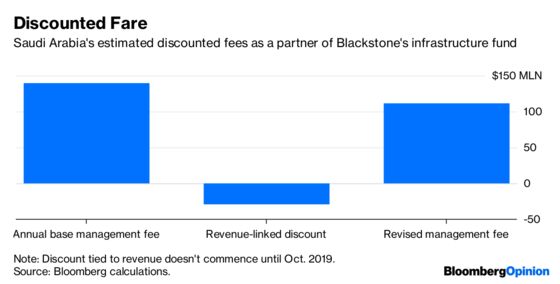 Blackstone has defended discounts and concessions as "customary" in the industry, especially for an investment of this size. Indeed, a Financial Times report earlier this year found that other Blackstone infrastructure partners, such as pension funds in New Mexico and Pennsylvania, had been granted introductory discounts on the firm's typical 1 percent annual management fee.
But trying to help a foreign investor work around American rules, even theoretically, in exchange for fee business is not a great look. Even with the discounts, Blackstone could rake in $111 million a year from the Saudi Public Investment Fund alone.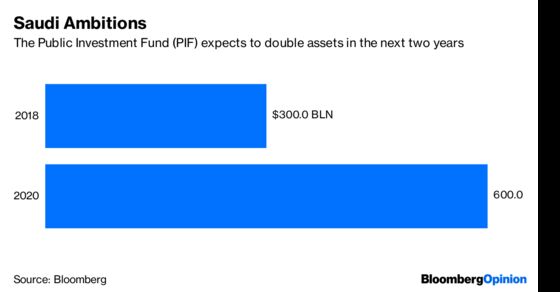 The private-equity firm may find its own commitment to long-term Saudi ties is no longer shared by potential partners. Some investors and firms seem to have become unwilling to touch Saudi money: Richard Branson has put talks with Saudi Arabia over possible investments on hold. And politicians in Congress, as well as in European countries, have been reacting skeptically to Saudi explanations for Khashoggi's death. That doesn't bode well for clearing Saudi-backed infrastructure bids.
"The geopolitical is what worries me," Blackstone Chief Executive Officer Stephen Schwarzman said last month, referring to developed-world shifts such as the rise of populism. The risks of investing Saudi money, however long-term they may be, should be part of that.
This column does not necessarily reflect the opinion of the editorial board or Bloomberg LP and its owners.
Lionel Laurent is a Bloomberg Opinion columnist covering finance and markets. He previously worked at Reuters and Forbes.