Black Friday Has Been a Disaster for Britain
(Bloomberg Opinion) -- Black Friday is a little like Brexit. Some British retailers have grown tired of taking part in a foreign invention and want to retreat — even as their counterparts in continental Europe are ramping up their engagement.
But even though the U.K. leavers are probably right in this case, this imported shopping phenomenon is almost impossible to stop. That's something store chains in France, Germany and elsewhere should consider carefully before getting their customers hooked on the giveaway promotions.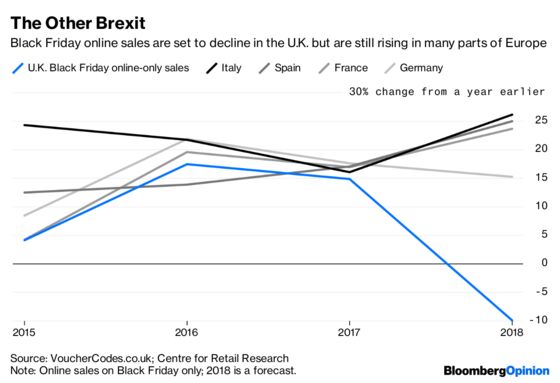 Black Friday has been a disaster for British retailers. It made its way across the Atlantic in 2010 when local stores tried to respond to Amazon.com Inc's unleashing of post-Thanksgiving discounts on the British public.
The event has come later to continental Europe, with retailers there beefing up their Black Friday efforts over the past couple of years. German online retailer Zalando SE will offer promotions across all of its 17 markets. In France, grocery giant Carrefour SA is showcasing a week of special offers across electronics, white goods, home furnishings and clothes. German electronics specialist Ceconomy AG will take part too.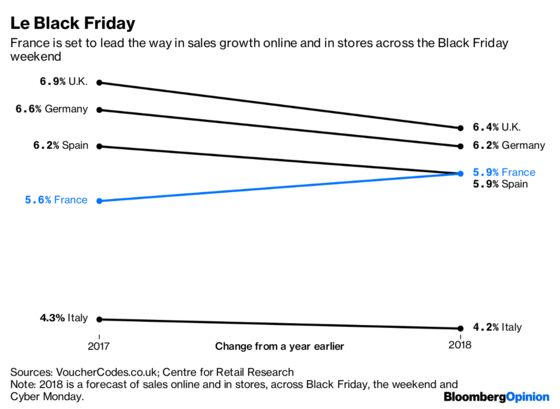 Consequently, the combined online sales for the period in France, Germany, Italy, Spain, the Netherlands and Belgium are expected to increase by 20 percent this year, according to researchers for the consumer deal website VoucherCodes.co.uk. For the U.K., it sees a drop of 10 percent.
Including stores — on Black Friday, the following weekend and so-called Cyber Monday — U.K. sales are still set to rise. But online spending is probably the most significant indicator as Black Friday is morphing into a web-based phenomenon.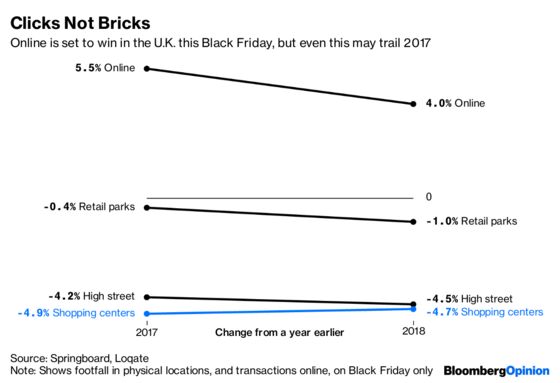 Continental European retailers should tread carefully. There's some justification for price deals in electronics. Sellers of big-ticket items typically do lots of business in Europe's traditional post-Christmas sales. Black Friday simply spreads those sales between two events.
But for sectors such as clothing there's little reason to participate. All stores do is mark down products that would probably have sold anyway at much higher prices. This conditions consumers to just wait for deals, and it it's very difficult for retailers to return to a full price afterwards — especially in the interim between Black Friday and the New Year sales. All of this hurts margins during what should be the most lucrative time of the year.
Some British retailers such as Marks & Spencer Group Plc will not be offering deals, although it ran a promotion for holders of its loyalty card last weekend. Others such as Asda, Walmart Inc.'s U.K. arm, are taking a more careful approach. Rather than a one-day extravaganza, Asda will offer selected savings — for example on toys — for a two-week period.
But there's still a danger that British chains will panic because of weak sales recently and the warm weather leaving stores with too many sweaters and coats. That's a risk in Germany too, where Zalando and Ceconomy have warned on profits and Hugo Boss's third-quarter earnings missed analyst estimates because of the summer heat wave.
Retailers in both the U.K. and continental Europe should hold their nerve and refuse to get sucked into the madness. In Britain, it's impossible to put the Black Friday genie back in the bottle. Other countries still have time to save themselves.
Elaine He contributed charts.
This column does not necessarily reflect the opinion of the editorial board or Bloomberg LP and its owners.
Andrea Felsted is a Bloomberg Opinion columnist covering the consumer and retail industries. She previously worked at the Financial Times.