Bitcoin Stumble Shows Bitmain a Ghost of Crises Past
(Bloomberg Opinion) -- A look at Bitmain Technologies Ltd.'s financials reveal the Chinese company sold a lot of shovels during the crypto gold rush of the past two years. Its mistake was to take digital gold as payment instead of cash. 
But there are two other items that could make matters worse for Bitmain and others in the crypto-mining ecosystem, adding to pressure on the balance sheet.
First is the notion that the startup is losing its technological edge. According to Sanford C. Bernstein analyst Mark Li, Bitmain's attempt to make a new chip using more advanced manufacturing technology didn't pan out. Two other projects also failed, which not only puts Bitmain at a competitive disadvantage with rivals such as Canaan Creative Co. but means the company might have burned through several hundred million dollars with little to show for the effort.
A second area is one I think many investors haven't even considered – the possibility of a massive stock of rigs being operated by unprofitable crypto mining companies that are racking up debts they may be unable to pay.
MGT Capital Investments Inc., for example, owned or operated 6,800 Bitmain Antminer S9 rigs at the end of June. The North Carolina company, which was once planning to change its name to John McAfee Global Technologies Inc., posted a $6.5 million loss for the June quarter on revenue of a mere $409,000.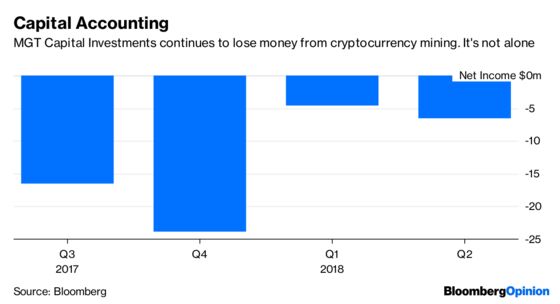 Some of that shortfall comes from the troubled move of its mines from Washington state to Sweden  – chasing cooler climes and cheaper electricity – yet the company posted an operating loss last year of $21.6 million on revenue of $3.1 million before its Swedish foray. (As an aside, the drama continued this month when MGT President and CEO Robert Ladd took a leave of absence after being named in an SEC complaint alleging the operation of a pump-and-dump scheme connected to shares in the company. MGT itself wasn't named as a defendant.)
Of greater concern, though, to Bitmain and its peers is that as of June 30, MGT is also on the hook for $3.8 million in debt to be paid in monthly installments through April 1, 2019. Failure to make a payment would see any remaining debt jump by 20 percent. Even stripping out the one-time costs of moving operations to Sweden, the $1.37 million of revenue it brought in for the first six months of 2018, coupled with Bitcoin prices that have barely moved sideways since June, makes its payment of that debt less than certain.
The company will need to raise additional funding to grow its operations and to pay current maturities of debt.
In the current crypto environment, you could forgive lenders or equity investors for not having the same enthusiasm as a year ago. So it wouldn't be unreasonable for MGT management to be spurred into selling assets (Bitcoin mines) to raise cash – a process that would surely push down the market price of rigs – despite the firm's recent talk of continued expansion.
Most Bitcoin mining operators aren't embroiled in the kind of drama unfolding at MGT, but don't let that distract you. Pared down to the fundamentals, MGT's mining business is unprofitable. It's not alone: Tokyo-based GMO Internet Inc. lost 360 million yen ($3.2 million) in the second quarter from its crypto-mining business, despite revenue climbing 91 percent to 1.17 billion yen.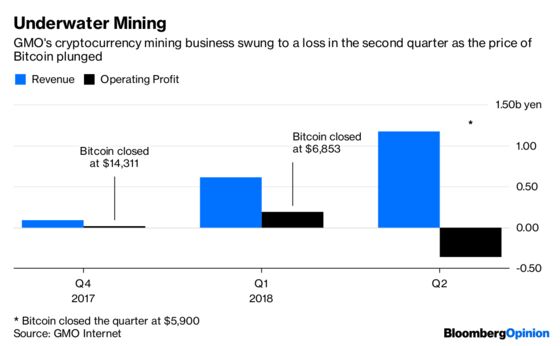 There probably are dozens, if not hundreds, of crypto miners around the world facing similar losses. Many of those will have bills to pay and debts to cover, in fiat currency, that's going to necessitate fire sales and liquidation of assets. GMO took the drastic measure of actually entering the mining-hardware market, selling rigs that compete directly with those of Bitmain.
As I outlined yesterday, more than one-third of Bitmain's assets are in crypto, while half are in inventory or prepayments to its chipmaker. An investor might wonder whether the balance sheet can hold up, and ponder if there's a lot of revenue growth ahead in its mining-hardware business.
Bitmain is not alone in facing the perfect storm of a burst cryptocurrency bubble, increased competition in hardware, second-hand rigs flooding the market and an abrupt halt to fiat funding for crypto miners and their suppliers.
Anyone who remembers the housing-led financial crisis of 2008 should recognize the signs. Those who don't may have the chance to see what a crash looks like.
This column does not necessarily reflect the opinion of the editorial board or Bloomberg LP and its owners.
Tim Culpan is a Bloomberg Opinion columnist covering technology. He previously covered technology for Bloomberg News.