New York Hedge Fund Needs the Long Game in Italy
(Bloomberg Opinion) -- Telecom Italia SpA had problems when it was being dominated by its biggest investor, Vincent Bollore's Vivendi SA. But the arrival on the shareholder register of activist fund Elliott Management Corp., and its wresting of boardroom control from the Breton billionaire, has hardly helped matters.
The shares have fallen 29 percent in the last six months on a total-return basis. As such, Paul Singer's New York hedge fund would probably do well to listen to Telecom Italia's CEO Amos Genish, who Bloomberg News says is eyeing a Brazilian takeover and asset sales. Amid the sniping between Vivendi and Elliott, his two largest shareholders, Genish is still the operator's best shot at stability.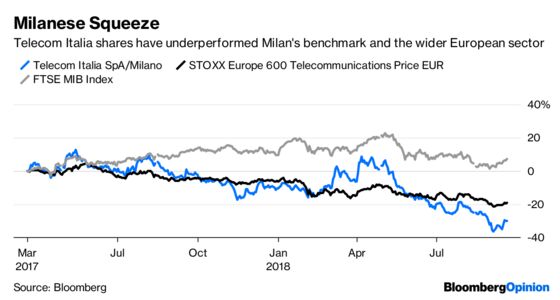 His preference for organic growth and unhurried debt reduction, as well as his connections to Vivendi, hasn't always endeared him to his new activist masters. But he's already the Italian operator's third CEO in two years, and Elliott was right to stick by him when it took control of the board.
The Bloomberg report outlining Genish's M&A plans suggest he is carefully trying to walk the line between his own cautious instincts and keeping Elliott happy. The hope is that they get a good hearing when he presents them to the board on Monday.
The reported pitch to bid for Brazil's Nextel Telecomunicacoes would make sense. The unit was valued at about $200 million last year, or around one-tenth of Telecom Italia's underlying quarterly profit, so it could bring subscribers to Telecom Italia's successful Brazilian business without breaking the bank. The country's currency slump would help.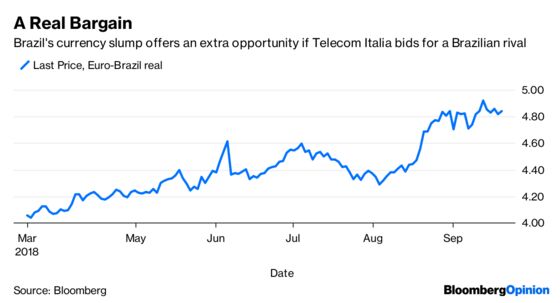 It's a bold idea considering that Elliott's arrival at Telecom Italia sparked speculation that there might be a quick Brazilian exit strategy on the cards. But this is a better option and doesn't prevent a sale in the future. Genish has a strong record of working in Latin America, so he should have a sense of how to make that unit more valuable.
His possible asset sales look more palatable to the usual activist tastes. Selling Telecom Italia's wholesale arm Sparkle is acceptable to both Elliott and Vivendi, but the list of buyers would be short given the Italian state has the ultimate say on where it ends up. Selling part of Inwit, a towers business valued at $4.9 billion, would probably be easier and satisfy Elliott.
Still, as Bloomberg Intelligence's Erhan Gurses says: "There are no quick fixes for Telecom Italia, and unlocking value with asset sales is no smooth process." Even if Genish's ideas are approved, this is still a company that needs an operational overhaul, a reduction of its vast debt pile, and smarter capital expenditure over the next few years — all while delivering complex deals like the spinoff of its fixed network.
The signs, at least, are that Elliott is willing to be patient. For both Singer and Bollore, that would be the right thing.
This column does not necessarily reflect the opinion of the editorial board or Bloomberg LP and its owners.
Lionel Laurent is a Bloomberg Opinion columnist covering finance and markets. He previously worked at Reuters and Forbes.